News of all that's transpired on and off the football field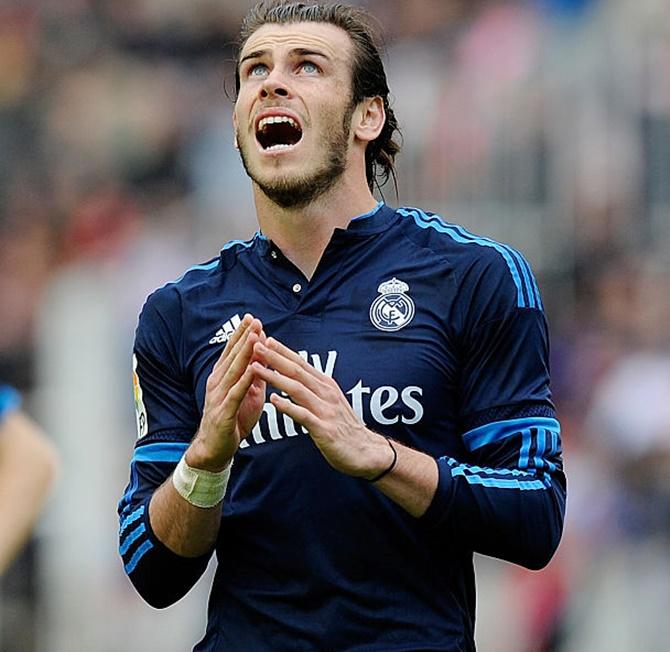 Former Real Madrid striker Predrag Mijatovic criticised Gareth Bale for lacking leadership qualities and hit out at coach Santiago Solari after the club's La Liga title ambitions were dented by Thursday's 2-2 draw at Villarreal.
Real's record signing Bale had to be substituted at halftime after a knock when his side were 2-1 up and Solari later took off playmaker Luka Modric, who had been ill with flu in the build-up to the game.
Veteran midfielder Santi Cazorla then scored for the second time in the game by heading in an equaliser with eight minutes remaining, leaving Madrid in fourth place in the standings and seven points adrift of leaders Barcelona.
"What keeps happening with Bale is a real shame. I like him a lot as a player but he is nowhere near being the leader of the team after Cristiano Ronaldo left," Mijatovic told Spanish radio station Cadena Ser.
"It's worrying that he gets injured so often."
Bale, who has scored only four goals in the league this season, has been injured over 20 times since his 105 million euro signing from Tottenham Hotspur in 2013.
Although he has not suffered any serious injuries this campaign, he has been substituted 15 times in all competitions, sparking concerns about his ability to last 90 minutes.
Mijatovic, scorer of the goal which won the 1998 Champions League final for Madrid over Juventus, also criticised Real coach Solari for removing Modric and said he has not enjoyed watching his former side this season.
"If a player starts a game and feels good and doesn't ask to be substituted, I can't understand why you would take him off. He made a big mistake by taking off Modric," he said.
"I am struggling to watch Real Madrid this season. They played well in the first half (against Villarreal) then when we thought they were going to kick on they played a disastrous second half with no gameplan.
"They have taken a step back in the league this season. I don't think it's a problem of attitude, but more one of impotence. The way they are playing does not make me feel optimistic."
Mijatovic's feelings were echoed in the Spanish media.
"It was like tearing your hair out," said newspaper Marca of Madrid's performance, also describing the team's campaign, in which they sacked coach Julen Lopetegui in October, as "a recurring nightmare."
Maradona to extend stay at Mexican club Dorados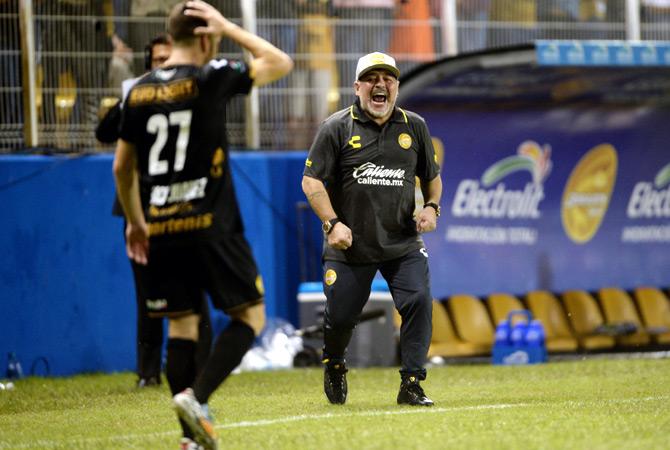 Argentina great Diego Maradona is to continue as coach of Mexican side Dorados de Sinaloa for a second season, his agent Matias Morla said on Friday.
Maradona, 58, took over at the struggling second division side in September and lifted them to the playoffs where they were beaten by Atletico San Luis.
Maradona has rarely spent a year in any head coach job, yet Morla said the former Argentina and Racing coach would return to Sinaloa after completing routine medical exams in his homeland, where he spent the holiday period.
"Diego Maradona has arranged to continue with the Dorados de Sinaloa and will stay as coach of the team for the whole season," Morla wrote on twitter.
Dorados play their first game of the season on Sunday at home to Celaya.
Chelsea fan banned for homophobic abuse
A Chelsea supporter has been banned from attending games for three years after being found guilty of homophobic chants during the club's Premier League game against Brighton and Hove Albion at the Amex Stadium last month.
George Bradley pleaded guilty at Brighton Magistrates' Court on Thursday to the offence of using threatening, abusive or insulting words or behaviour to cause harassment, alarm or distress.
The 20-year-old was also fined 965 pounds ($1,219).
"We'd like to thank Sussex Police for their assistance in dealing with this unsavoury incident and we are very pleased with the outcome," a Brighton spokesperson said in a statement.
"It underlines both their and our commitment to a zero tolerance policy on any form of abuse from those attending matches at the Amex."
Italy's Serie A under fire for men-only seats in Saudi final
Deputy Prime Minister Matteo Salvini on Thursday condemned as "disgusting" restrictions imposed on women hoping to see the final of the Italian Supercoppa, which is being staged this month in Saudi Arabia.
The encounter between Juventus and AC Milan will be played in Jeddah on Jan. 16 as part of a three match deal that Italy's Serie A signed last year with Saudi Arabia worth 22 million euros ($25 million).
The decision to go ahead with the game in the wake of the killing of journalist Jamal Khashoggi in the Saudi consulate in Istanbul had already caused controversy.
But the anger built this week when Serie A released information on how to get tickets, saying some category of seats were only available for men and explaining that women could only gain access by buying tickets in "family" areas.
"To have the Italian Supercoppa being played in an Islamic country where women cannot go to the stadium unless they are accompanied by a man is sad. It's disgusting. I won't watch the game," said Salvini, a passionate AC Milan fan.
Giorgia Meloni, head of the far-right Brothers of Italy party, called for the final to be postponed.
"It should be organised in a country that respects our women and our values," she wrote in a Facebook post.
The Supercoppa final, which pitches the Serie A champions against the winners of the Coppa Italia, has been played abroad several times, with the United States, China and Qatar the previous foreign venues.
The head of the Serie A, Gaetano Micciché, defended the decision to play in Saudi Arabia and said there would be no change of heart.
In a statement he said women would not have to be accompanied by a man to get into the stadium, adding that this would be a "historic first".
"Until last year, women (in Saudi Arabia) could not attend any sporting event," he said. "We are working to ensure that in the next games that we play in the country, women can access all the stadium seats."
A ban on women attending some soccer matches in the deeply conservative Muslim kingdom was lifted in January 2018 as part of a wider relaxation of social restrictions, with special family sections set up in three stadiums.