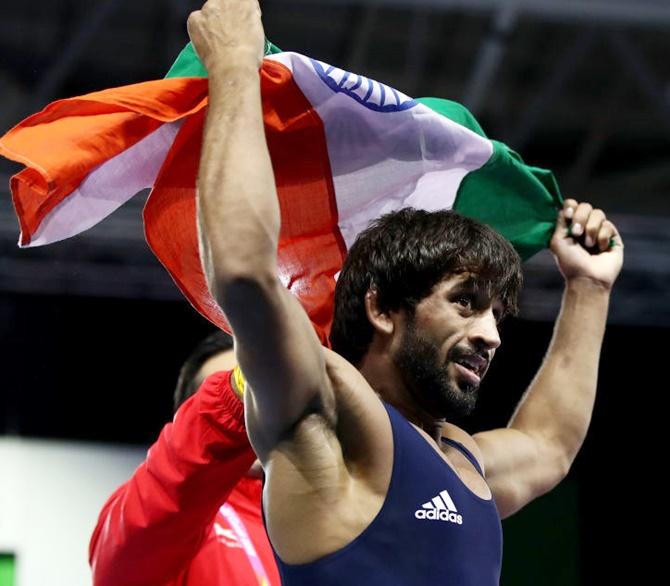 Bajrang Punia proved too good for his opponents to claim gold medal in the men's freestyle 65 kg wrestling at the 21st Commonwealth Games on Friday.
The 24-year-old from Haryana dominated the proceedings in the final against Wales's Kane Charig to register an emphatic 10-0 victory and claim India's 16th gold medal on the eighth day of the Games at the Carrara Sports Arena.
Bajrang, who bagged a silver in Glasgow four years ago, won by 'Technical Superiorit' as he did not concede an inch to his opponent.
Such was his dominance that he won all his bouts on Friday on 'Technical Superiority' as none of his opponents could pose a threat to him.
He had defeated New Zealand's Brahm Richards in the first bout, before outwitting Nigeria's Amas Daniel in the 1/4 final. He then dumped Canada's Vincent De Marinis in the semi-finals.
A 2013 World Championship bronze medallist, Bajrang also won gold medals in the Commonwealth Championship in 2016 and 2017 at Singapore and Brakpan, South Africa respectively.
Pooja Dhanda made a late push in the women's 57 kg final bout against Nigeria's Odunayo Adekuoroye but had to be content with a silver medal, losing 5-7.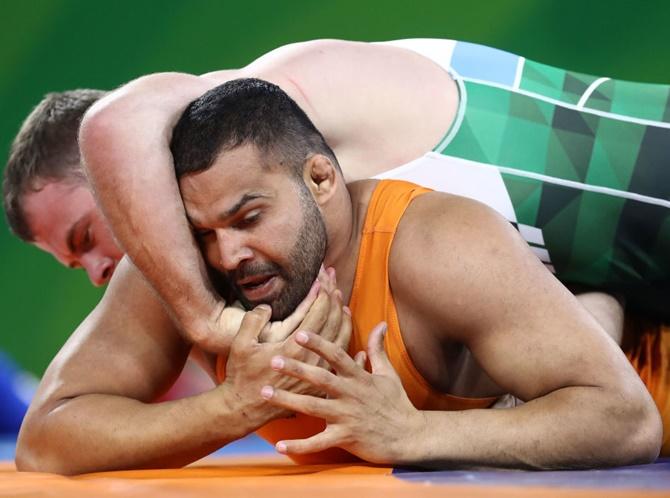 There was another silver for India from Mausam Khatri in the men's freestyle 97 kg.
Khatri was beaten by South Africa's Martin Erasmus in the final.
The 27-year-old from Haryana was unable to dislodge the 23-year-old Erasmus, who won by 'Technical Superiority' after the scores were 12-2 in his favour.
In the run-up to the final, Khatri had beaten Cyprus's Alexios Kaouslidis in the 1/4 final and Nigeria's Soso Tamarau in the semi-finals.
A bronze medallist in the 2010 Asian Games, Khatri also won the Commonwealth Championship twice -- in 2009 and 2011.
He also has a silver from last year's edition at Johannesburg.
Divya Kakran won bronze medal in the women's freestyle 68 kg by outplaying Bangladesh's Sherin Sultana 4-0, victory coming by fall.