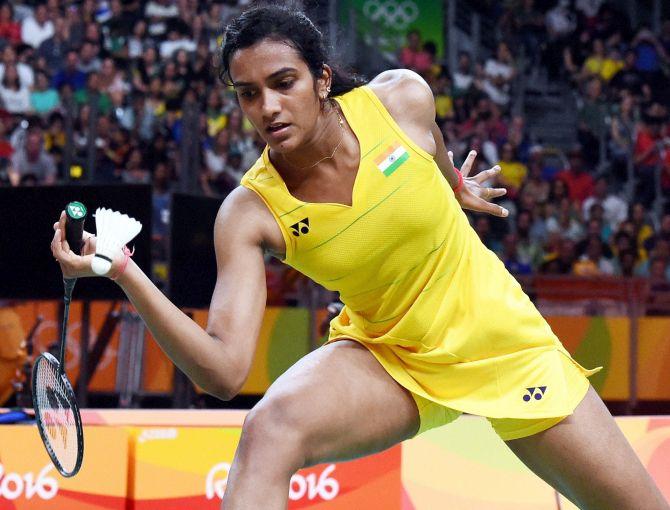 IMAGE: Indian shuttler PV Sindhu in action. Photograph: Atul Yadav/PTI.
Spearheading India's challenge at the World Championships, Olympic silver medallist P V Sindhu says she is in good form and vowed to better the colour of her past two bronze medals.
"I think it has been two months since Australia Open, so I got enough time to practice. Form wise, I am perfectly all right, so I hope I give my best and do well," Sindhu said.
"I am definitely looking for a medal here and hopefully, better one the bronze this time, I also want to change the colour, so will fight for that," added the 22-year-old from Hyderabad, who got a bye in the first round.
Much before the Olympics high and the titles at 2016 China Open and 2017 India Open, Sindhu had created ripples in the international circuit when she won bronze medals in the 2013 and 2014 editions of World Championships.
Sindhu will open her campaign against either Korea's Kim Hyo Min or Egypt's Hadia Hosny in the second round.
At the Olympics, Sindhu had lost to Spain's Carolina Marin in the final, but the Indian had her revenge at the India Open final this year in April.
"It was important for me to win the India Open. It was good to win in front of the home crowd – there were a lot of people in India who couldn't make it to Rio and were excited to be there," said Sindhu.
I'm better prepared than Rio Olympics: Marin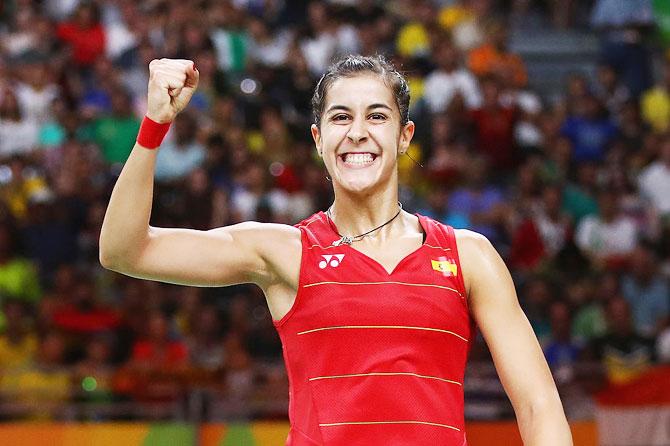 IMAGE: Spain's Carolina Marin celebrates. Photograph: Clive Brunskill/Getty Images.
Eyeing a hat-trick of titles at the World Championship, defending champion Carolina Marin says she is better prepared than the Rio Olympics where the shuttler had clinched the gold medal.
"It's been two months of preparation; I've prepared better than I had before the Rio Olympics," Marin said.
"My main aim is to fight for gold. I have some tough matches coming up but I'm not thinking of the title defence. I will take it match by match."
After the Rio Games, Marin had to deal with nagging ailments on her thigh and they affected her performance as she could not win a title. The Spaniard conceded two walkovers and also saw her ranking drop to No 4.
"The Olympics was a year ago. I have to forget that. After the Olympics, I had some injuries and couldn't do well and it was frustrating. Now I'm playing well again," said the former World No 1.
The third seeded player got a bye in the opening round and will open her campaign by taking on the winner of the match between Hong Kong's Yip Pui Yin and Russia's Natalia Perminova in the second round.