Saina Nehwal suffered a stunning straight-game defeat in the second round but P Kashyap and P V Sindhu advanced to the quarterfinals of the India Open Super Series in New Delhi on Thursday.
World number five Saina was not in her elements today as she suffered a 19-21, 10-21 defeat to Korean Youn Joo Bae,  ranked 12th in the world, in a 39-minute women's singles match at the Siri Fort Complex.
However, young prodigy Sindhu, ranked 27th in the world, stunned world number 11 and eighth seed Korean Ji Hyun Sung 21-17, 22-20 to cruise into the quarterfinal.     
In men's singles, Kashyap kept his Olympic hopes alive by notching up a thrilling come-from-behind 15-21, 21-14, 22-20 win over Thailand's Boonsak Ponsana to reach the quarterfinals. The Commonwealth Games bronze medallist will have to win his quarterfinal battle against Chen Jin to qualify for the Olympics. 
At the adjacent court, Jayaram played his heart out but could not avoid a 16-21, 21-15, 5-21 defeat to world number one Lee Chong Wei and crashed out of the tournament.
Commonwealth Games gold medallist pair of Jwala Gutta and Ashwini Ponnappa, meanwhile, avenged their loss at the ABC to Indonesian pair of Vita Marissa and Nadya Melati by seeing them off 16-21, 21-15, 21-17 in a 50-minute women's doubles match. 
Among other Indians, top Indian pair of Rupesh Kumar and Sanave Thomas, who got a bye in the first round, also notched up a 21-18, 18-21, 21-19 victory over Korean pair of Ki Jung Kim and Sa Rang Kim in the men's doubles competition.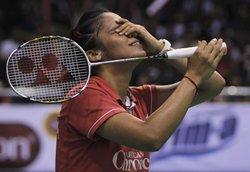 It was heartbreak for the home supporters at the Siri Fort as Saina went down to her less heralded opponent. The Korean traded blows equally with Saina all through the opening game and went into the break leading 11-9. Saina rubbed off the early deficit and took 14-11 lead. But Youn Joo drew parity at 14-14 with the help of some sharp drops and half smashes.
The Korean was involved in long rallies and caught Saina at the fore court to move ahead. Saina also gave away a few points at the nets to allow Youn Joo win the first game. 
Long rallies, followed by heavy cross-court smashes and deft net work, helped the Korean to once again open up a 5-1 lead in the second game. 
Saina tried to take control but she seemed clueless as most of her strokes were going to the nets and were inaccurate. The Korean eventually sealed the issue quite comfortably. 
"I don't know what happened, what went wrong. I didn't play well, I am not happy. I don't know what's wrong. Sorry," was what a visibly gloomy Saina could muster after the loss. 
Youn Joo said she played freely and never thought of winning and it helped. 
"Saina is an aggressive player. But all the pressure was on her and I was not thinking about winning. I have played against her many times and she beat me more. I am happy to win today," the Korean said. 
"She made crucial mistakes in the middle of the second game and after that it was easy," she added.