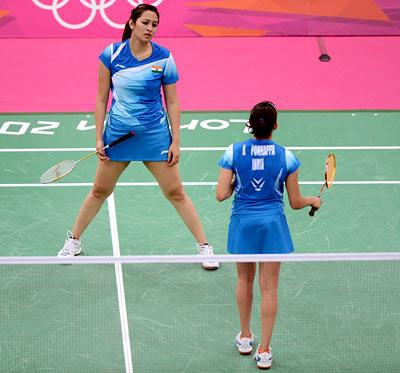 National coach Pullela Gopichand on Wednesday defended Indian Badminton League's decision to reduce the base price of Jwala Gutta and Ashwini Ponnappa before the IBL Players' auction, saying it was done so that the doubles specialists do not incur financial loss.
- PHOTOS: 10 hottest buys of the Indian Badminton League

"We never thought that badminton would have such money. Many players' are all excited. With due respect to what they (Gutta and Ponappa) are saying, I think the IBL is ensuring that the players are not at a financial loss," he said.

"It's great for Indian badminton. The kind of money the players will get is phenomenal. I hope this issue is resolved and we must move on because what is happening is unprecedented in world badminton," the former all-England champion said in Durgapur.
- Whatever happened in IBL auction wasn't expected: Jwala

Gopichand hailed the initiative and added: "Something like this has huge benefits for sport, for badminton, for existing players and future generations. We all need to welcome and move on to take it in a positive direction."

Gutta and Ponnappa, who were Commonwealth Games 2010 doubles champions, are two of the six icon players in the IBL.

But ahead of the auction on Sunday, the IBL governing council slashed their base price from US $50,000 to $25,000 after discussing with the six team owners.

Jwala and Ashwini hit out at the organisers terming the decision as "disrespectful".

"When you sign a contract stating that you are an icon player, who wouldn't be sad or feel cheated or let down. I have promoted IBL like no other player. I have been to many cities to promote it. I thought icon players will be treated equally," Jwala said.

The inaugural edition of the tournament will be held from August 14-31 involving six franchises -- Delhi, Mumbai, Hyderabad, Bangalore, Pune and Lucknow.
Image: Jwala Gutta (left) with Ashwini Ponnappa
Photograph: Michael Regan/Getty Images