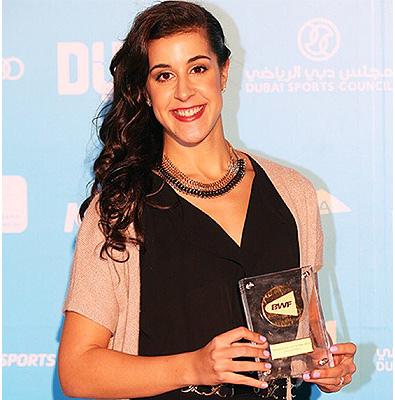 All-England and World champion Carolina Marin beat Indian ace Saina Nehwal to win the 'Female Player of the Year' award in Dubai on Monday night.
Besides, Saina, Marin, who won five World Superseries titles, held off competition from China's Zhao Yunlei and Bao Yixin.
"I thought Zhao would win it because she's had a great year as well.
"I'm very happy, because it's affirming that you did something great during the year," said the Spaniard with a broad smile.
The 'Player of the Year' awards were presented by BWF President Poul-Erik Høyer Larsen at a Players' Reception and Gala Dinner, held in honour of the assembled players, sponsors, officials and other guests to the Dubai Superseries Finals.
China's Chen Long retained the 'Male Player of the Year' award he won last year.
His young compatriot Zheng Si Wei was acknowledged as the 'Most Promising Player of the Year'.
Korea's Lee Sam Seop and Norway's Helle Sofie Sagoy won the 'Para-Badminton Player of the Year' awards in the male and female categories respectively.
Image: Spain's Carolina Marin with her BWF Female Player of the Year award.
Photo: Twitter (@caro_marin2)