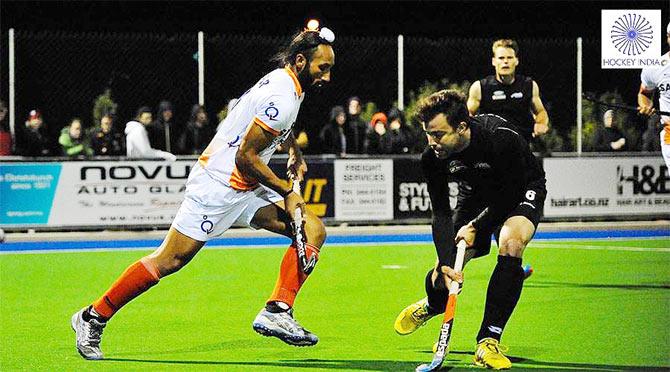 India's chances of advancing to the final suffered a blow after they went down 1-2 to defending champions New Zealand in their penultimate round-robin league match of the 25th Azlan Shah Cup hockey tournament at Ipoh in Malaysia.
Goals from Ken Russell (28th minute) and Nick Wilson (41st) clinched victory for defending champions New Zealand, who managed to weather the hot and humid conditions better than the Indians, whose only goal came from Mandeep Singh in the 36th minute.
Wilson's match-winner resulted from a defensive error committed by the Indians as they failed to clear the ball properly in their own striking circle.
New Zealand benefitted from the loose ball in the Indian circle in the 41st minute, when a reverse shot from the goal-line was padded by the Indian goalkeeper and deflected to the middle. Defender Harmanpreet failed to connect in his reflex attempt to push the ball out and Wilson had the easiest task of shooting into the goal for what turned out to be the match-winner for the Black Sticks.
An Indian victory against NZ would have put them in the final, while a draw would have still kept them ahead of New Zealand. But the Black Sticks have now moved ahead into the second spot.

India can ensure a place in the final against Australia if they defeat hosts Malaysia in the last round-robin league match on Friday, while New Zealand will be anxiously waiting to see if they play for the gold medal or the bronze.
Meanwhile, world champions Australia extended their winning spree to five successive matches as they prevailed 3-1 over Japan.
Not playing full-press, Australia scored through Jamie Dwyer (17th and 36th minutes) and Blake Govers, but Japan shot back to reduce the margin through a penalty corner conversion by Kentro Fukuda (37th minute).
Malaysia hang on to early goal to defeat Pakistan
Malaysia posted their first win over Pakistan in three years when they hung on to an early lead to emerge 1-0 victorious in a league fixture of the 25th Sultan Azlan Shah Cup.
Malaysia rode on captain Razie Rahim's fourth-minute penalty corner conversion to register their first victory against Pakistan since they won 3-1 in the World League Semifinals at Johar Baharu (Malaysia).
That victory in the World League play-offs clinched Malaysia's qualification for the 2014 World Cup at the expense of four-time champions Pakistan, who missed their last chance to qualify and failed to make the elite tournament for the first time since its inception.
Malaysia's victory took them to eight points from five fixtures and kept alive their chances to clinch a medal, although Tuesday's 2-2 draw against Canada virtually spiked their hopes of qualifying for the final.
After five matches, Pakistan have just three points from their victory over Canada.