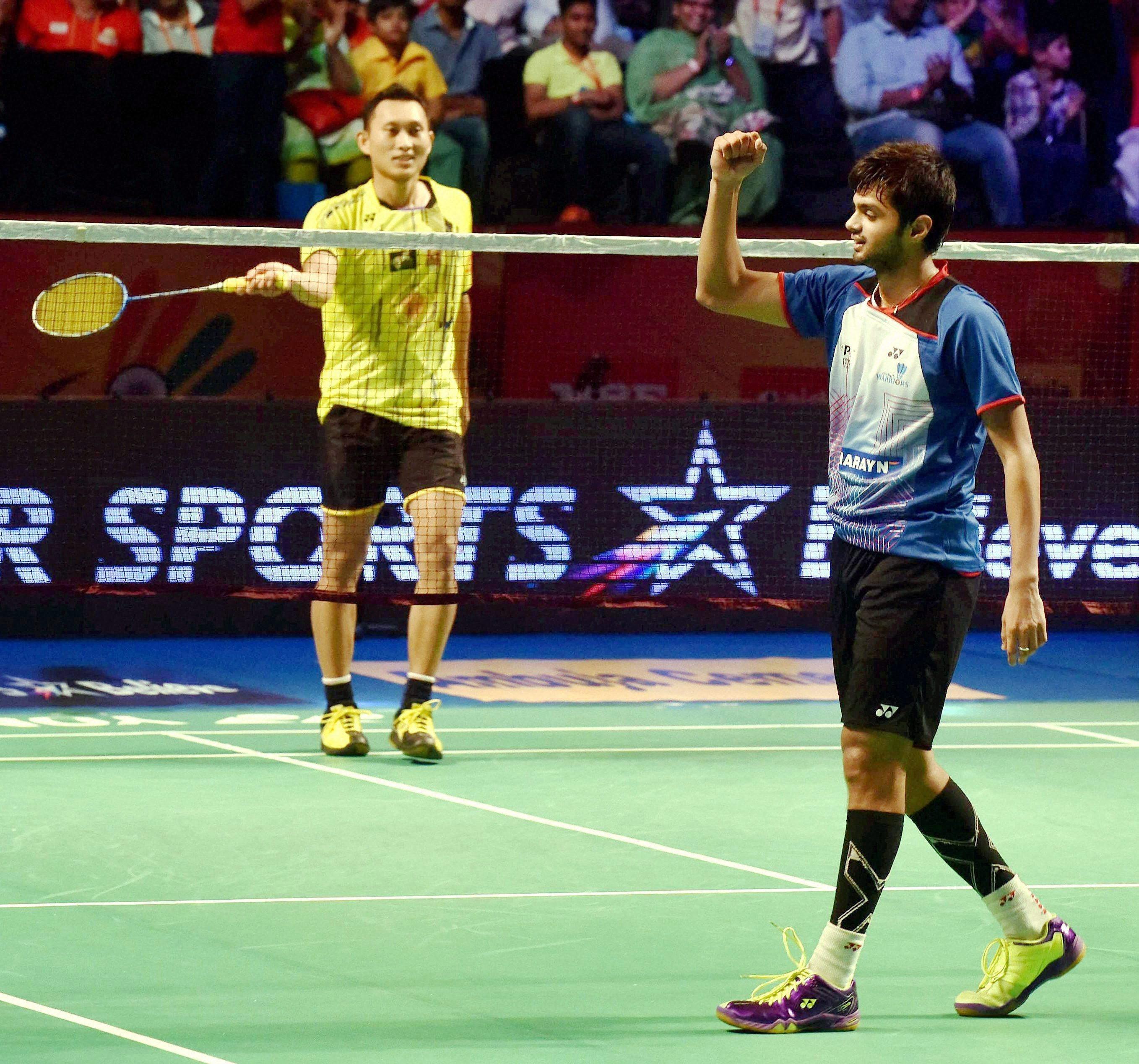 IMAGE: Sai Praneeth of Awadhe Warriors celebrates after winning a point against Chennai's Sony Dwi Kuncoro. Photo: PTI
The Awadhe Warriors virtually assured itself a berth in the semi-finals but it turned out to be a disappointing day for the Hyderabad Hunters in the ongoing Premier Badminton League (PBL) here today.

The Warriors registered an emphatic 4-1 win over Chennai Smashers in the evening match but the Hunters were out of contention for a semi-final berth following their 1-4 loss against Mumbai Rockets early in the day at the Gachibowli indoor stadium in Hyderabad.

Awadhe gained two points with a win in the Mixed Doubles clash, which was the Trump match for both sides, and bagged two more points by defeating Chennai in Men's Doubles and one of the two Men's Singles' matches.

Chennai secured two points, including the win of India's star shuttler PV Sindhu in Women's Singles, but lost one point after the team's loss in the Trump match.

The win for Awadhe came despite the absence of its star shuttler Saina Nehwal, who was not part of the team on Monday.

It was World No. 34 Sai Praneeth who earned the first win for Awadhe after pulling off a hard-fought victory over Chennai's Sony Dwi Kuncoro, an experienced Indonesian shuttler.

Praneeth lost the first game 12-15, but fought back to win the remaining two games 15-8 and 15-13. With both players leaving no stone unturned, the decisive third game turned into a tense battle and Praneeth had the last laugh.

After winning the match, Praneeth said: "It's never easy to come back after losing the first game. I committed a lot of mistakes in the first game and Sony took full advantage of it. I knew if I get rhythm I will play better and that's what happened in the rest of the match and the result is in front of all."

In the Men's doubles match, the combination of Cai Yun and Hendra Gunawan gave Awadhe a point with a 15-13, 15-11 win over Pranav Chopra and Toby Ng of Chennai Smashers.

However, the star attraction of the tie was the Women's singles match between P V Sindhu and upcoming shuttler Vrushali G from Andhra Pradesh and it was the World No. 12 who continued her unbeaten run with a 15-7,15-3 win in the third match of the rubber.

In the other Men's Singles match of the tie, Chennai's Brice Leverdez defeated Awadhe's Tanongsak S 15-13, 15-9 to bag another point for his team.

Awadhe thus has secured 17 points in the tournament.