None of the Indian could get inside the top-20 bracket even as South African Jbe Kruger overcame the late jitters to lift the Avantha Masters title, his first win on both Asian and European Tours, in New Delhi on Sunday.
- Whiteford disqualified from Avantha Masters
Kruger showed signs nervousness when striding towards his victory but he managed to keep his nerves in check to claim the event that carries a purse of Euros 1.8 million.
He finished at 14-under 274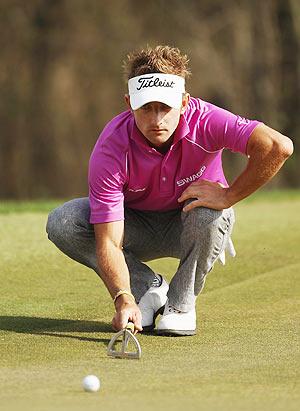 , two shots clear of Spain's Jorge Campillo (67) and Germany's Marcel Siem (70) at the DLF Golf and Country Club.
Indians who usually do well at home did have not a great tournament. Only a dozen Indians made the cut and none of them came inside top-20.
The best was Shamim Khan (71) in 22nd place at five-under 283, while Anirban Lahiri (74) four-under 284 and tied 23rd. Vijay Kumar (73) ended tied 29th at three-under 285. Shiv Kapur (74) was two-under 286 and tied 35th.
Defending champion SSP Chowrasia had his best round of the week with a 70, but finished tied 48th alongside Jeev Milkha Singh (72). Manav Jaini (73) and Himmat Rai (72) were tied 54th, Mukesh Kumar (76) and Sanjay Kumar were tied 62nd and Vivek Bhandari, who had a superb time in first two rounds crashed to an 80 and ended tied 65th.
Kruger was flawless through the day and had three birdies on the front nine and turned in three-under. Through the day he either led or at least had a share of the lead, when at times Marcel Siem (70) and Jose Manuel Lara (70) seemed to give him a challenge in the richest tournament staged in India.
Kruger was three ahead on the 17th tee and then he had a bad approach shot and missed an up-and-down and logged a bogey. On the 18th, his drive was wayward and then struck a camera.
His second shot went into the trees, but he hit his third over the water and onto the green. He two-putted for a par and the trophy was his with a card of 69.
Kruger picked up the winner's prize cheque worth 300,000 Pounds and moved to the top of the Asian Tour Order of Merit,
"I'm very relieved to win for the first time. If you want to win you need to make putts on the final day and I did that today. It's a big relief now that I've won but I think I needed all those second-placed finishes to be able to appreciate it. There was no pressure even when I made my only bogey of the day on the 17th," said Kruger.