If you are a motorsport enthusiast, be sure to be there at the Somaiya grounds in Sion East, Mumbai, on Sunday, February 20. Some of the best two and four-wheeler drivers will be in action in an Autocross event, billed as RotoCross, organized by the Rotary Club of Deonar, Mumbai, along with Sportscraft, under the aegis of FMSCI.
The event is being presented by Kotak Mahindra Bank and supported by Eureka Forbes Ltd.
The Rotocross will provide riders/drivers an opportunity to display their skills and enthusiasm for a worthy cause -- to support and create awareness for various projects of the Rotary Club.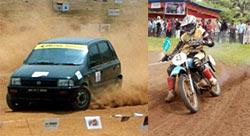 The club works with and supports a burns clinic, which provides medical and psychological assistance and help to burn victims, mostly dowry-burning related. It also works in areas of livelihood support, healthcare, education facilities in villages off Karjat near Mumbai. So far this work has helped rehabilitate and support nearly 17 villages. The polio eradication programme is another constant activity that the Club has undertaken since its inception and today the areas where they work have been declared as near-Polio free.
Thus, if you are one who thrills on speed and have the spunk for edge-of-the-seat action, then this is the best chance to realise your dream of racing in a charged environment. You don't have to bother about on-coming traffic or potholes or pedestrians in your way. All you have to do is generate the right bursts of speed and negotiate a pre-determined obstacle-laden course. If you register the best time you emerge champion.
Since the announcement of the event, there has been considerable activity in open spaces by aspiring riders preparing for the Rotocross. Several questions are being asked about what  the whole exercise is all about. Some want to know whether it is a massed start race while others have been enquiring if it is a show of speed. Well, it is neither. In fact, to put it simply, it is time trial which examines how safe a rider you are.
Participants have to drive around a specially chalked out obstacle-laden, zig-zag course, and each is timed to the hundredth of a second. A 'touch' to any of the obstacles along the course entails a penalty of ten seconds, which is deducted from the final time registered by the rider during his exercise. The competitor posting the fastest/best time will be adjudged the 'Fastest Driver/Rider' of the meet.
In sum, you don't have to be a champion rider to do well; it all depends on your acceleration, turning and braking.
According to Shrikant Karani, head of Sportscraft, "The event is being organized to help promote the worthy causes that the Rotary Club Deonar supports and works with. We also hope the event brings in awareness for road and driving discipline among two-wheeler and four-wheeler drivers."
The response for the event is overwhelming to say the least as already 50 entries have been received though the closing date for late entries is February 17. So if you haven't registered, there's still a chance.
More details are available on www.sportscraftindia.com and www.rotarydeonar.com.