Overcoming mechanical issues, Narain Karthikeyan raced brilliantly to finish third in Race 1 of the Mugello round of the Auto GP championship.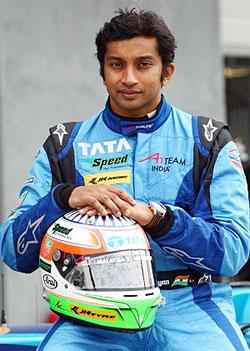 The Indian had pole position but engine issues forced him to pit early and re-join the race from the back of the field. However, Karthikeyan worked his way to the podium behind winner Sergio Campana (Ibiza Racing Team) and second-placed Kevin Giovesi (Ghinzani Motorsport).
Karthikeyan helped his side Super Nova earn 15 points and kept them in the lead in the team championship.
"This podium finish definitely feels like a win for me. Despite the fact that we had scored the pole, I was forced back to the pit-lane due to a glitch in the acceleration system. Once back on-track, I caught the tail of the field and started to pass my opponents, also profiting from some contacts ahead. Now I'm aiming for the win in Race 2," Karthikeyan said.
In race 2, Karthikeyan will begin from sixth position on the grid.