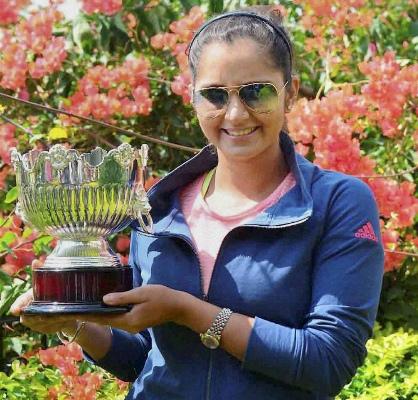 IMAGE: Sania Mirza poses with her Australian Open womens doubles trophy in Hyderabad on Monday. Photograph: PTI
Having returned to Hyderabad following a triumphant run at the Australian Open, Sania Mirza has gushed about the perfect start to the season.
Sania, along with her Swiss partner Martina Hingis won the Australian Open women's doubles champions besting Czech duo of Andrea Hlavackova and Lucie Hradecka in straight sets. It was the first Australian Open women's doubles title for Sania and her sixth Grand Slam triumph overall.
The Indo-Swiss combine has thus far won 12 titles, including the Wimbledon, the US Open, WTA Tour Finals and now at Melbourne.
"It was a perfect way to start the year. We feel really happy. Three slams in a row who would have thought," Sania was quoted as saying in Hyderabad.
"We haven't lost a match in a long time and have also won three grand slams in a row."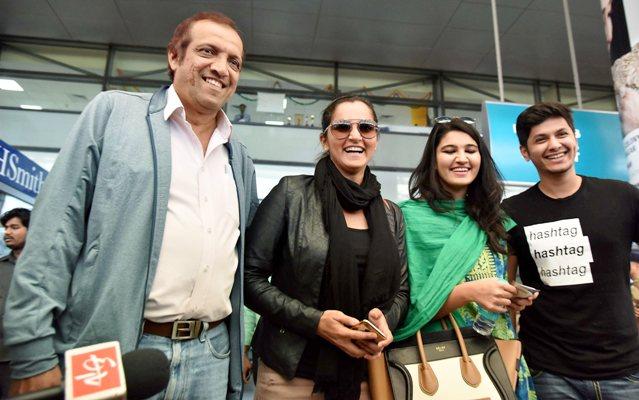 IMAGE: Sania Mirza along with her father Imran Mirza and sister Anam during her arrival at Rajiv Gandhi International Airport. Photograph: PTI
Sania and Martina have now extended their unbeaten run to 36 matches, winning eight titles in a row.
The Australian Open was their third consecutive Grand Slam title, having won the Wimbledon and US Open last year.
"We still have to go out there and give our best and try and play the best that we can. Fortunately we have been able to do this for so many months and the whole year has been incredible.
"But the last six months especially. So we are going to keep trying to do that," said Sania.