Images from the Australian Open matches played at Melbourne Park on Tuesday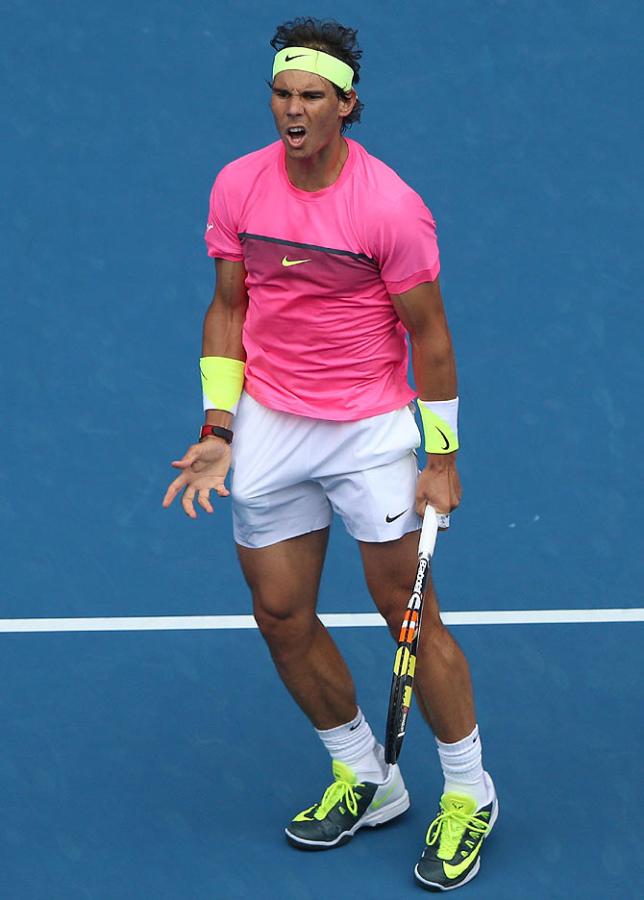 Rafael Nadal of Spain celebrates a point in his quarter-final match against Tomas Berdych of the Czech Republic at Melbourne Park on Tuesday. Photograph: Hannah Peters/Getty Images
Tomas Berdych played arguably the Grand Slam quarter-final of his life to end the longest losing streak on the ATP Tour with a 6-2, 6-0, 7-6(5) victory over Rafael Nadal and advance to the Australian Open semi-finals on Tuesday.
Berdych, who beat the virtually unstoppable and then six-times champion Roger Federer in the Wimbledon quarter-finals in 2010, had not beaten Nadal in 17 successive matches, tied for the record as the longest losing streak to another player.
The seventh-seed started like a runaway train against the 14-times Grand Slam champion, forcing him deep behind the baseline and painting the tramlines as every shot he attempted appeared to come off.
Berdych won the opening set for the first time in a run of seven matches against Nadal, then swept through the second in 25 minutes and despite a third-set fightback by the Spaniard, the damage was done and the Czech moved into a semi-final against either Andy Murray or Nick Kyrgios.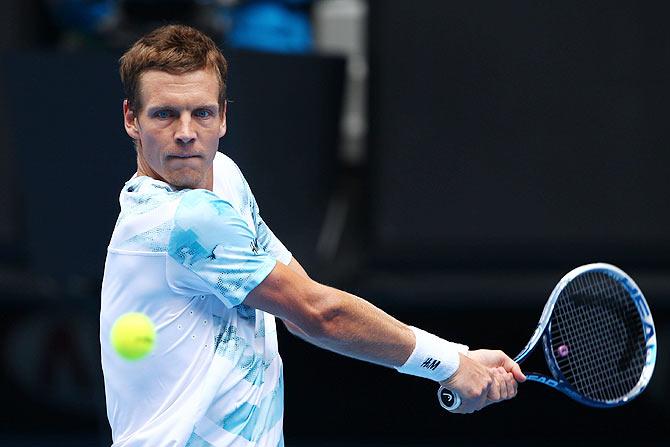 Tomas Berdych of the Czech Republic plays a backhand in his quarter-final against Rafael Nadal of Spain. Photograph: Clive Brunskill/Getty Images
Third seed Nadal had said prior to the tournament that he doubted whether he was mentally or physically ready to challenge for the title after injury and illness hampered the second half of 2014.
The 28-year-old Spaniard also suffered from dehydration, cramping and upset stomach to overcome qualifier Tim Smyczek in the second round but had looked imperious in his destruction of 14th-seed Kevin Anderson in the fourth round.
Nadal was clutching at his hamstring throughout the early stages of the match and did not seem at his usual pugnacious scrambling best, though Berdych had also upped his aggression level and used his booming serve to maximum effect.
The Spaniard recovered in the third set and saved two match points at 6-5 to force it into a tiebreak before Berdych sealed it on his fourth match point to advance into his second successive Melbourne Park semi-final.
Sharapova batters Bouchard, advances to semis
Maria Sharapova of Russia celebrates after winning her quarter-final against Eugenie Bouchard of Canada at the 2015 Australian Open at Melbourne Park on Tuesday. Photograph: Cameron Spencer/Getty Images
Maria Sharapova showed she was in no mood to be replaced by the younger generation just yet as she demolished seventh seed Eugenie Bouchard 6-3, 6-2 in 78 minutes to advance to the semi-finals of the Australian Open on Tuesday.
The 27-year-old Russian has now beaten the talented Canadian 20-year-old in each of their four meetings, three of which have been at Grand Slams.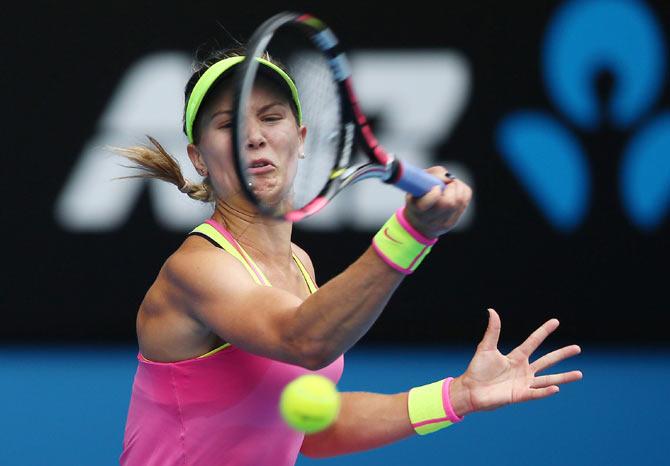 Eugenie Bouchard of Canada plays a forehand against Maria Sharapova of Russia. Photograph: Hannah Peters/Getty Images
The second seed jumped on a clearly nervous Bouchard in the first game of the match by breaking serve and not allowing her opponent to settle.
The early setback affected the Canadian's timing as she made 20 unforced errors, before Sharapova broke again in the ninth game to take the first set in 41 minutes.
The five-times Grand Slam winner made another fast start in the second set, racing through her first service game and breaking in the fourth to give her the opening needed to set up a semi-final against 10th-seeded compatriot Ekaterina Makarova.
Magic Makarova routs Halep to reach semi-finals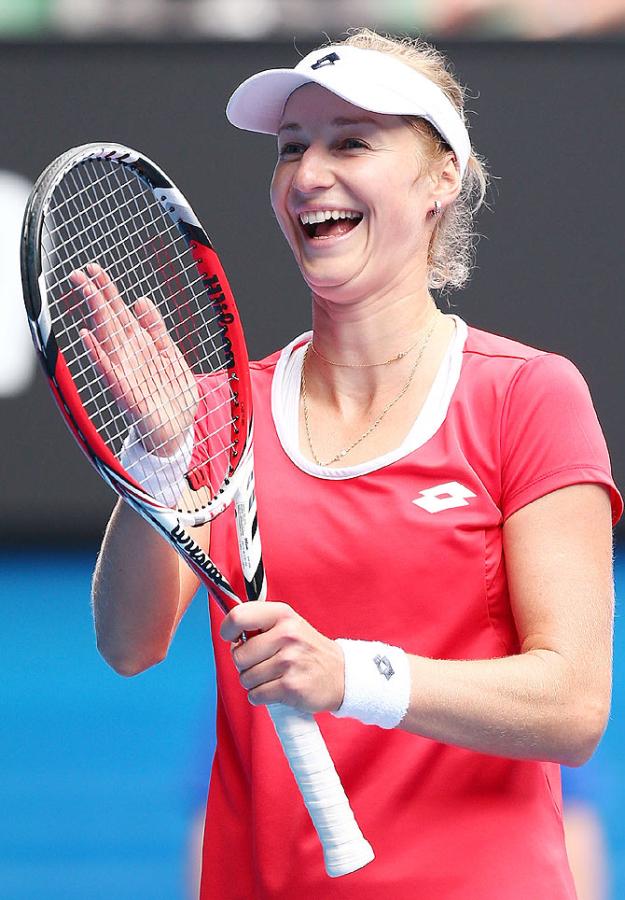 Ekaterina Makarova of Russia celebrates after beating Simona Halep of Romania to win the quarter-final. Photograph: Cameron Spencer/Getty Images
Ekaterina Makarova continued her impressive rise as a Grand Slam contender by dismantling listless third seed Simona Halep 6-4, 6-0 to reach the semi-finals of the Australian Open on Tuesday.
The 10th-seeded Russian, who made her maiden Grand Slam semi-final at the US Open last year, leaped on Romanian Halep's serve, breaking her twice in the first set and three times in the second to roar to a 5-0 lead.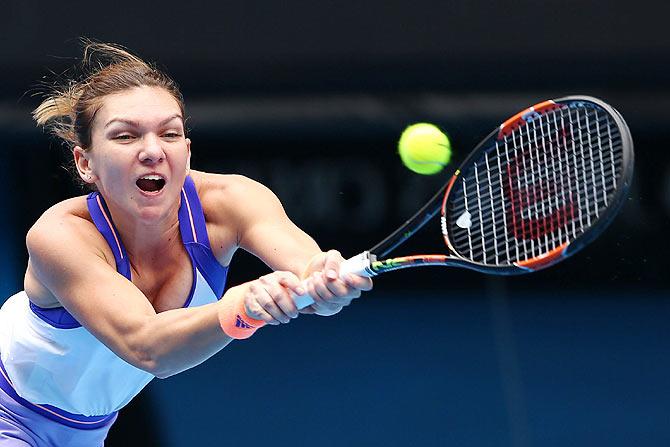 Simona Halep of Romania plays a backhand against Ekaterina Makarova of Russia. Photograph: Cameron Spencer/Getty Images
A shell-shocked Halep was utterly overwhelmed and meekly surrendered the match by crunching a backhand wide of the tramlines after 69 minutes.
Makarova will play the winner of Maria Sharapova, who beat Eugenie Bouchard, for a place in the final.Australian Open PHOTOS: Sharapova tames Bouchard to make semis.
Kyrgios and tricky wind cannot stop Murray march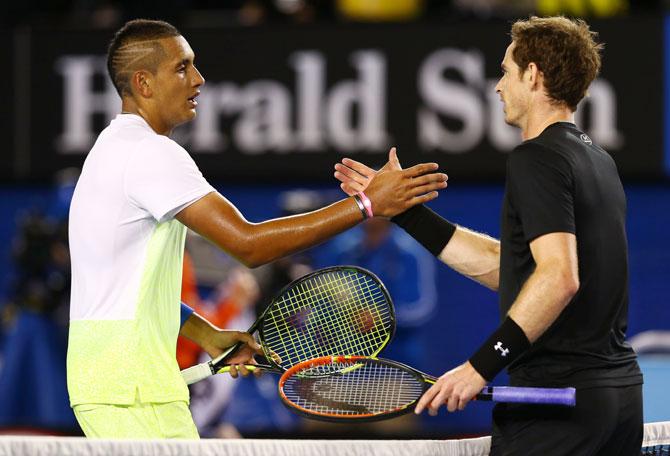 Nick Kyrgios of Australia and Andy Murray of Great Britain at the net after their quarterfinal at the 2015 Australian Open. Photograph: Clive Brunskill/Getty Images
Testing wind conditions could not blunt Andy Murray's clinical win over local hope Nick Kyrgios at the Australian Open on Tuesday as the Briton set up a semi-final with Tomas Berdych with a 6-3, 7-6 (5), 6-3 victory.
The sixth seed put the hype surrounding Kyrgios's second grand slam quarter-final to the back of his mind and used the winds to his benefit to dispatch the 19-year-old in just over two hours.
"It was tricky because it was a very strong breeze," Murray told reporters. "When you were down the far end of the court you had to do a lot more defending.
"If you tried to play with any sort of height the ball was dropping short and it was very easy to attack so I tried to just keep the ball low from that end, use a lot of slice and played pretty flat -- I think I did that quite well."