Serena Williams said before the start of the Australian Open that even with just two warm-up matches under her belt she was ready for Melbourne. More than ready it seems.
The American, with lattice-work strapping snaking up from her injured left ankle to behind her knee, brushed aside Czech Barbora Zahlavova Strycova 6-0, 6-4 in just over an hour to reach the third round on Thursday.
Five-times champion Williams was unable to aim for a hat-trick of titles last year due to injury and there were concerns she would not be ready for the season's first Grand Slam after pulling out of the Brisbane International with a sore ankle.
- PHOTOS from day 4 at the Australian Open
After shaking off the rust in the first round against Tamira Paszek, Williams was on song from the outset on Thursday, blasting baseline winners past Strycova and racing through the first set in just 22 minutes.
Her Czech opponent won her first service game of the second set, eliciting enthusiastic applause from the crowd, but the Williams response was predictable, the 30-year-old winning her next serve to love and breaking Strycova to go 3-1 up.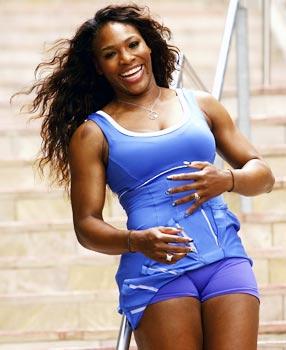 Williams had her first wobble while serving for the match at 5-3, giving Strycova a sniff of hope, and the American looked in trouble when a change of direction left her sitting on the sun-baked court grimacing.
But Williams got back to her feet and promptly broke Strycova's serve to seal the set 6-4 and earn her place in the third round.
'NOT A BALLERINA'
Williams, who racked up her 500th match win with the victory, said her ankle is still causing her problems, a potential issue for tougher tests ahead.
"It's fine, I just have really wobbly ankles," she said in a televised interview. "I wasn't meant to be a ballerina or anything."
Much has been made of Williams' fight to stay healthy after a catalogue of injuries kept her off court for most of last year, but the world number 12 said she felt fine and that her tumble on Thursday had not exacerbated her ankle issue.
"It's totally fine, it was my good ankle," she said in the post-match news conference. "There was no extra pain, it was fine. I twisted it but it's all taped up, so the tape really, really helped."
Williams, who will play Dominika Cibulkova or Greta Arn in the next round, thought it was "really, really cool" to have reached 500 wins but has no plans to rest on her laurels.
"The first thing I asked, of course, 'Is there anyone that achieved 1,000?' I guess not. I never will get there either.
"Five hundred is a lot of matches to play, let alone to win, so it's pretty cool."
After Marcos Baghdatis smashed four racquets in a spectacular fit of pique in the third set against Stanislas Wawrinka on Wednesday, Williams was asked if that kind of outburst helps or hinders a player.
"I actually used to break a lot of racquets on the court," said Williams, whose own fiery temper saw her tarnish the US Open final against Sam Stosur with a sensational outburst at a chair umpire last September.
"I sometimes break them in practice, just not in a match anymore. I think when you're young it kind of maybe lets out a little frustration. It's just is a way to express yourself.
"I got to a place where I could see how many places I could crack in a racquet. I got five. But it's definitely not the best way to release your anger. I think the older you get, you realise there's more different ways."
Williams was in awe when told Baghdatis has smashed four racquets in a minute.
"I've never done that. That's impressive," she added.