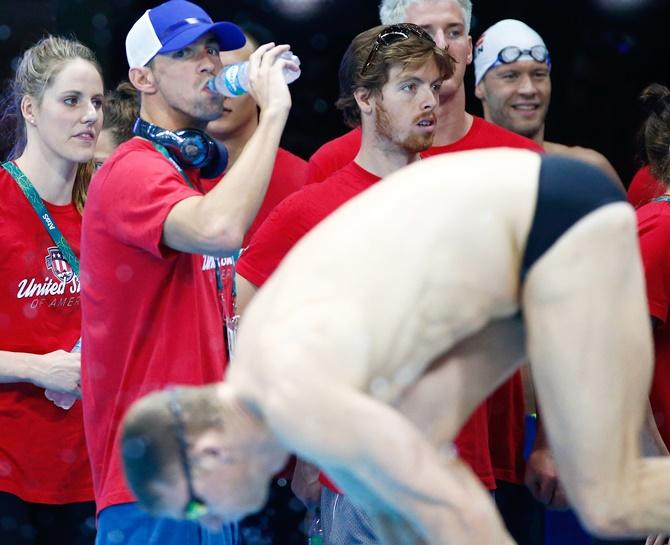 IMAGE: Michael Phelps of United States drinks water as he visits the Olympic swimming venue. Photograph: Michael Dalder/Reuters.
Let the duel in the pool begin.
The big beasts of Olympic swimming have rolled into Rio, with Michael Phelps and the mighty US team following their Australian rivals, and the buzz of expectation is building.
The two super powers have been sizing each other up already in the Athletes Village and across the pool deck, exchanging nods and greetings before the serious action kicks off on Saturday.
"I briefly saw them this morning, they were warming up as I was swimming and by the time I was hopping out they were hopping in," said Australia's double gold medallist Emily Seebohm when a reporter enquired about 'trash talking with the Yanks'.
"So I didn't really catch anyone but I'm sure I'll see them at the pool. We've got to train at the same time," added the 100 and 200 meters backstroke world champion.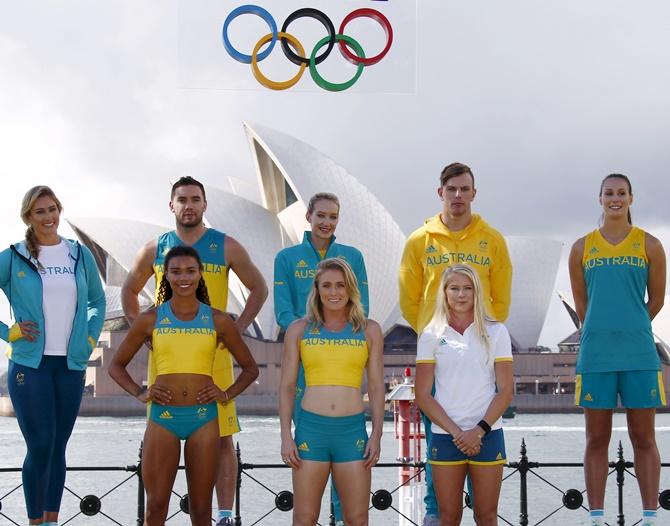 IMAGE: Australian swimming team. Photograph: David Gray/Reuters.
Team mate Cameron McEvoy, Australia's big hope of a first 100 freestyle men's gold since 1968, said there might have been a bit of 'eyeballing' but both sides knew each other well enough.
"A lot of us are really, really good friends with the Americans," he said.
"It was excitement to see them coming because there's some familiar faces in the Village and because there's so many of them, there's more probability that you are going to run into them in the Village.

"They are a powerhouse team and you can definitely feel their presence in the pool. That was pretty exciting this morning to see them coming in."
US swimmers won 31 medals (16 gold) four years ago in London, more than three times as many as Australia who slumped to a mere 10 and just one gold in a Games that prompted soul-searching Down Under.
The two powers were more evenly matched at last year's world championships in Russia with the Americans top of the tree on 23 medals and eight golds to Australia's 16 and seven golds.
The rivalry over the years has been immense with the 4x100 freestyle relay at the 2000 Sydney Games providing one of the greatest duels after Gary Hall junior boasted that he and his team mates would smash the Australians "like guitars".
The U.S. had never been beaten in the event at an Olympics but the Australians broke the world record and played air guitar in celebration.
"It's always special to stand up against the Americans," said McEvoy.
"Over the years we've had a really healthy rivalry," agreed 100 freestyle world record holder Cate Campbell. "We've pushed them and they've pushed us.
"I don't think America would be where they are today without Australia....and America has pushed us to be the great swimming nation that we are as well."