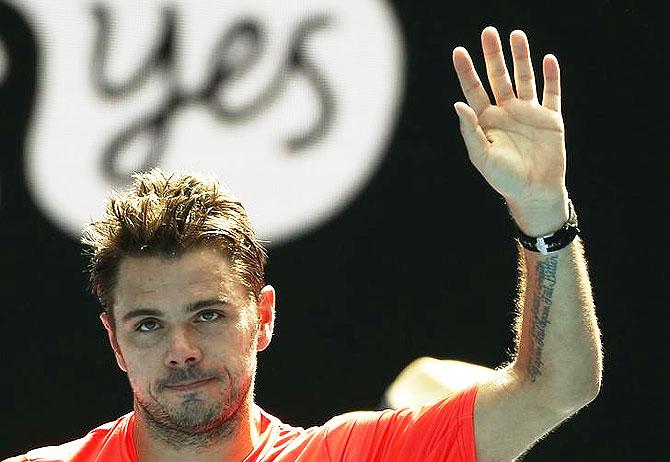 IMAGE: Switzerland's Stan Wawrinka celebrates after winning his third round match against Czech Republic's Lukas Rosol at the Australian Open tennis tournament at Melbourne Park on Saturday. Photograph: Issei Kato/Reuters
Stan Wawrinka let his tennis do the talking as he brushed off the after-effects of a cold to breeze into the fourth round of the Australian Open with a 6-2, 6-3, 7-6(3) victory over Lukas Rosol on Saturday.
A croaky voice and bloodshot eyes told the tale of the illness that has laid low the fourth seed this week but the 18 aces and 45 winners he conjured up on court suggested his game was largely unaffected.
"I just had a cold a little bit, but nothing serious, nothing big," the 2014 MelbournePark champion said.
"As long as I'm feeling good on the court, that's the most important thing. The rest, if I don't have a voice, if I feel a little bit sick, it doesn't matter."
Wawrinka had spent just over 3 1/2 hours on court in his first two matches at MelbournePark, but needed 115 minutes to dispatch his fellow 30-year-old.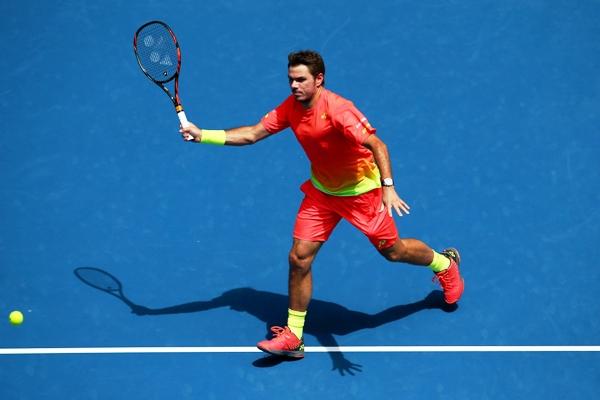 IMAGE: Stan Wawrinka plays a forehand in his third round match against Lukas Rosol. Photograph: Mark Kolbe/Getty Images
The French Open champion defused the tall Czech's serve and broke it four times over the first two sets before clinching the third on a tiebreaker.
"I'm happy the way I'm playing so far," said the Swiss.
"Today I think the beginning I start really well, not only the serve, but returning almost every shot, making him play a lot, being aggressive, taking the ball early.
"Happy with the match in general. Three sets, it's a good win again."
Renowned for his fearsome backhand, Wawrinka said a big improvement in his forehand had contributed considerably to his recent success.
"For sure it's been a key for those big matches that I won," he said.
"In the past I was struggling in the important points, important moment with my forehand. Now I don't anymore. Now I trust my forehand, that's for sure."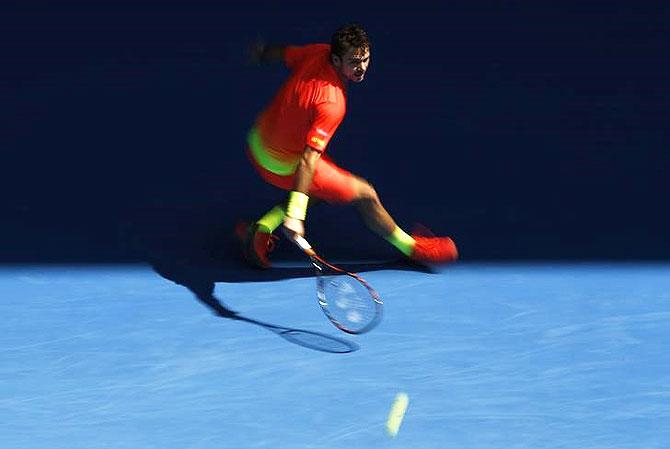 IMAGE: Switzerland's Stan Wawrinka hits a shot. Photogaph: Jason Reed/Reuters
The victory was the 2014 Australian Open champion's 400th on the ATP Tour and came a day after fellow Swiss Roger Federer recorded his 300th win at grand slams and Maria Sharapova her 600th WTA Tour-level win.
The French Open champion expects a tougher test in the fourth round when he meets Canada's 13th-seed Milos Raonic, a 6-2, 6-3, 6-4 winner over Serbia's Victor Troicki on Saturday.
"I think it depends a lot on my game, of what I'm going to do, of where I'm going to be on the court, the way I'm going to serve," he said.
"In general, I always find some solution to break his serve, even if it is really tough. We'll see. Hopefully I can be ready and be strong enough to take that one."