Images from Sunday's action at the Australian Open.
Djokovic dispels injury fears to see off Raonic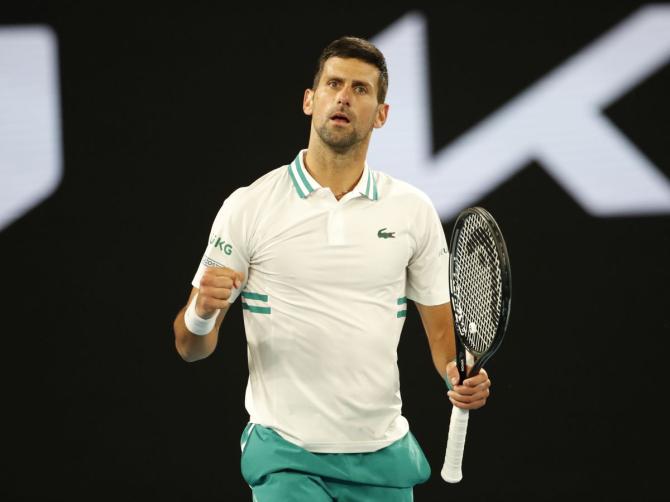 Australian Open champion Novak Djokovic came through a tough examination of his fitness as the top seed beat Canadian powerhouse Milos Raonic 7-6 (4), 4-6, 6-1, 6-4 on Sunday to reach the quarter-finals.
Djokovic, who injured a side muscle during a five-set win over Taylor Fritz on Friday and suggested he might not be able to continue, showed hints of discomfort on the way to becoming only the second player to reach 300 Grand Slam match wins.
Fourteenth seed Raonic had never previously taken a set off Djokovic in three previous Grand Slam meetings so when he snatched the second set a surprise looked possible.
But Djokovic, bidding for a record-extending ninth title in Melbourne, responded by raising his level and improving his record over Raonic to 12-0.
The Serb will face Germany's Alexander Zverev for a place in the semi-finals.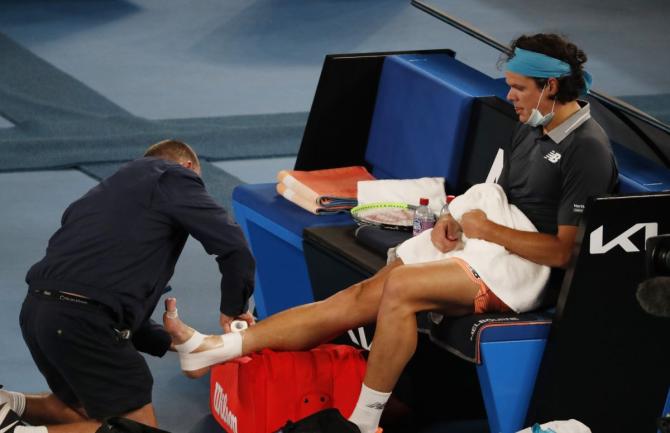 Djokovic failed to convert break points at 3-3 and 4-4 in the opening set and there was one moment of alarm when he was forced wide on the forehand side and struggled to put on the brakes, hurdling a courtside advertising board.
He won the tiebreak in clinical fashion, though, and when Raonic needed treatment on his right ankle early in the second set Djokovic appeared to be well in command.
Instead, Raonic began to play some of his best tennis and secured the first service break of the match at 2-2 with a powerful forehand winner.
That proved enough for Raonic to bag the second set but his victory hopes were soon receding as Djokovic began to swing freely and accelerated through the third set.
The elastic-limbed Djokovic was stretched in the fourth set as Raonic regained his focus but he broke serve at 4-4 when his opponent netted a backhand and clinched victory a game later to reach the quarter-finals in Melbourne for the 12th time.
Dimitrov sends Thiem packing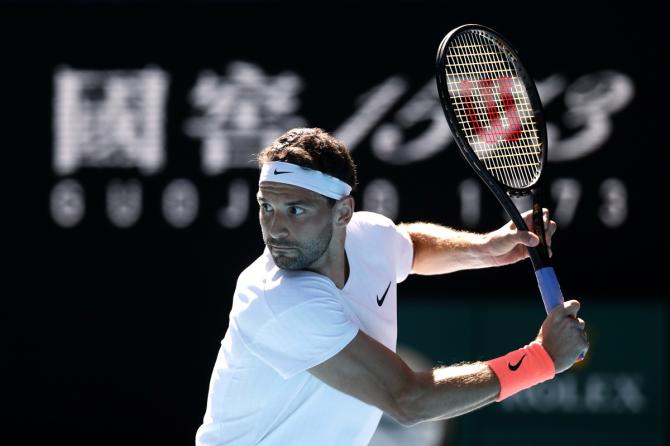 Third seed Dominic Thiem slumped out of the Australian Open in the fourth round on Sunday, comprehensively beaten 6-4, 6-4, 6-0 by Bulgarian Grigor Dimitrov on Rod Laver Arena.
The US Open champion, who came back from two sets down to beat Nick Kyrgios in the third round on Friday, looked out of sorts from the beginning of the contest.
The first two sets followed the same pattern with Thiem taking an early 3-1 lead only for 18th seed Dimitrov to charge back at him and clinch the set.
The Austrian, losing finalist here last year, was unable to rouse himself in the third set and Dimitrov sealed a last-eight meeting with Russian qualifier Aslan Karatsev after little more than two hours on court.
"A combination of some little physical issues, plus a real bad day, plus the fact that he's a great player ... a result like that can happen," Thiem said.
"I'm not a machine, sometimes I would like to be, but there are really, really bad days. As soon as you're not 100% at this level, then results like this come up, and that's exactly what happened today."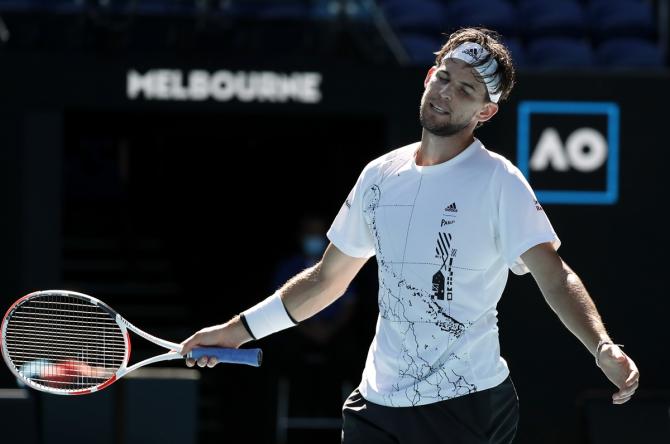 While Thiem's five-set match against Kyrgios had been played in a bear pit, Sunday's match was witnessed by only a handful of officials and coaches on Rod Laver Arena as Melbourne's coronavirus lockdown kept the fans away.
"It was a special match two nights ago, and I woke up maybe a little bit different than on a normal match, especially with all the energy from the crowd," Thiem added.
"But ... it didn't really affect me today."On Sunday, the first two sets followed a similar pattern with Thiem taking an early 3-1 lead only for 18th seed Dimitrov to charge back at him and clinch the set.
The Austrian was unable to rouse himself in the third set and his Australian Open ended when he flapped a forehand long after little more than two hours on court.
"Throughout every season you have one of those matches where you keep the ball rolling," Dimitrov said.
"He might have had a problem, I don't know, but I also give myself some credit for staying in there. He's an extraordinary player so I'm happy with the win."
Halep battles past Swiatek to avenge Paris loss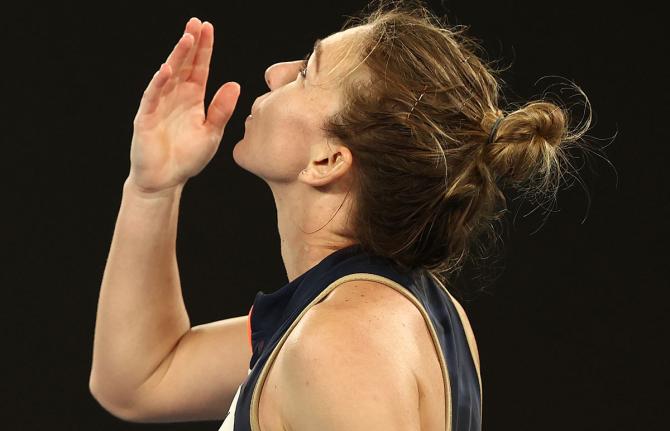 Second seed Simona Halep survived a first-set wobble to beat Iga Swiatek 3-6, 6-1, 6-4 in the Australian Open fourth round on Sunday as the Romanian avenged her shock defeat by the Polish teenager at the same stage of last year's French Open.

Swiatek, who knocked out Halep en route to her maiden Grand Slam title in Paris, used her booming groundstrokes to save two break points in the seventh game before immediately breaking the Romanian to love on her way to claiming the opening set.

Halep roared back with an early break in the second set as her crafty baseline play frustrated her teenage opponent, who made a string of errors.

The Romanian reeled off five consecutive games across the second and third sets before sealing victory in just under two hours at Rod Laver Arena.
Zverev out-serves Lajovic to reach last eight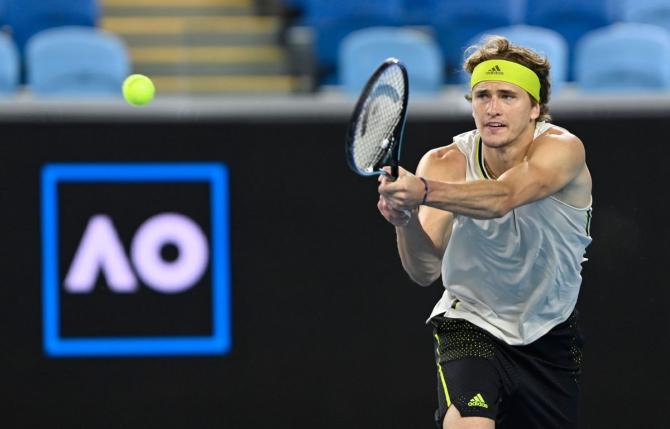 German sixth seed Alexander Zverev used his powerful serve to good effect to overcome 23rd seed Dusan Lajovic of Serbia 6-4, 7-6 (5), 6-3 on Sunday and reach the Australian Open quarter-finals.
Zverev needed five sets to beat Lajovic in each of their two previous meetings at the French Open, but the 23-year-old was in a more ruthless mood on Margaret Court Arena and sealed victory with his 15th ace.
The German got 72% of his first serves in and racked up 44 winners to dominate the 30-year-old Lajovic throughout the match.
Zverev will meet either world number one Novak Djokovic or Canadian 14th seed Milos Raonic for a place in the semi-finals.
Qualifier Karatsev books last 8 spot on Slam debut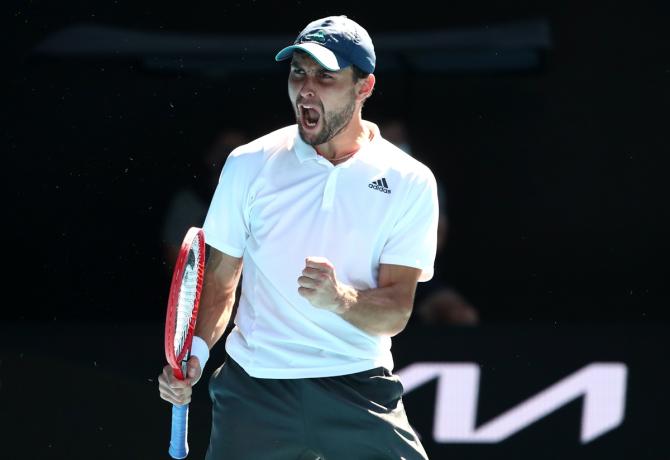 Russian qualifier Aslan Karatsev continued his fairytale run at the Australian Open on Sunday, reaching the quarter-finals on his Grand Slam debut with a 3-6, 1-6, 6-3, 6-3, 6-4 win over 20th seed Felix Auger-Aliassime.
Karatsev had not dropped a set in his previous three rounds, including a win over eighth seed Diego Schwartzman, but lost the first two against the Canadian on Sunday at Margaret Court Arena as he struggled with unforced errors.
The 27-year-old took a bathroom break after losing the second set and returned a different player, going for broke and keeping a lid on his errors to win three sets in a row and claim victory in a battle lasting almost three and a half hours.
"It was really difficult in the beginning to play with him. He's a really good player and was playing really fast and it took me two sets to find my rhythm," Karatsev, ranked 114th in the world, said in his on-court interview.
"I put everything into this match and I'm really happy."
Playing the first five-setters of their careers, both players showed nerves but it was Karatsev who displayed better control in the end as 20-year-old Auger-Aliassime began to struggle with his serve.
Karatsev converted his first match point with a forehand crosscourt winner and celebrated with a huge roar as he became the first male player since Alex Radulescu at Wimbledon in 1996 to reach a Grand Slam quarter-final on their debut.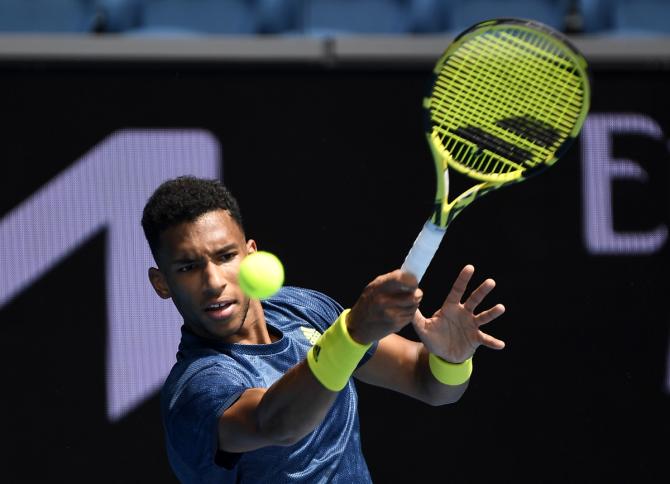 Karatsev also became the lowest-ranked man to reach the Australian Open quarters since No. 114 Patrick McEnroe in 1991 and the first qualifier since Bernard Tomic at 2011 Wimbledon to reach the last eight at a major.
Auger-Aliassime said his serve had let him down and he was unable to compensate.
"Of course I wish I could have served better, but I can't just snap my fingers and it just happens," he said. "So I just got to be a better player overall to overcome these situations.
"The positive thing is mentally I stayed positive ... I believed until the end."
Karatsev will next play 18th seed Grigor Dimitrov, who ousted third seed Dominic Thiem of Austria 6-4, 6-4, 6-0 for a place in the semi-finals.
Serena survives Sabalenka scare to enter last 8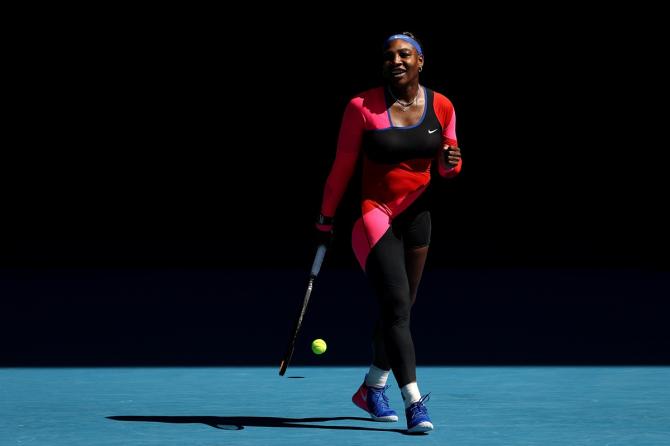 Serena Williams stormed into the quarter-finals of the Australian Open on Sunday with a gritty 6-4, 2-6, 6-4 victory over Belarusian Aryna Sabalenka.
The match was a big test for Williams, who was up against one of the few players on the women's tour capable of matching her power from behind the baseline.
"I'm happy to get through that one," Williams said in an on-court interview. "It wasn't easy and I knew it wasn't going to be easy. She was teeing off on every shot.
"Even the games that I lost were super close, one shot here and one shot there, and I just felt like, 'Serena you've got this, you've just got to keep going.'"
The players went toe-to-toe in an even first set until Williams pounced late to break Sabalenka for the first time and take a 1-0 lead.
The roles were reversed at the start of the second, however, with Sabalenka breaking Williams in her first two service games.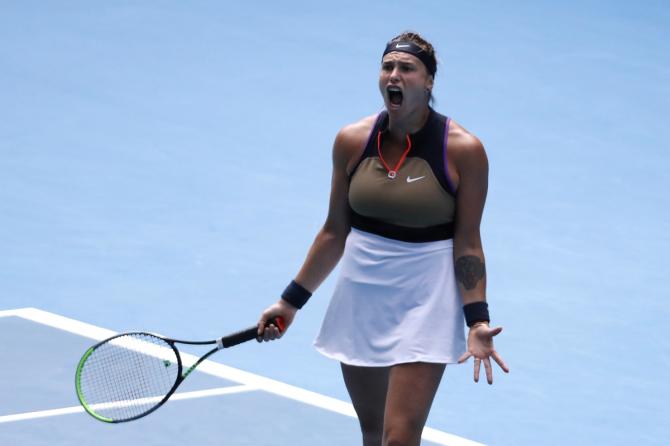 The American, who is chasing a record-equalling 24th Grand Slam title, clawed a break back but was powerless in the face of Sabalenka's onslaught as the seventh seed broke once more for a 4-1 lead before sending the match into a decider.
"I lost the second set but the games were so close so I just tried to stay in there," Williams added.
With the pressure ramped up in the third it was Sabalenka who blinked first, making several errors on serve to hand Williams a 3-1 lead.
The Belarusian broke back and then levelled the set at 4-4 with a hold to love but the pressure finally told with Sabalenka serving to stay in the match trailing 5-4.
Sabalenka double-faulted to give Williams a 15-30 lead and netted a forehand to hand her two match points, conceding the match by sending a forehand long.
Osaka rallies from the brink
Naomi Osaka saved two match-points as she battled back from the brink to reach the quarter-finals of the Australian Open with a 4-6, 6-4, 7-5 victory over in-form Garbine Muguruza on Sunday.
The Japanese third seed was chasing the match from the start on Rod Laver Arena and looked defeat square in the face in the third set when the Spanish 14th seed had two opportunities to win the match with a break of serve.
Osaka saved both match-points -- the first with an ace -- to turn the tide in the contest decisively and Muguruza exited the tournament a couple of games later after failing to win a point in her final service.
Fans remained absent from Melbourne Park for a second day because of the state of Victoria's coronavirus lockdown and Osaka's victory was greeted with taped applause piped into the stadium.
"I'm tired right now, that was tough," said Osaka, who mixed 40 winners with 36 unforced errors over the contest.
"Today I feel like I was intimidated, she is playing well. I had to go within myself, I couldn't play short balls to her because she'd put them away."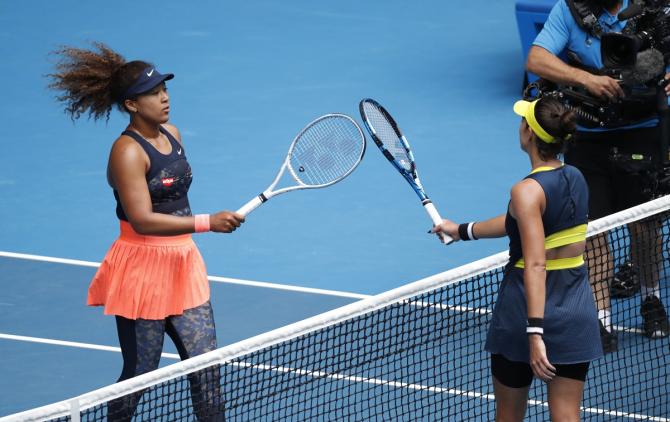 Next up for Osaka is an all-Asian quarter-final against unorthodox 35-year-old Hsieh Su-wei of Taiwan, who will be playing in the last eight of a Grand Slam for the first time. Taiwan veteran Su-wei beat Marketa Vondrousova 6-4, 6-2 in 68 minutes earlier.
"I'm not looking forward to it, every time we have played it's three sets," Osaka added. "It's fun when I'm not really angry. When I play her I just have to expect everything."
Although Osaka had never played Muguruza before, she had perhaps a better idea of what to expect from the former French Open and Wimbledon champion.
Muguruza, a finalist here last year, had conceded only 10 games in reaching the fourth round and continued that rich vein of form into Sunday's match.
Serving solidly and pouncing on anything short of perfect that flew off Osaka's racket, she grabbed what looked to be a crucial break of serve for 5-3 in the third set by steering a lovely backhand winner down the line.
Muguruza rued her missed opportunity but said she was happy overall with the start to her season.
"It's never a good feeling losing a match that you feel you could have changed in one second," the 27-year-old said.
"But I left the court with a good feeling, very good feeling about this tournament in general."
'Free spirit' Hsieh rolls into maiden Grand Slam quarter-final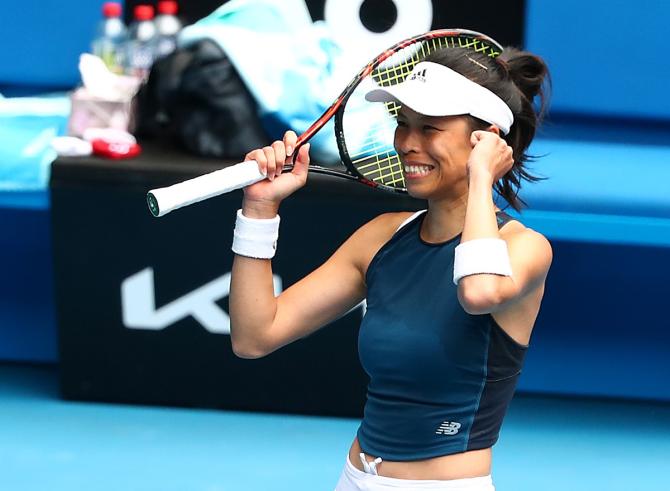 Hsieh Su-wei said she cares not whether she wins or loses her first Grand Slam quarter-final against Naomi Osaka later this week after continuing her stunning run at the Australian Open on Sunday.
The unseeded 35-year-old from Taiwan has long been considered a doubles specialist but has developed a knack of knocking off top players in singles matches in recent years.
On Sunday, she added Czech 19th seed Marketa Vondrousova to the list with a 6-4, 6-2 victory that ensured she would face US Open champion Osaka in an all-Asian quarter-final.
Hsieh has played the big-hitting Japanese third seed four times with three of the encounters going to three sets, and Osaka admitted on Sunday that she was dreading the match.
Hsieh said she would probably get "smashed" by the three-times Grand Slam champion but was looking forward to testing her problem-solving skills.
"I'm quite enjoy to playing every match, even if I get tortured," the three-times Grand Slam doubles champion said.
"I don't really care I win or I lose. I just try my best and play the game. All the girls, they play different games. It's very interesting when you have some difficult situations.
"I want to try to find a way and try to get into the game. At least I try. If I lose, I don't lose anything. It's no problem for me."
Lacking a big weapon, Hsieh's game is more about placement than power and being two handed on both sides with a shot selection that defies orthodoxy can bamboozle very good players.
"She's a free spirit," said Paul McNamee, the multiple Grand Slam doubles champion who has coached her on and off for a decade.
"It's important that she's allowed to express herself. That's the same with her tennis. She kind of acts on a whim sometimes, doesn't like to plan too far ahead."
Osaka said she has no idea what Hsieh is going to come up with when they play.
"My mind can't fathom the choices she makes when she's on the court," said Osaka. "It's not fun to play, but it's really fun to watch."
Hsieh will be the oldest player to make a Grand Slam quarter-final debut in the open era when she plays Osaka but that chronological fact does not fit with her self-image.
"I try to pretend I'm only 18-years-old," she laughed. "My mentality is very young ..." I