Images from Day 9 of the 2022 Australian Open, at Melbourne Park, on Tuesday.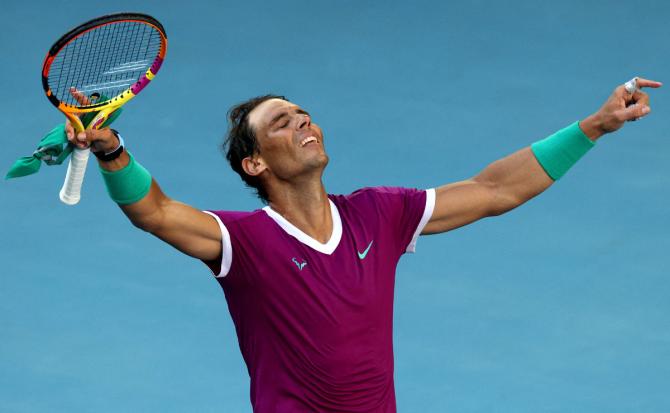 Rafael Nadal drew within two wins of a record 21st Grand Slam title on Tuesday after claiming a five-set thriller against Denis Shapovalov to grind into the Australian Open semi-finals for a seventh time.
On a steamy afternoon at Rod Laver Arena, Nadal suffered a huge scare as Shapovalov roared back from two sets down but the warrior Spaniard found another gear in the decider to prevail 6-3, 6-4, 4-6, 3-6, 6-3.

"I was completely destroyed after that," Nadal said on-court after the match, which lasted four hours and eight minutes.

"It's amazing, honestly, to be in the semi-finals ... For me it's everything to be able to play one more time here in the Rod Laver Arena."

Nadal narrowly avoided a repeat of last year's quarter-final in Melbourne when he was sent packing by Stefanos Tsitsipas after taking a two-set lead.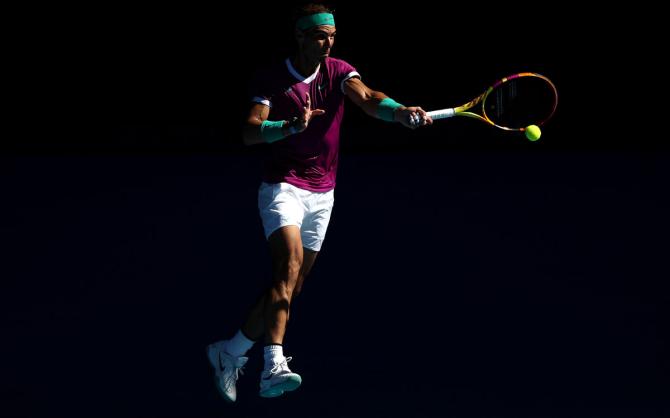 Two months ago, the sixth seed wondered whether his career was finished as he struggled to come back from a foot injury, but he will now prepare for his 36th Grand Slam semi-final against Matteo Berrettini, who edged past Gael Monfils 6-4, 6-4, 3-6, 3-6, 6-2 in another quarter-final.

Alarm bells were ringing for the record bid when the 35-year-old dropped the fourth set and exited the court for a medical time-out.

But he returned to break Shapovalov in the second game of the decider and kept the Canadian at arm's length to the finish.

After pushing a volley wide on match-point, Shapovalov turned and smashed his racket into the court in anguish.

A beaming Nadal spread his arms wide, leant back and pointed to the corners of the stadium, soaking up one of his finer wins at Melbourne Park.

"We can create histories ... but the real truth is that two months ago, we didn't know if we will be able to be back on Tour at all," he said.

"So here I am. For me it's just a present of life that I'm here playing tennis again."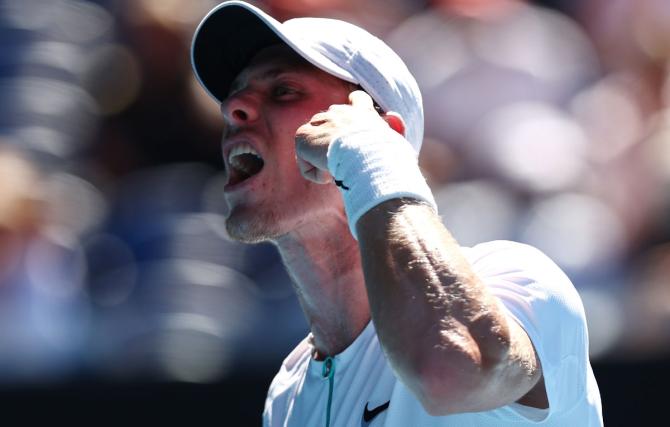 Shapovalov was brave in defeat but will rue the head start he gave Nadal and later on, the double-fault served at 1-0 down in the final set that gifted the Spaniard three break points.

The hot-tempered Canadian tried everything he could think of as he struggled earlier in the match, demanding Nadal receive a code violation for not taking to the court quickly enough at the start of the second set.

"Are you kidding me? You guys are all corrupt," the 14th seed snapped at the chair umpire when denied satisfaction.

Shapovalov hung in, though, and pounced when Nadal gifted three set points in the third set with a horror service game.

He stepped in and thrashed a stunning cross-court thunderbolt off his backhand to claim the third set, turning the match on its head.

Shapovalov was transformed as Nadal grew sluggish, earning a code violation for breaching the serve clock at 2-1 in the fourth set.

After dropping serve and falling 4-1 behind, Nadal called for a trainer, pointed to his stomach and took a tablet.

Wielding his one-handed backhand like a wand, Shapovalov served out the set and seemed certain to repeat the Tsitsipas stunner.

But three break points slipped through his fingers in the decider, allowing Nadal to forge clear and keep the record bid alive.
Berrettini outlasts Monfils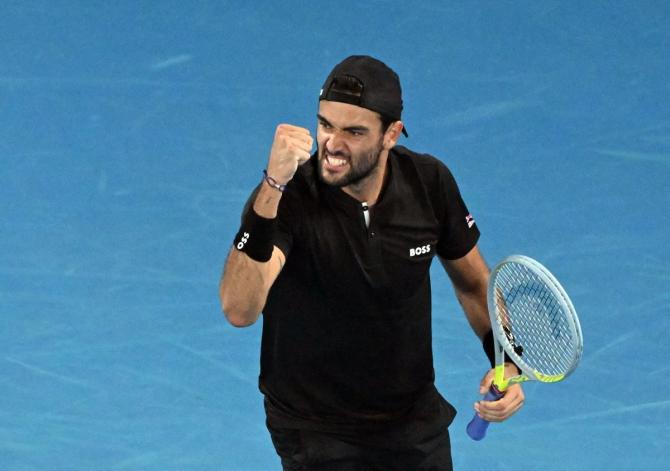 Seventh seed Matteo Berrettini found a higher gear in the face of a heroic fightback from France's Gael Monfils to script a 6-4, 6-4, 3-6, 3-6, 6-2 win later on Tuesday and become the first Italian man to reach the Australian Open semi-finals.
The 25-year-old, who reached last year's final at Wimbledon, will take on 20-times major winner Rafa Nadal of Spain for a place in Sunday's final at the Rod Laver Arena.
Berrettini seemed to be cruising to his third straight win over the flamboyant Frenchman when he won the first two sets but the 35-year-old former world number six forced a deciding set at the floodlit Rod Laver Arena.
After an intense battle of three hours and 49 minutes and the clock closing in on 1 am local time, the 25-year-old Italian sealed the contest on his third match point when Monfils found the net on a forehand return.
Barty breezes past Pegula into semis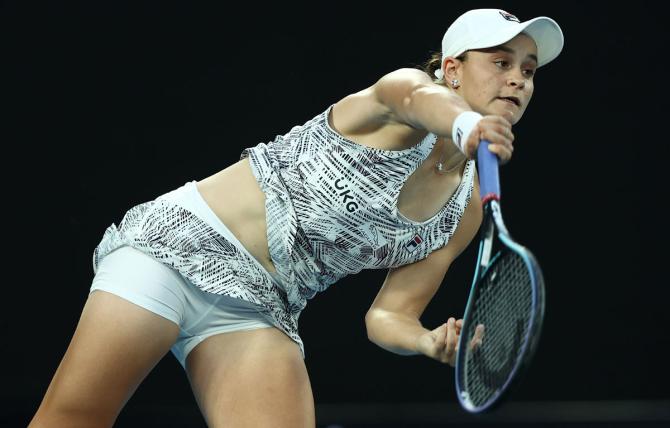 World number one Ash Barty is within two victories of achieving a crowning moment in her career after another dominant display at the Australian Open on Tuesday.

The 25-year-old reached the semi-finals at Melbourne Park for the second time in three years after blitzing American Jessica Pegula 6-2, 6-0 in just over an hour.

After fulfilling a childhood dream by winning Wimbledon last year, Barty will now play another American in Madison Keys on Thursday for a spot in the final.

Barty, who is aiming to become the first local since Chris O'Neil in 1978 to win the Australian Open, is yet to drop a set in this tournament and is unbeaten in 2022.

The former French Open champion reeled off the last nine games against Pegula and she was delighted with her form.

"That was solid tonight. I had a lot of fun out here. I was able to serve well and find a lot of forehands in the centre of the court and I was happy to take the game on," she said.

The Australian believes she is a superior player now to when she was beaten by eventual champion Sofia Kenin in a semi-final in Melbourne in 2020.

"I have grown as a person. I have grown as a player. I feel like I am a more complete player," she said. "I have a couple of more years of experience under my belt in handling different experiences and problem solving out on the court.

"I think it is a credit to my team. They've done so much work with me behind the scenes to make the best version of myself. I'm loving playing out here."
Comeback kid Keys storms into semi-finals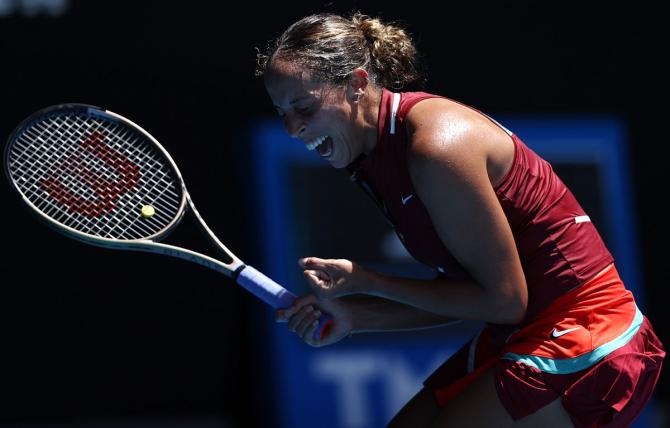 Having wallowed in a "deep, dark pit of despair" last season, Madison Keys booked her first Grand Slam semi-final spot in four years on Tuesday with a 6-3, 6-2 upset of Barbora Krejcikova at the Australian Open.

Keys' renaissance after a dismal 2021 season has lit up Melbourne Park this year, and at a baking hot Rod Laver Arena fourth seed Krejcikova became another casualty of the American's new-found confidence and traditional firepower.

Keys told an on-court interviewer she thought she might cry.

"It means a lot. Last year was really hard and I did everything that I could with my team to just really reset this off-season and focus on starting fresh and new and really just starting from zero and not worrying about last year.

"Wow, that's gone well so far. I'm really proud of myself and so thankful to my team and my friends and my family for helping me through what was a really tough year last year."

Banging down back-to-back aces to claim the first set, Keys roared to a 3-0 lead in the second before a rare wobble on serve gifted French Open champion Krejcikova a break.

Unbowed, Keys unleashed a blistering forehand return winner down the line to break back and sealed the match with a thumping first serve that Krejcikova could only push long.

The 26-year-old booked her second Australian Open semi-final, seven years after making the last four at Melbourne Park as a 19-year-old sensation.

That year, it took Serena Williams, the eventual champion, to stop her.

Williams said after the victory it was an honour to play "someone who will be number one in future".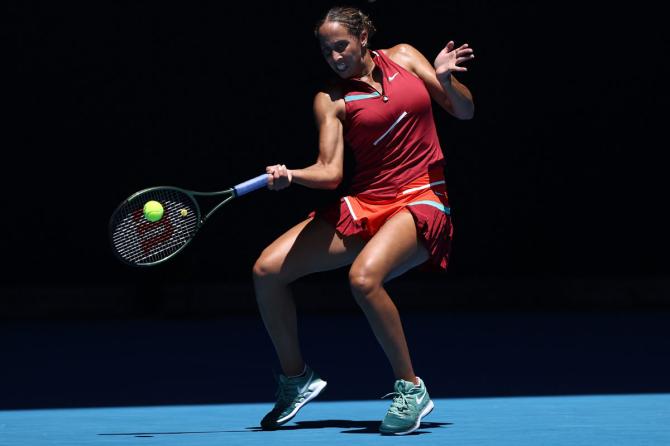 It has not quite gone to script, with Keys now carrying a ranking of 51 and still searching for an elusive major title four years after Sloane Stephens denied her in the 2017 US Open final.

She will need to beat either Australian top seed Ash Barty or compatriot Jessica Pegula to reach the final but with her bazooka forehand and her serve firing, she will hope to trouble either.

Krejcikova held firm for a few games but as five break points piled up at 3-2 in the first set, she finally buckled on serve, pushing a simple forehand into the tramlines with an open court begging.

In a flash the Czech was 5-2 down and calling for the trainer despite showing no signs of physical problems.

The delay failed to slow Keys' momentum, and she served out strongly to take the set in a four-game burst that unlocked the match.

With Krejcikova struggling in the heat, Florida-based Keys upped the ante and battered the Czech into submission with a string of blazing forehands.

"I train in Orlando in the summer, which I think is the hottest place on Earth in the summer," said Keys.

"I'm pretty used to (heat) just because I train in that all of the time, which I think is definitely a bonus for me -- even though in the summer I wish I didn't live there and I lived somewhere nicer."