IMAGES from the Australian Open matches at Melbourne Park on Friday.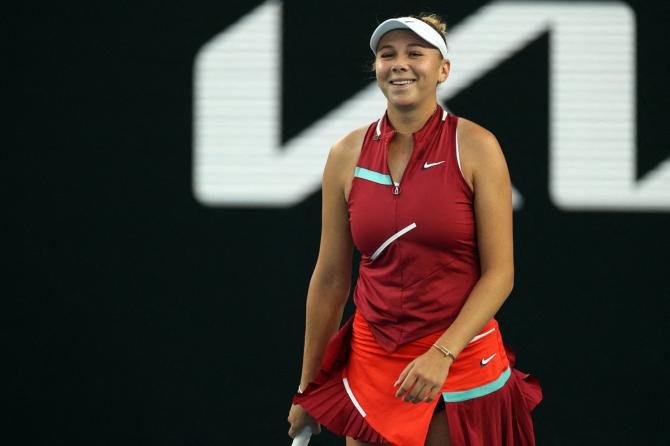 American Amanda Anisimova, ranked 60th in the world, saved two match-points and smashed winners at will to beat reigning champion Naomi Osaka 4-6, 6-3, 7-6(10-5) in the third round of the Australian Open on Friday.
Anisimova produced a superb display to knock out the Japanese and disappoint those who had been salivating at the prospect of a fourth-round showdown between the four-times major winner and Australian world number one Ash Barty.
Osaka, who has won all her major titles on hardcourts, had two opportunities to close out the match in the 10th game of the deciding set.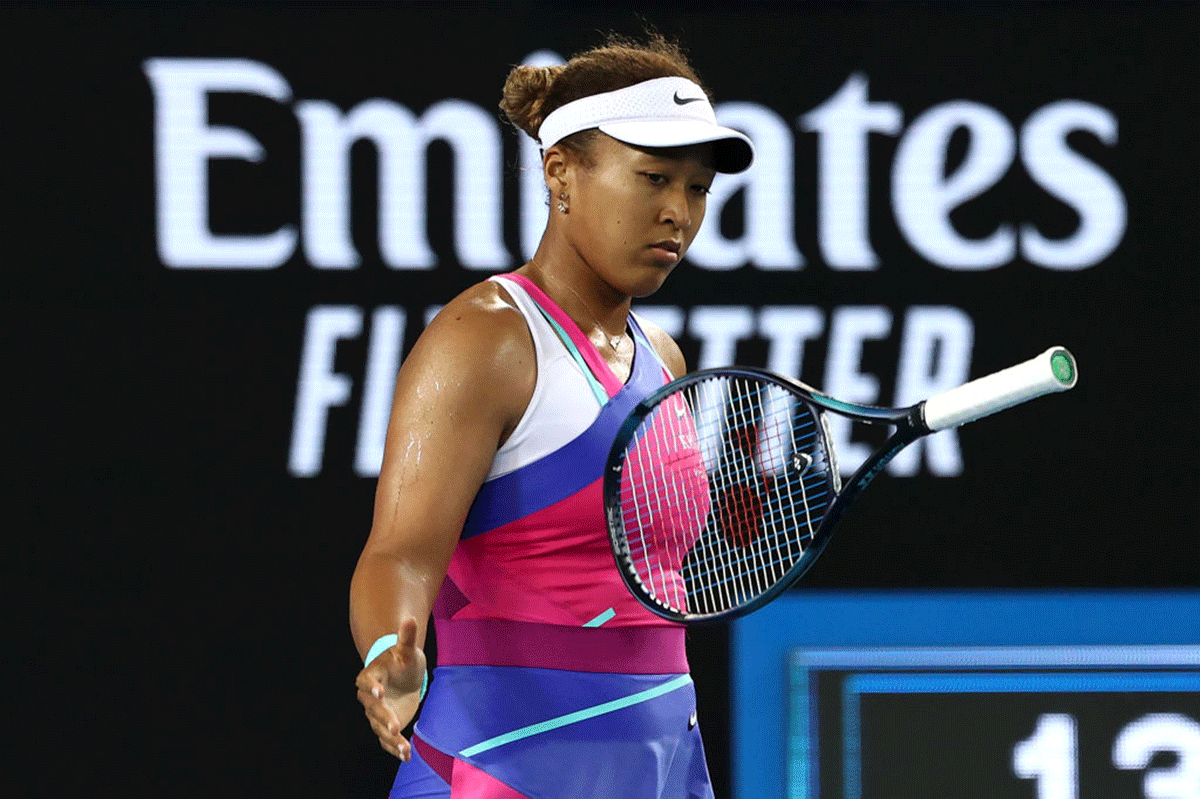 But she watched helplessly as the 20-year-old Anisimova, who has seen her ranking plummet due to injury issues, saved both and then converted her first opportunity in the deciding super tiebreak with an ace to seal the match.
The American dropped her racquet and hid her face with her palms as the crowd at the Margaret Court Arena exploded in appreciation.
Anisimova, who reached a career-high ranking of 21 in 2019, threaded 46 winners in the match, while Osaka could manage only 21.
"Going into this match I knew I had to be playing sharp if I wanted to give myself a chance," the American said on court.
"Naomi is always going to be playing well, she's an absolute champion, so I knew that I really had to step up my game and try to be aggressive.
"I think that's what I started doing in the second set. Honestly I'm so grateful that I was able to play so well today and get this win, it means a lot."
Raducanu sent packing by Kovinic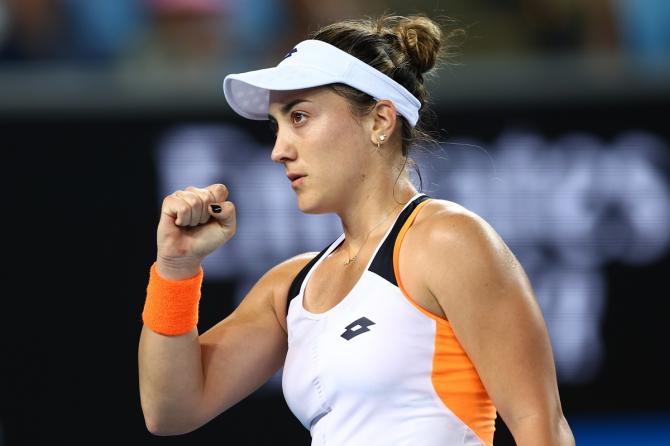 British teenage tennis star Emma Raducanu was unable to find the solution to her latest Grand Slam puzzle on Thursday, as a combination of a blistered racket hand and an inspired Danka Kovinic derailed her Australian Open plans in the second round.
The 17th seed, who rocketed to fame by winning last year's US Open as a qualifier without losing a set, gritted her teeth through the discomfort to stay in contention in a tense clash but fell to a 6-4, 4-6, 6-3 defeat.
Nineteen-year-old Raducanu, who beat former US Open champion Sloane Stephens in the first round to take her Grand Slam main draw record to an incredible 11-1 from three events, needed treatment after the fifth game of the first set.
With her hand taped she was unable to deliver her usual baseline power and resorted to slicing virtually every forehand.
Incredibly she turned the shot of choice for many a club hacker into a weapon and at times the 98th-ranked Kovinic seemed at a loss to know how to handle it.
But the 27-year-old Montenegran showed great composure to dominate the deciding set and move into the third round of a Grand Slam for the first time in her career.
Raducanu was still smiling as she congratulated her opponent at the net and while the loss will sting like her blistered hand for a while, she will look back with few regrets and will regard the match as part of her steep learning curve.
She also now knows she has a tricky sliced forehand option for emergencies.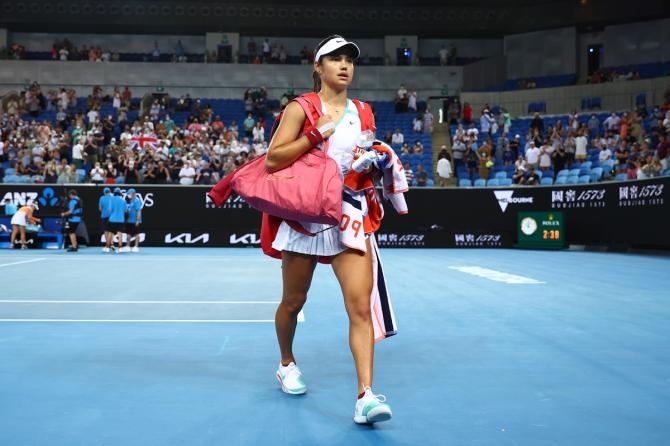 Kovinic soon settled down though and began to strike the ball with menace as she took the next two games.
At the changeover Raducanu, who played only one match in the build-up to the Open and lost that heavily, asked for a medical timeout to have her blisters treated and tape applied.
It clearly hampered her, especially on the forehand, and Kovinic won the next three games to lead 5-3. Raducanu managed to break serve again but Kovinic replied immediately to take the opening set.
Bizarrely, Kovinic kept hitting to Raducanu's backhand side in the second set and got increasingly tight, dropping serve at 4-4 as the match went into a decider.
Despite the blisters and lack of experience, Raducanu looked like the favourite as the third set began.
But Kovinic dug deep to keep in front at the start of the decider with some aggressive hitting, and Raducanu looked weary as she slipped to 2-5 down.
Serving for the match at 5-3, Kovinic saw one match point disappear as Raducanu belted a forehand winner, but she converted the second with a stunning backhand down the line.
Barty sweeps into fourth round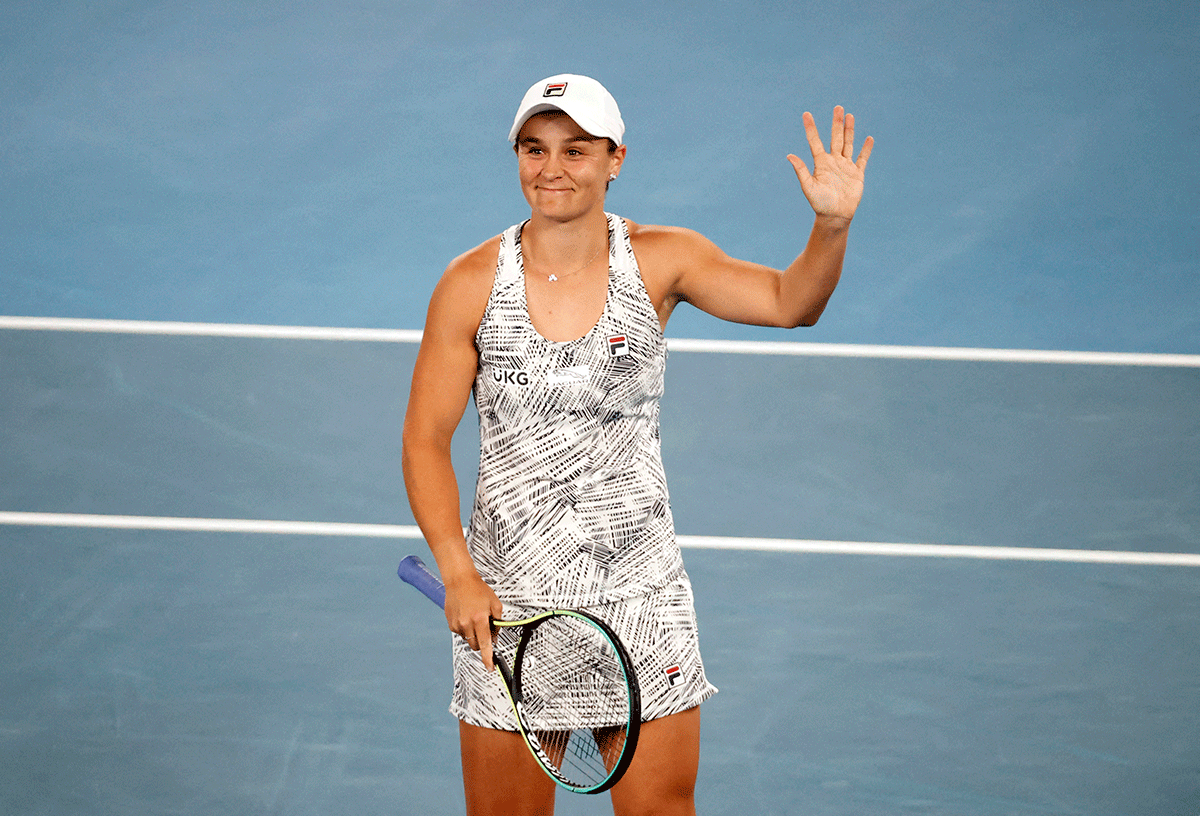 Earlier, Ashleigh Barty cantered past Camila Giorgi in just over an hour to set up a potential blockbuster fourth round tie against defending champion Osaka.
The world number one, who is aiming to end Australia's 44-year wait for a homegrown champion, was in dominant form in her 6-2, 6-3 victory over the Italian on Rod Laver Arena.
After an early break, the 25-year-old Wimbledon champion fended off three break points to go 5-2 up in the opening stanza and then broke Giorgi to seal the set.
A break for 4-2 put Barty in charge of the second set and three games later she was bathing in an ovation from the centre court crowd having secured her place in the last 16 at Melbourne Park for the fourth straight year.
"I thought tonight was really clean, I looked after my service games really well," said Barty.
"I was able to keep the momentum going, make returns when it mattered most at the important moments, pretty good performance I think."
Nadal drops set to Khachanov on way to last-16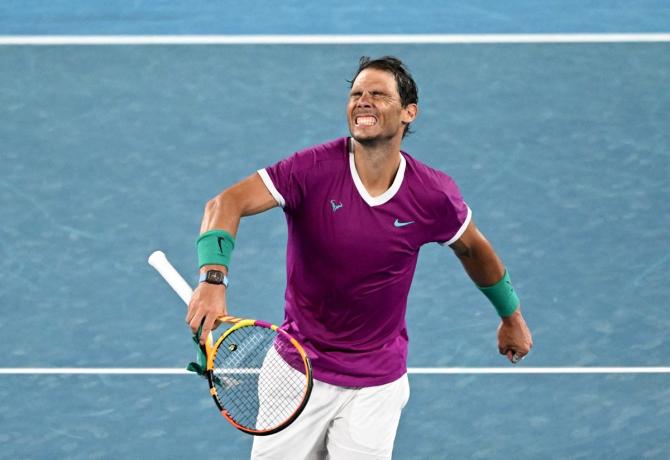 Sixth seed Rafael Nadal dropped his first set at this year's Australian Open but still powered through to the fourth round with a 6-3, 6-2, 3-6, 6-1 defeat of Karen Khachanov on Friday evening.
The Spaniard, seeking to claim a record 21st Grand Slam title in the absence of great rivals Roger Federer and Novak Djokovic, was sensational as he took a two-set lead.
But Khachanov, seeded 28th, threw caution to the wind in the third set, stalling Nadal's charge with some ferocious hitting.
Olympic runner-up Khachanov had lost all seven previous meetings with 2009 Australian Open champion Nadal but briefly looked capable of mounting a comeback.
Nadal seized back control with a break of serve at the start of the fourth and with the clock having ticked past midnight he finished off the match in a hurry.
Imperfect Zverev marches into fourth round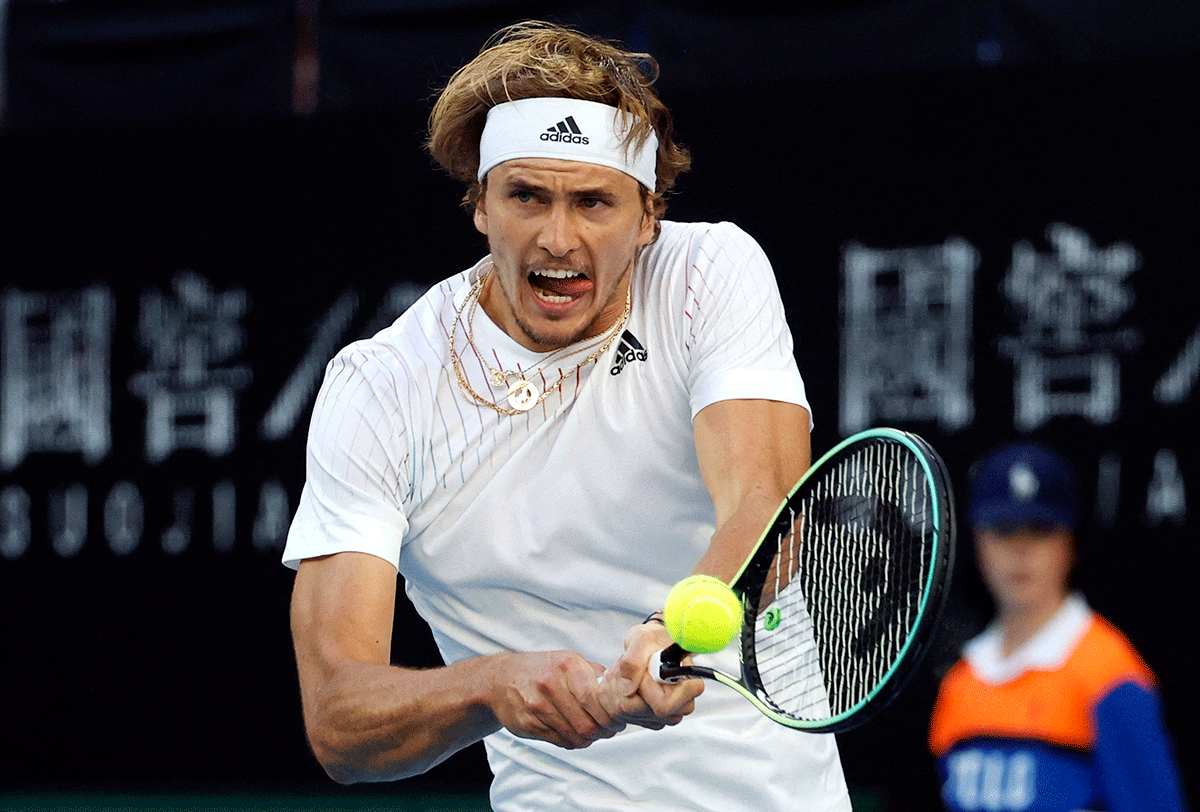 Alexander Zverev admitted he had been far from perfect but still eased into the fourth round of the Australian Open without dropping a set after a 6-3, 6-4, 6-4 victory over Radu Albot on John Cain Arena.
The World No 3, still seeking the Grand Slam title that many have predicted for him, struggled with his serve at times but was always in full control against the 32-year-old Romanian qualifier.
"Radu is (in) great form at the moment, he's obviously feeling the ball well, so happy to close it out in three sets," said Zverev.
"Of course, I had much struggles on the court today, it didn't feel perfect. But who is perfect? At the end of the day I won and I'm happy with that."
The German needed just a single break of serve in each set to set up a last 16 clash against what is likely to be more formidable opposition in the shape of Denis Shapovalov, a Canadian who has won two of their six previous meetings.
Albot, who plays much of his tennis on the second-tier challenger circuit, was shaking his head at the quality of Zverev's play as early as the third game but took the game to the third seed, particularly in the second and third sets.
Zverev always looked to have an extra gear when it mattered, however, and the world number 124 failed to convert any of the five break points he earned.
Berrettini survives Alcaraz comeback in five-set thriller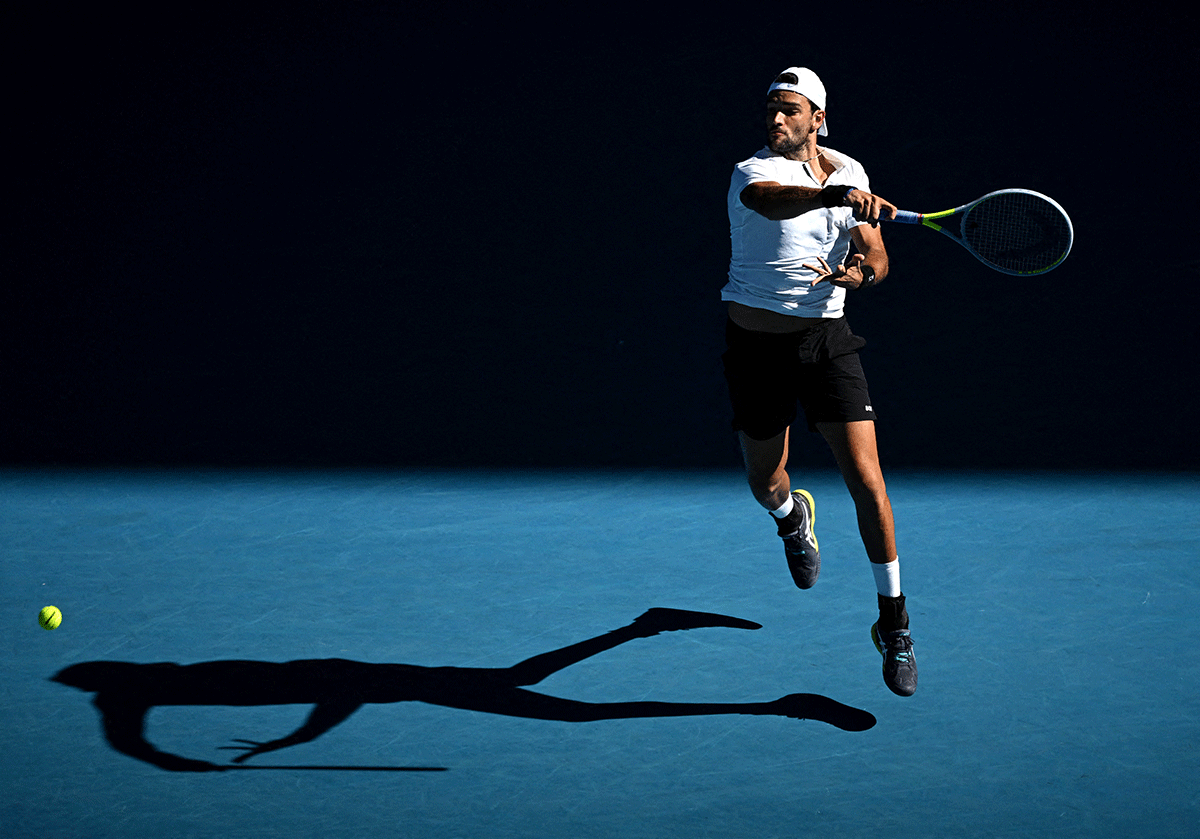 World No 7 Matteo Berrettini overcame a gripping fightback from teenage Spaniard Carlos Alcaraz to edge a heavyweight slugfest 6-2, 7-6 (3), 4-6, 2-6, 7-6 (10-5) on Friday and book his spot in the fourth round.
The Italian won a final set super tie-break after an enchanting four hours and 10 minutes, the see-saw contest resembling more of a boxing match than tennis, on a balmy afternoon at the Rod Laver Arena.
The 18-year-old Alcaraz, who won the NextGen ATP Finals in 2021, came into the match having defeated the Wimbledon runner-up in a final set tiebreaker in their only previous meeting at Vienna last October.
Berrettini had his revenge in similar fashion but on a bigger stage.
Alcaraz started strongly, setting up five breakpoint chances in Berrettini's first two service games. But he was unable to make them count while the Italian utilised his limited opportunities to go two sets up.
Berrettini, who is nicknamed "The Hammer" on the tour for his thumping forehands, found a way to blunt Alcaraz's power and athleticism during the early stages.
But the Spaniard, whose best Grand Slam performance came at last year's US Open when he reached the quarter-finals, would not give up.
Once he managed to rein in his unforced errors there was instant dividend as he went on to break Berrettini three times to roar back into the contest and level the match at 2-2.
Berrettini lost his balance, and rolled his right ankle during a heavy fall in the second game of the deciding set.
The 25-year-old was, however, able to continue playing without much discomfort though he was unable to find a way past his opponent's power and supreme athleticism.
But Berrettini's experience showed as he raised his game in the tiebreak with Alcaraz undone by forehand errors. The Italian sealed the contest on his second matchpoint when Alcaraz committed a double fault.
The Italian will next meet either American Sebastian Korda or Pablo Carreno Busta of Spain for a place in the quarter-finals.
Azarenka aims to 'stay in the moment' after making 4th round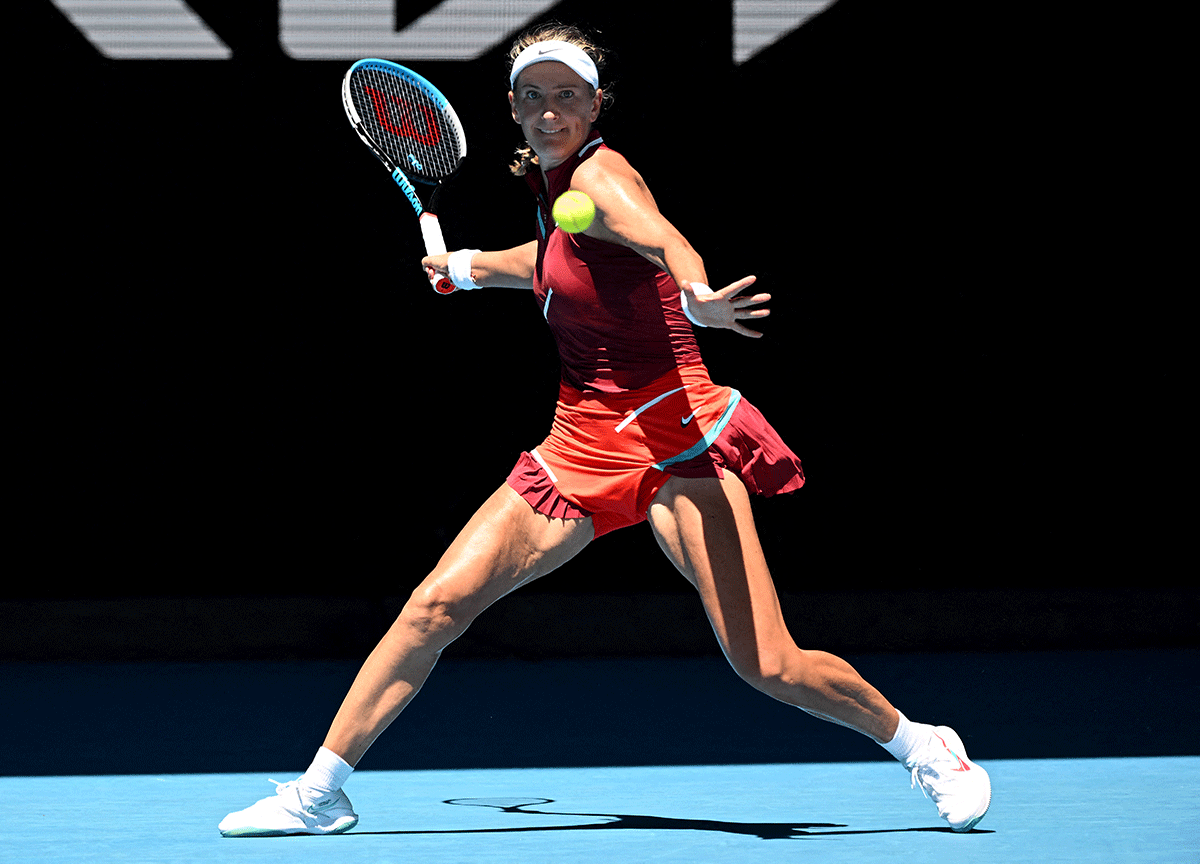 Victoria Azarenka dismantled 15th seed Elina Svitolina 6-0, 6-2 on Friday to storm into the Australian Open fourth round showing glimpses of the form that earned her back-to-back Melbourne Park titles, but the 32-year-old said she will not get carried away.
Azarenka was hampered by a persistent foot injury in 2014 then had a year-long maternity break in 2016-17. A split with her partner and a custody battle over her son that was not settled until 2018 put her career on the back burner.
The Belarusian won her first title in four years at the 2020 Western & Southern Open in New York and lost to Paula Badosa in the Indian Wells final in three sets, a match that was widely regarded as one of the best on the WTA Tour last year.
After another sparkling display that has raised hopes among supporters of a third Grand Slam crown, Azarenka said she wanted to stay in the moment.
"When you look in the past, which I don't like to do, your memory is a bit distorted. Maybe you want to remember something, you want to forget the other," the former number one, who came with her son Leo to the news conference, said.
"I try to take it day by day. That mentality, to stay in the present, continue to do what I can in the moment, that's been helping me more rather than comparing.
"That's really what I'm trying to say... that ladder I want to climb step by step. I think the danger is to try to skip a few steps. That's something I'm actually learning not to do. That's been helpful."
The 2012 and 2013 champion, who has dropped only nine games across three matches this year, was delighted with her effort against Svitolina.
"The amount of aggression I could bring point after point, applying a lot of pressure, the consistency. The breakpoints I faced, I played really strong," Azarenka, who plays French Open champion Barbora Krejcikova next, said.
"Taking control of my end of the court, that's what I'm more happy about."
Krejcikova fights back to book 4th round berth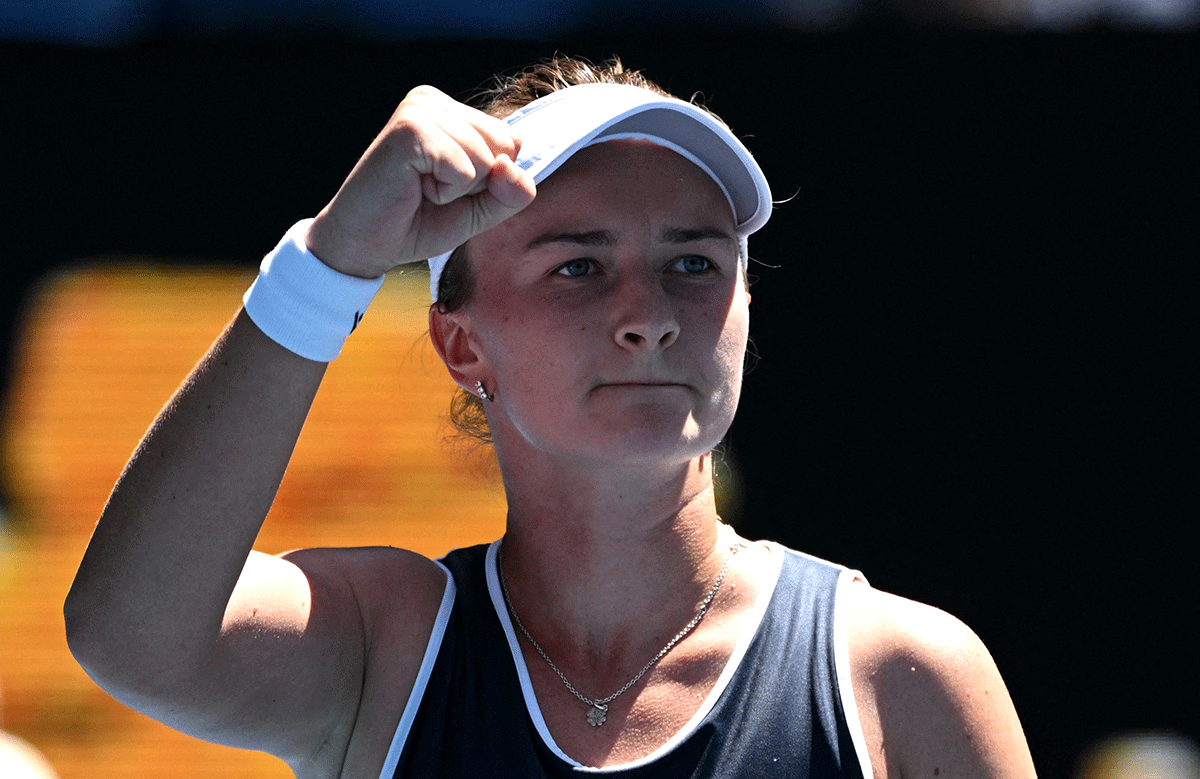 French Open champion Barbora Krejcikova fought back from going a set behind to hand Jelena Ostapenko a 2-6, 6-4, 6-4 defeat and advance to the fourth round.
The Czech, seeded number four, clawed her way back from a set and a break down midway through the second set to see off the 2017 French Open winner.
"Today's match was really tough, really difficult. I had to really dig deep to get this win," said Krejcikova.
"I'm really pleased about it and also proud of myself. I'm never going to leave without a fight and I'm really happy that I'm able to show that on the court."
Ostapenko won the opening set thanks to a pair of service breaks and Krejcikova looked to be exiting the tournament when her Latvian opponent opened up a 3-1 lead in the second set.
However, two breaks of serve saw Krejcikova level the match.
Krejcikova was then given a time violation for returning late to court ahead of the start of the decider, claiming she was delayed due to a broken necklace.
She settled herself to break Ostapenko's serve in the first game of the final set, holding on to win and set up a fourth round meeting with Victoria Azarenka.
Badosa triumphs in baseline shoot-out with Kostyuk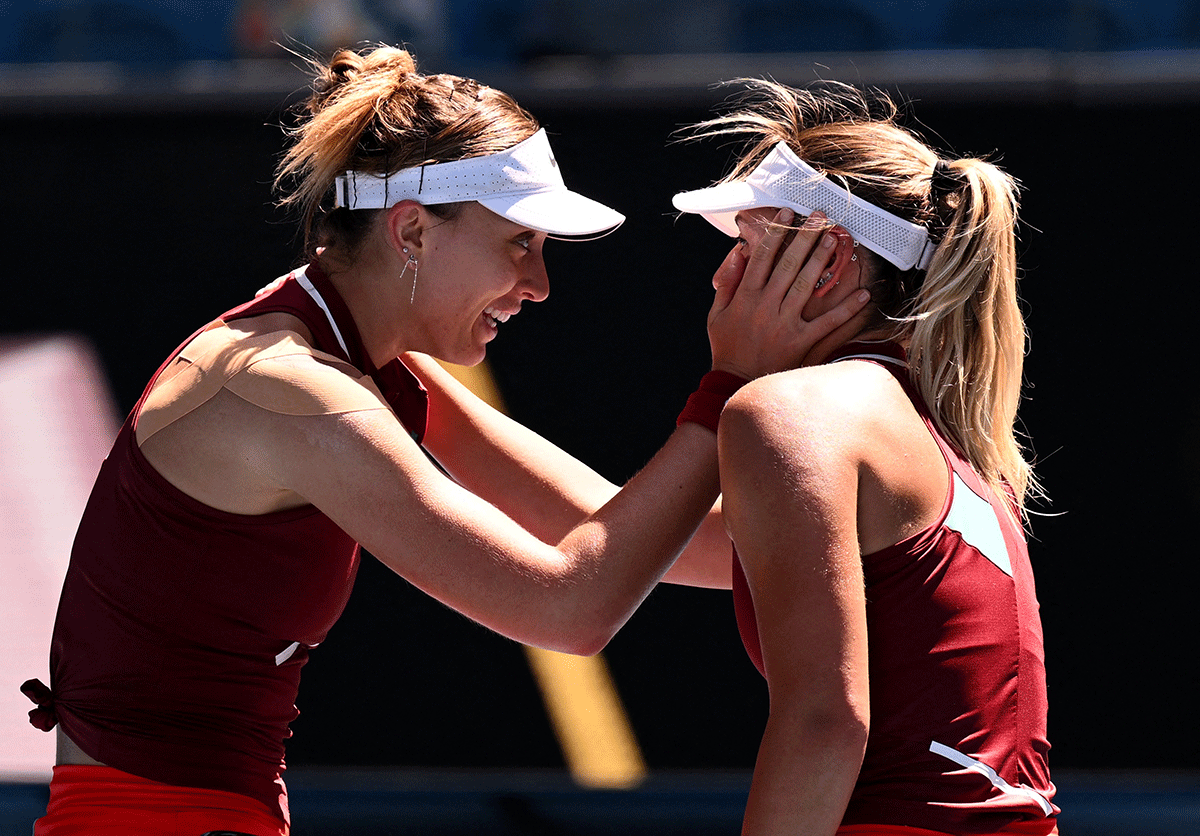 In-form world number six Paula Badosa had to fend off a comeback from Ukrainian teenager Marta Kostyuk in an arm-wrestle of a baseline battle to reach the fourth round of the Australian Open for the first time on Friday.
Badosa had to fight right until the very last point but finally secured the 6-2, 5-7, 6-4 victory on her fifth match point after two hours and 19 minutes in the Melbourne sunshine, extending her winning streak to eight matches.
"Marta's an insane player and I think she was playing top five level today," the Spanish eighth seed said of her 19-year-old friend.
"She'll soon for sure be one of the best players in the world. I gave it all today, I had to because she was playing so good."
Badosa looked to be cruising at a set and a break up on Margaret Court Arena when her talented opponent found her range and clawed her way back into the contest.
The pair, wearing identical outfits, traded ferocious stroke for ferocious stroke from the back of the court and some of Kostyuk's shots, particularly her crunching backhands, belied her ranking of 66th in the world.
The Ukrainian's accuracy betrayed her at crunch moments, however, and she managed to convert only five of 15 break points over the contest.
Badosa also had her moments on key points and will want to quickly forget her fluffed attempt at a simple volley at the net on her second match point which ended up flying well wide of the tramlines.
The 24-year-old had cruised through the first two rounds at Melbourne Park for the loss of only seven games, riding the momentum from a tournament win at the Sydney Tennis Classic last weekend.
She will next face the powerful American Madison Keys or China's Wang Qiang for a place in her second Grand Slam quarter-final.
The No.28 seed, Maria Sakkari won 11 of the last 12 games in a 6-4, 6-1 third-round victory over No.28 seed Veronika Kudermetova, booking her spot in the second week without the loss of a set.
Sakkari will next face American Jessica Pegula, the No.21 seed and 2021 quarterfinalist, who defeated Spain's Nuria Parrizas-Diaz, 7-6 (3), 6-2.
Kecmanovic relishing second chance after Djokovic departure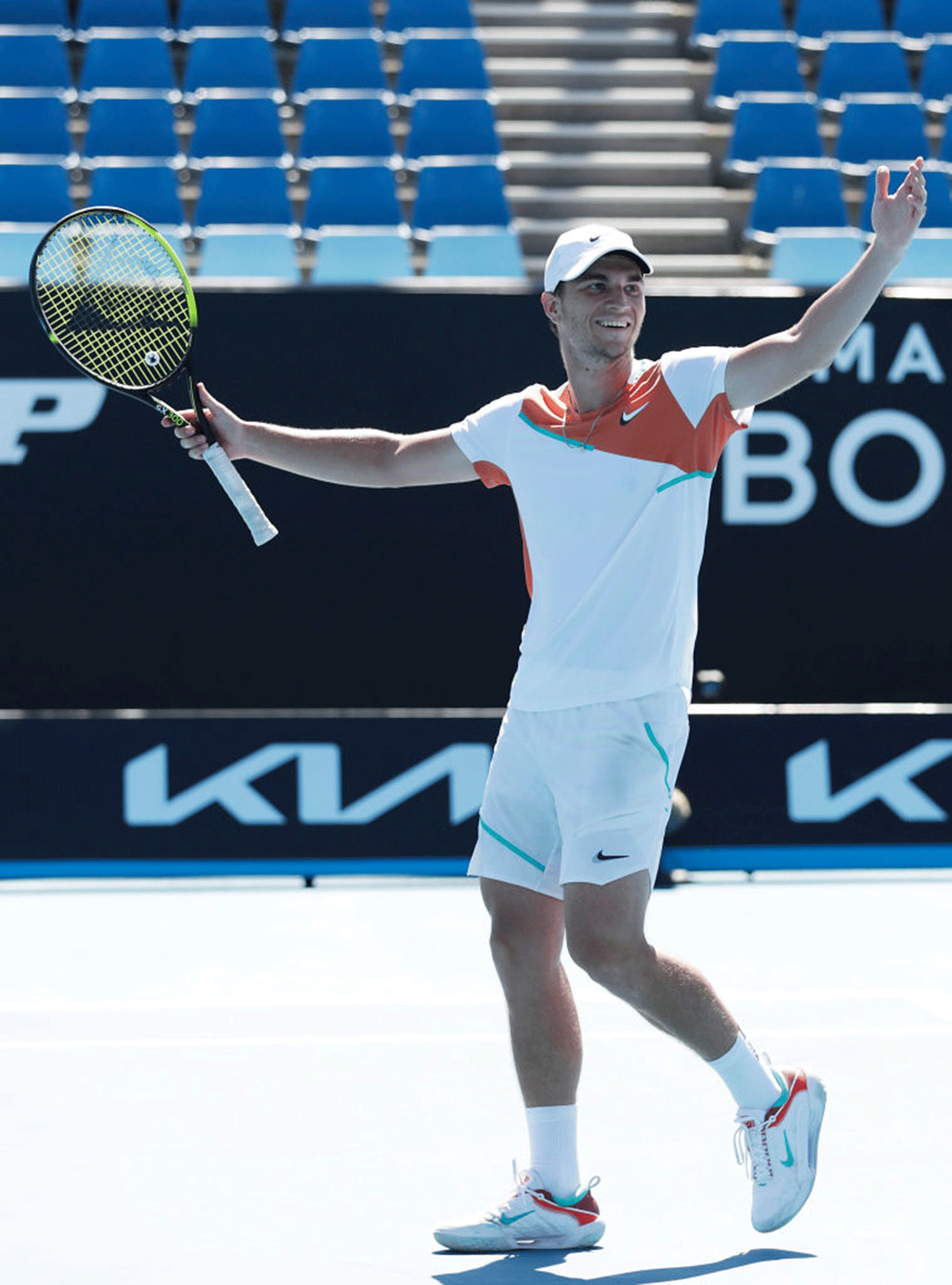 Miomir Kecmanovic expected his Australian Open to be short-lived when he was drawn to face defending champion Novak Djokovic in the first round, but the world number one's troubles have seen his fellow Serb profit with an unexpected run to the last 16.
Kecmanovic defeated 25th seed Lorenzo Sonego 6-4, 6-7 (8), 6-2, 7-5 on Thursday to advance to the fourth round at a Grand Slam for the first time in his career, where he will meet Gael Monfils after the Frenchman's win over Chile's Cristian Garin.
Djokovic's deportation due to his vaccination status left his Davis Cup team mate to face lucky loser Salvatore Caruso instead in the first round, which he won in straight sets.
Kecmanovic then notched up wins over Tommy Paul and Sonego to book his berth in the second week of the Australian Open.
The 22-year-old, who has yet to contact Djokovic since the world number one left Australia, is relishing going head-to-head with Monfils for a place in the quarter-finals as well as a chance to exact revenge.
"It will definitely be tough," he said.
"I played him last tournament in Paris (in November). It was a tough three-set match.
"For sure it's going to be difficult. He's been playing well. But I've also played really good and have this momentum going, so hopefully it will be enough to take me through."