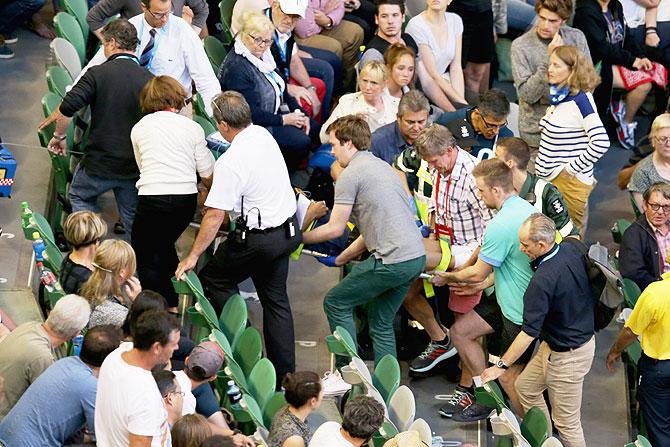 IMAGE: Nigel Sears, coach of Serbia's Ana Ivanovic, is carried away on a stretcher after he collapsed during Ivanovic's third round match against Madison Keys of the US, causing play to be suspended, at the Australian Open tennis tournament at Melbourne Park on Saturday. Photograph: Darrian Traynor/Getty Images
Nigel Sears, the coach of Ana Ivanovic and father-in-law of men's world number two Andy Murray, was taken to hospital after collapsing in the stands on Rod Laver Arena during a match at the Australian Open on Saturday.
- Aus Open PHOTOS: Murray, Wawrinka, Azarenka in last 16; Ivanovic ousted
- Murray victory overshadowed by father-in-law's collapse
Tournament organisers said Sears was "breathing, conscious and talking" and being examined by a cardiologist at a nearby hospital after being carried out of the showcourt on a stretcher.
Sears had been watching Ivanovic's third round clash against American Madison Keys when he was taken ill and the match was halted for nearly an hour after the incident.
The Serb was leading 1-0 in the second set after taking the first 6-4 when play was suspended but eventually went down 4-6 6-4 6-4 to exit the tournament.
Organisers said the players had been given the opportunity to consult with their teams before play was resumed.
Murray, oblivious to the development, continued to play his third round match against Portugal's Joao Sousa on Margaret Court Arena, winning 6-2, 3-6, 6-2, 6-2.
He was ushered away after the victory without the usual courtside interview.
Sears is the father of Murray's wife Kim, who is expecting their first child in mid-February and has not travelled to Melbourne.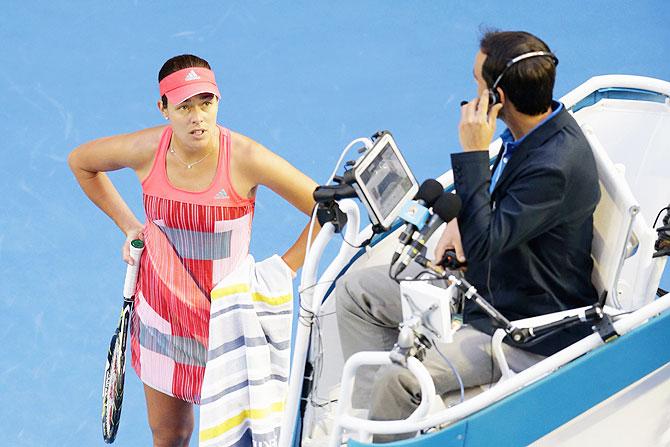 IMAGE: Ana Ivanovic speaks with the umpire after her coach collapsed in the stands. Photograph: Darrian Traynor/Getty Images
Television microphones picked up Ivanovic talking to chair umpire Felix Torralba that she thought the person being treated was her coach before play was eventually suspended.
Ivanovic still appeared distressed when returning to court almost an hour later but tournament organisers said a discussion had taken place with both players before play resumed.
The 58-year-old Sears had previously coached Slovakia's Daniela Hantuchova, leading her to a top-10 ranking. He joined Ivanovic in June 2011 after almost five years with the Lawn Tennis Association and Britain's Fed Cup team.
They parted company after Wimbledon in 2013 but he rejoined her team last year.
It is the second time this tournament that one of Ivanovic's matches had been suspended after her second round match against Anastasija Sevastova was held up for 26 minutes when a woman fell in the stands at the same showcourt.