Wozniacki swiped Halep's World No 1 ranking, six years after losing it at the 2012 Australian Open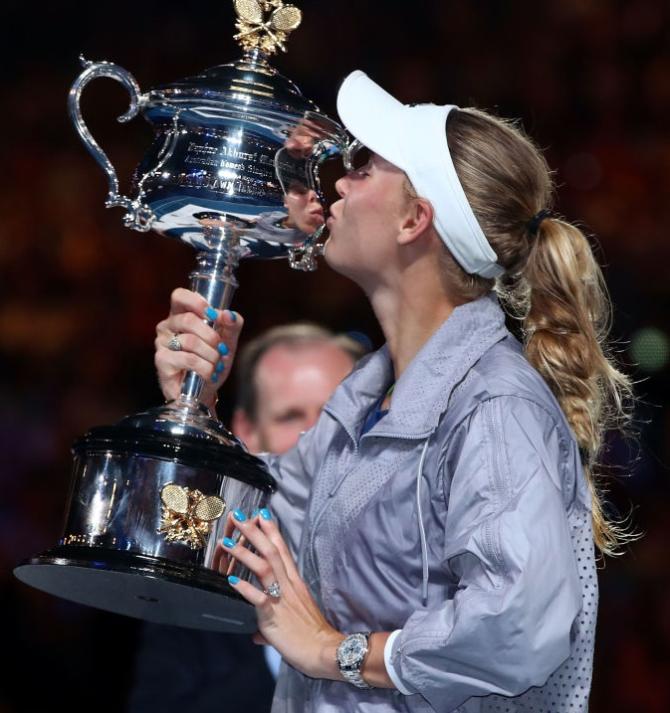 IMAGE: Caroline Wozniacki of Denmark poses for a photo with the Daphne Akhurst Memorial Cup after winning the women's singles final against Simona Halep of Romania. Photograph: Clive Brunskill/Getty Images
A determined Caroline Wozniacki held firm to shake off a tenacious challenge from Simona Halep, edging a classic Australian Open final 7-6(2), 3-6, 6-4 to claim her first Grand Slam title on Saturday.
After a captivating tussle played out in stifling humidity at a floodlit Rod Laver Arena, the Dane stood firm in a see-saw final set to claim the thriller when Halep wavered on serve.
IMAGE: Caroline Wozniacki of Denmark celebrates winning championship point in her women's singles final against Simona Halep of Romania. Photograph: Clive Brunskill/Getty Images
The result ensured Wozniacki swiped Halep's world number one ranking, six years after losing it at the 2012 Australian Open.
"I have to take a second to hug Daphne.....it's a dream come true, and my voice is shaking, it's a very emotional moment," a teary-eyed Wozniacki said, cradling the Daphne Akhurst Memorial Cup at the presentation ceremony.
"I want to congratulate Simona. I know today is a tough day and I'm sorry I had to win.
"It was an incredible match and an incredible fight, again I'm sorry."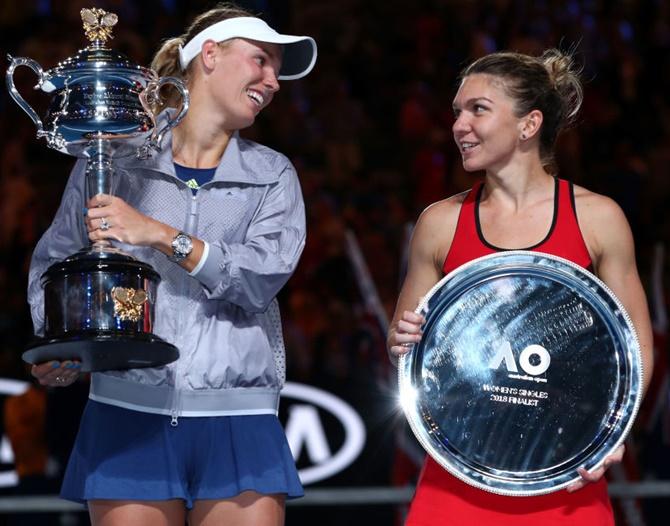 IMAGE: Caroline Wozniacki, left, with Simona Halep. Photograph: Clive Brunskill/Getty Images
After closing out the nerve-shredding win when Halep netted a backhand, an overwhelmed Wozniacki threw her racket away and collapsed onto the blue hardcourt as the packed terraces roared.
It was third time lucky for Wozniacki following her runner-up finishes at the 2009 and 2014 US Opens.
Both players battled leg problems in the taxing two hour and 49 minute encounter, the first clash of two non-slam champions in 38 years at the Australian Open.
After battling through a fortnight blighted by an ankle problem, Halep was gallant in defeat, but she let Wozniacki back into the match after breaking her three consecutive times in the final set.
"It's not easy to talk now but first of all I want to congratulate Caroline, she played amazing.... It's been a great tournament to me," the twice French Open runner-up told the crowd.
"Of course I'm sad I couldn't win today but Caroline was better than me."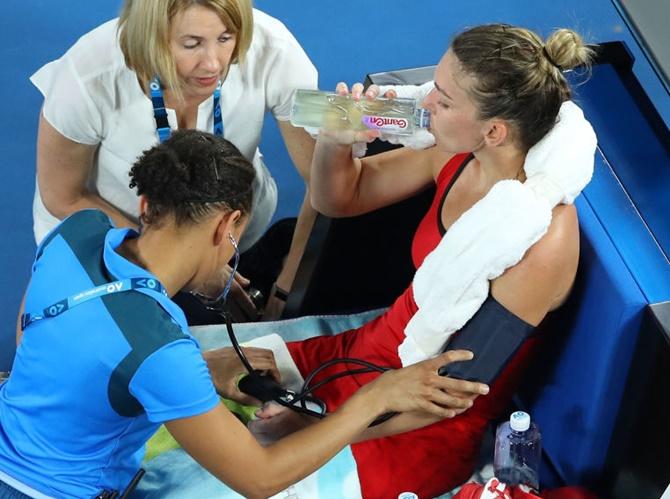 IMAGE: Simona Halep of Romania takes a medical timeout. Photograph: Mark Kolbe/Getty Images
The temperature was 32 degrees Celsius when the players took the court and they were quickly racked with sweat after a handful of rallies.
Wozniacki's edge in power told early as she roared to a 3-0 lead in the opening set before Halep could find her range.
The Dane edged a breathless 17-shot rally laden with lobs, volleys and dropshots to keep Halep at bay and held serve to 5-2.
A hollering fan at 0-15 made her pause on serve and she suddenly lost focus to be broken with a tepid slice that floated long.
But there was to be no Wozniacki wobble in the tiebreak.
She closed it out with a blazing shot that all but knocked the racket out of Halep's hand.
The Romanian was on the back foot and suddenly dizzy, and she called a medical timeout to have her blood pressure taken after holding serve to 3-2 in the second set.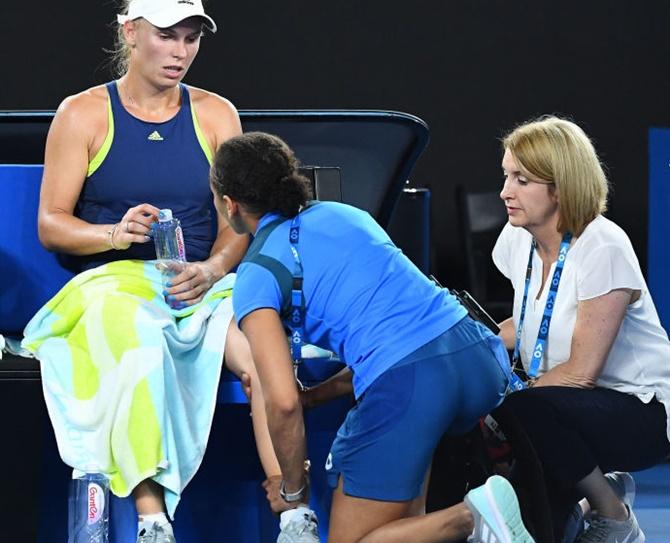 IMAGE: Caroline Wozniacki of Denmark takes a medical timeout for an injured knee. Photograph: Quinn Rooney/Getty Images
She then began grabbing at her left thigh after points, but somehow found the energy to break Wozniacki with a swashbuckling forehand down the line.
Nothing would come easy for Halep, who saved further break points in a nervous service game before claiming the set with a risky dropshot that Wozniacki failed to deal with.
Romanians in the terraces went ballistic at the breakthrough, but were silenced as Wozniacki took full advantage of her opponent's weakening second serve to break her to 2-0 with a fiery return.
The grind of a long fortnight suddenly came to the fore as both players threw away their serve, but Halep nudged in front when Wozniacki's forehand deserted her.
It all looked grim for the 27-year-old Dane as a trainer strapped her leg at the change of ends, but she hung tough to break back before holding serve for the first time in three attempts.
Sensing her moment with Halep flagging as she served out the match, Wozniacki despatched a searing forehand winner to edge a 16-shot rally for match point and held on grimly until the Romanian finally buckled.