I'm playing better than in 2015: Serena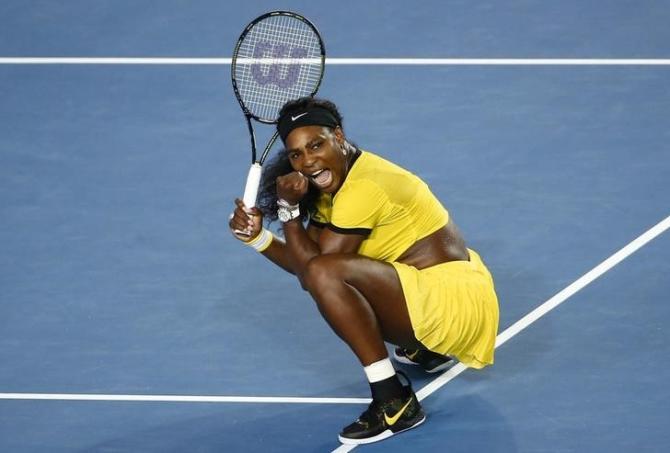 IMAGE: Serena Williams celebrates after winning her semi-final match against Agnieszka Radwanska at the Australian Open on January 28, 2016. Jason O'Brien/Reuters.
Despite dominating the year by winning three Grand Slam titles in 2015, World No.1 Serena Williams believes she is playing better this year.
Williams is once again on the cusp of a historic achievement.
Only seventh seed Angelique Kerber stands in the way of the 34-year-old landing a 22nd singles major trophy to draw level with Steffi Graf in the history books.
"I kind of relish every win and every final and every match now. I think, maybe in the past I didn't as much. I was just like going through the motions," Williams said.
"Even though I was super excited, I just feel like now it's even more exciting."
The world No.1 holds a 5-1 lead in head-to-head matches with the powerful leftie but Williams remains wary of the threat presented by Kerber.
"I thought she played unbelievable in that match. That's something that I'll never forget," Williams said of the German's 6-4, 6-4 victory at Cincinnati in 2012.
"I just remember her serving really well, her moving well, her being determined to win that. I think from then on out I've been really focused that she's someone that I really, you know, and everyone, has to take very serious."
While Williams' 2015 season was one for the ages, she believed her form at Melbourne Park this year – where she has not dropped a set on her way to the final – has risen another level.
"I think I'm playing better," declared the 34-year-old. "I know my practices are better. Hopefully I'm playing better. So I definitely can play more consistent and more mentally stable."
And if Kerber wasn't already certain that she faced an immense task to unseat the reigning Australian Open champion, Williams was happy to reiterate her opinion of her recent form when asked.
"Yeah, for sure, I would say this is probably the best slam I've played in a year, and I've won a lot in a year. Again, I haven't won this one," she said.
"But even if I don't win, I really can take away that I've been really consistent, and I want to continue that."