If Grand Slam seedings provide any indication of the health of a country's tennis, the game might appear on life support in Australia with Sam Stosur the locals' sole representative at their home Grand Slam.
Fifth-seeded Stosur's breakout season last year saw the 26-year-old Queenslander sweep into a French Open final and bolstered sports-mad Australia's hopes of a first home Grand Slam champion in more than three decades.
Former world number one Lleyton Hewitt has shouldered that burden for many of his 14 campaigns at Melbourne Park, and would have pulled it off in 2005 but for a marauding Marat Safin, who defeated him in four sets in the final.
The passing years, two hip surgeries and an array of other ailments have conspired to dash Hewitt's dream of winning at home and the 29-year-old's ranking has now slipped to 54th.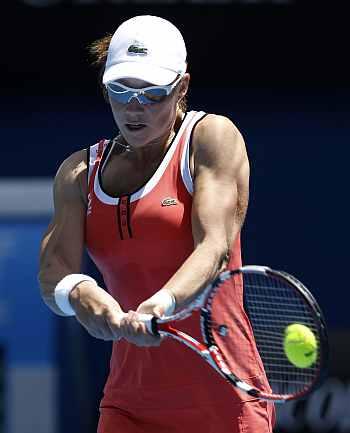 Gallingly for a once-powerful tennis nation, it is still the highest ranking -- by 82 places -- of Australia's men.
While Stosur is joined by 40th ranked Jarmila Groth and Russia-born Anastasia Rodionova (66) in the top 100, organisers have had to resort to the charity of wild cards to pad out the men's draw with a local complement.
The 2001 US Open champion Hewitt delivered Australia's last Grand Slam at Wimbledon in 2002, the end of a purple patch for local tennis that saw Pat Rafter triumph at Flushing Meadows back-to-back in 1997/98.
The country's failure to produce players of the calibre of Hewitt and Rafter, who retired in 2003, has become an increasing source of consternation at home, where grand slam titans Ken Rosewall, Rod Laver and Roy Emerson remain revered.
Tennis Australia (TA) has borne the brunt of criticism from a disgruntled local media, who have slammed the administrators for falling asleep at the wheel while Rafter and Hewitt were lifting trophies around the world.
"Prior to the last five years we didn't have it right, there wasn't enough support from the top right down for player development," John Fitzgerald, a TA director said.
"I think in terms of player development prior to the last five years, we had a lot more emphasis on developing the Australian Open. All of us have to take responsibility for that," he added.
Fitzgerald, a number one doubles player in his prime, captained the Davis Cup team for 10 years, but stepped down following their failure to get back into the World Group last year after losing a playoff to Belgium.
Fitzgerald said moves had been put in place to stop the rot, including bringing former players like Wimbledon champion Pat Cash back into the fold to coach Australia's next generation, which he rated the most promising in decades.
But developing raw talents like 18-year-old Bernard Tomic, who at 16 became the youngest player to win a match at the Australian Open on his 2009 debut, would take time.
"What I find humorous sometimes is people who say (the system's) not working," said Fitzgerald, who partnered Cash to Davis Cup triumph in 1986.
"You can't snap your fingers and have five or 10 guys in the first 100 in the world, or three in the first top 10, it's actually really hard.
"The mean age of the men's top 100 is creeping up and you need time.
"I would argue that our group coming through is as good as it's been in the last two decades ... But we still have to get them through onto the main tour," he added.
Fitzgerald conceded the days of Australia producing grand slam champions every few years and boasting a glut of players in the top 10 may never be repeated.
"There are more professional sports in Australia than there was three and four decades ago, that takes a lot of our kids," he said.
"And there're way more countries that are playing tennis now and having kids travel.
"Yes, we're not doing as well as we want and we always have to aspire to do better but I think it's a much different playing field now," he added.