Ace Indian pair of Leander Paes and Mahesh Bhupathi are one step away from securing the lone trophy missing from their cabinets.
The third seeds got the better of the second-seeded pair of Daniel Nestor of Cananda and Max Mirnyi of Belarus 7-6, 4-6, 6-3 to make it to the final of the Australian Open.
The duo will play top seeds Bob and Mike Bryan of the United States in the final, the Bryan brothers having got the better of the combination of Eric Butorac (US) and John-Julien Rojer (Curacao) 6-3, 6-2 in the first semi-final. 
- Lee-Hesh eye elusive Melbourne title
- 'We need to get back to the groove'
The Indian Express, who reunited again to compete at the year's first major, had a prefect preparation at Chennai, winning their fifth Chennai Open title and their 24th overall as a pair.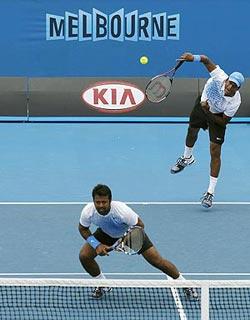 However, in their long and illustrious careers neither Leander nor Mahesh have ever won the men's doubles title at Melbourne Park.
The duo did reach the final in 1999 -- losing in five sets to the Swedish-Australian combination of Jonas Bjorkman and Patrick Rafter.
However, since then all they have to show for their efforts Down Under is one final defeat apiece -- Leander, along with Czech Martin Damm, losing the 2006 decider and Mahesh (alongside Mark Knowles of Bahamas) coming up second best in the 2009 final.
As regards the match per se, the two pairs traded early breaks in the opening set before the Indians secored what seemed like a decisive opening in the 11th game, when Nestor's serve was broken. However, Paes dropped serve in the next game to ensure the set goes to the tie-break.
The Indian duo, to their credit, played a good tie-break to pocket the opening set in 57 minutes.
The Canadian-Belarussian combination returned compliment in the second set, winning in 49 minutes, to force a decider.
And when Nestor dropped serve again in the sixth game of the final set, the Indians got the opening they required.
The second seeds had a break point on Paes' serve in the ninth game but the Indian pair held on to make it to the decider.
It had taken them 140 minutes to win the semi-final. But it was a win to cherish.
The Indian Express had played way below their best. However, they served a bit better than their opponents and won six more points.
In the end it was their experience that had helped them to stay on course for the lone major trophy missing from their cabinet.