'She threw the racquet and hit the ball boy, no way was that accidental'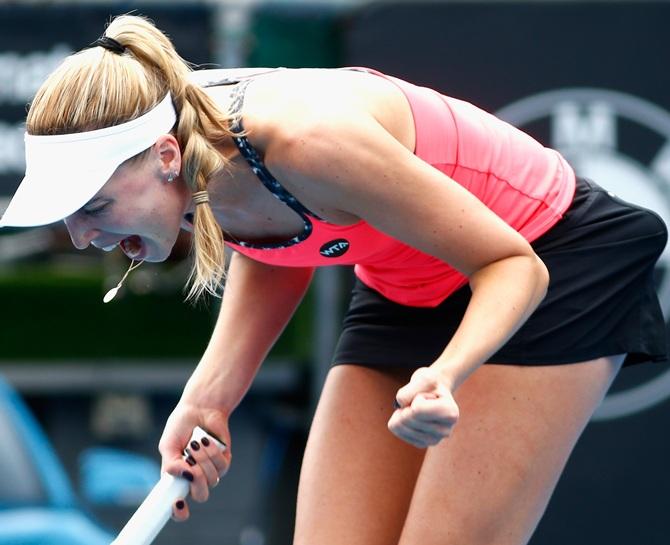 IMAGE: Great Britain's Naomi Broady celebrates a point in her singles match against Latvia's Jelena Ostapenko. Photograph: Phil Walter/Getty Images
A fired up Naomi Broady let her racquet do the talking as she stormed back to beat Jelena Ostapenko in an ill-tempered Auckland Classic clash marred by an on-court row after the Briton called for the Latvian to be disqualified.
Tensions boiled over in the second set of the low key second round clash when, after a winner by Broady, the 18-year-old Ostapenko's racquet came out of her hand, bounced off the blue hard court and against the back wall towards the ball boy.
"She threw the racquet and hit the ball boy, no way was that accidental," the 25-year-old Broady complained to the umpire.
Play was delayed as the umpire and ball boy had a conversation. The umpire opted for a code violation over a disqualification after the Latvian wildcard argued the racquet slipped from her hand but a clearly upset Broady called for another official to adjudicate.
"I asked for the tournament referee to come down onto the court to give his opinion," Broady was quoted as saying by local media.
"But as he isn't the chair umpire, he goes by what the chair umpire says and his opinion was that it had slipped from her hand, as Jelena had said, so it was just a code violation and move onto the next point."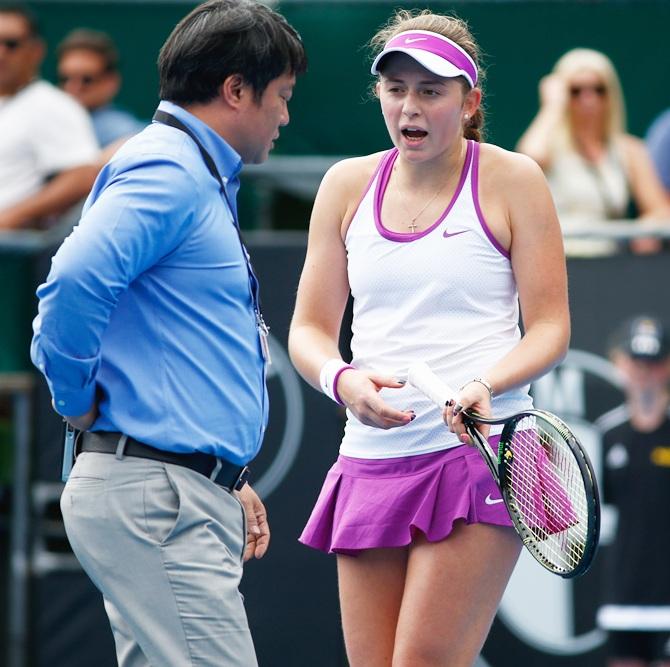 IMAGE: Latvia's Jelena Ostapenko speaks with WTA Supervisor. Photograph: Phil Walter/Getty Images
Broady, who knocked out former World No 1 Ana Ivanovic in the first round on Tuesday, settled quicker to take the tiebreak and force a deciding set but she looked down and out as she trailed 5-1 in the third.
But the British qualifier saved a second match point as she stormed back to prevail 4-6, 7-6(4), 7-5, helped by 21 aces, and book a spot in the quarter-finals where she will face American fifth seed Sloane Stephens.
Both players shook hands at the end of the contest but bad blood remained with Broady clearly angry about the incident and repeating her accusation that Ostapenko intentionally threw her racquet in the second set.
The umpire attempted to quell the trouble as the players continued their verbal volleys.
"Jelena commented that my behaviour was terrible," Broady said.
"Which I thought was a bit out of order, considering the events that had gone on in the match. I don't think I did anything disrespectful to her or anyone else on the court.
"So I'm not really sure where that came from, but tensions were high, adrenalin was going. We had a bit of a confrontation, but she's going to be a fantastic player and I'm sure we'll both learn from any mistakes we made today and move forwards."