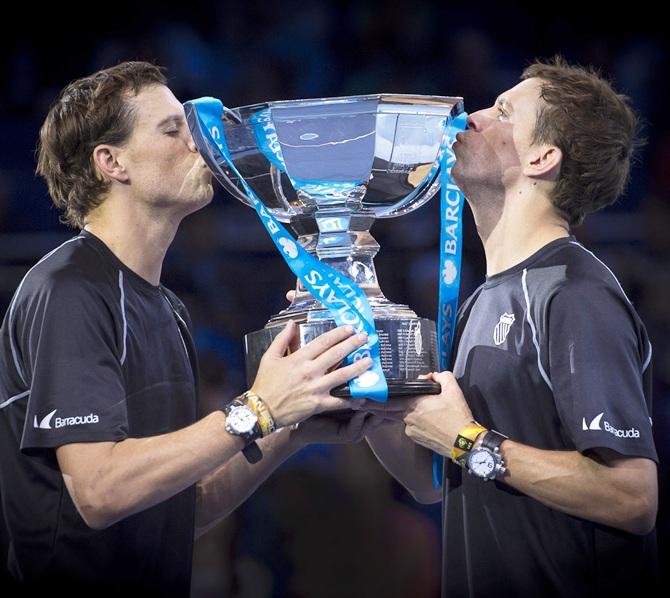 Bob Bryan and Mike Bryan of the United States lift the ATP Doubles Trophy. Photograph: Justin Setterfield/Getty Images
American twins Bob and Mike Bryan underlined their status as the best doubles pair in the world as they claimed the ATP Tour Finals title for the fourth time on Sunday.
Djokovic wins ATP year-ender after Federer pulls out
The 36-year-olds came from a set down to beat seventh seeds Ivan Dodig (Croatia) and Marcelo Melo (Brazil) 6-7(5), 6-2, 10-7 at the O2 Arena -- their 103rd title together.
The Bryans recovered from a near knockout blow in the first set when Bob slammed a first serve into the back of his brother's head, going on to dominate after dropping the opener.
"Looking back at the year, we're very proud of the way it went," Mike told reporters, adding that winning a 100th career title together at the US Open had been the highlight.
"This is considered the fifth slam, with the top eight teams in the world. To lose our first match and bounce back, barely qualify for the semi-finals, win today, was a great feeling."
The doubles has outshone the singles at the O2 this week with most of the matches being close whereas the singles groups produced numerous one-sided matches.
Speaking after Roger Federer withdrew from the singles final against Novak Djokovic, Bob said: "I feel the doubles game is pretty healthy right now. We put out a good product this week.
"I thought it really added to the event. Especially with the quick singles matches, doubles brought a lot of value.
"But doubles has to be cared for and promoted. The trend is for no prize money increases on the doubles side. Doubles kind of gets swept under the rug. There does have to be someone looking after it. Maybe that will be our job when I retire."