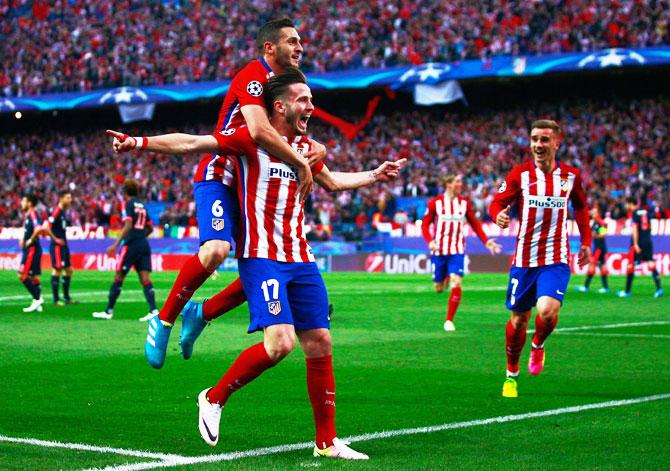 IMAGE: Atletico Madrid's Saul Niguez (17) celebrates with teammate Koke and others after scoring against Bayern Munich during the UEFA Champions League semi-final first leg match at Vincente Calderon Stadium in Madrid. Photograph: Gonzalo Arroyo Moreno/Getty Images
Midfielder Koke issued a rallying cry to his Atletico Madrid teammates on Saturday ahead of next week's Champions League final against Real Madrid.
The midfielder told a news conference that the players have to face the final in Milan on May 28 as if it were the last they would ever play in.
"You are not more nervous, you play like all your team mates," Koke said.
"You have to take on the final as if it was the last one you'll play, you never know," he added.
"If you win you have this feeling that you've nourished since you were little and you feel it more."
The Spanish midfielder said Atletico's strategy would be to play tight at the back and try to pounce on any mistakes made by Real Madrid.
"I think we have to defend well and take advantage of their errors, because in these games they commit very few," he said.