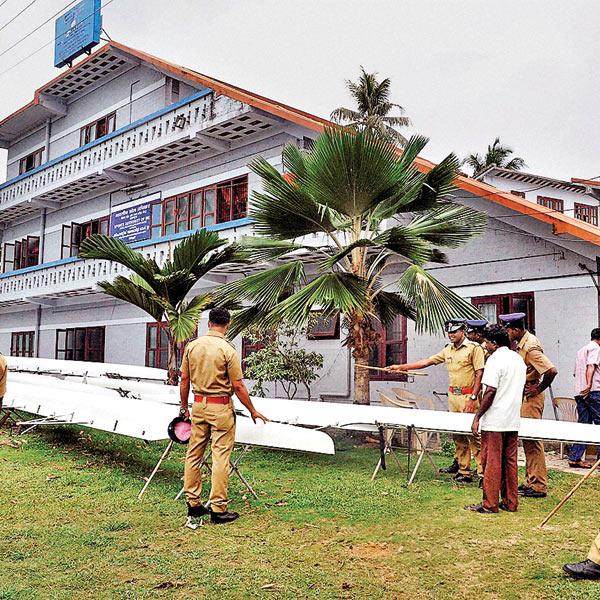 Police inspecting Sports Authority of India centre in Alappuzha, where budding rower, Aparna, died after she took poison along with three other SAI students. Photograph: PTI
The National Human Rights Commission (NHRC) issued notices to Kerala Government and Sports Authority of India (SAI) after a young female athlete committed suicide at the SAI hostel in Alapuzha on May 7.

"The NHRC has taken cognisance of a complaint as well as various telephone calls requesting intervention of the Commission into the incident which took place on May 7," said the Commission in a statement, on Wednesday.

A team of NHRC, led by acting chairperson Justice Cyriac Joseph, will visit Alapuzha from May 21 to 22 to conduct an on-the-spot inquiry.

The Commission has asked the Superintendent of Police, Alapuzha, to make arrangements for the team to meet the three surviving female athletes, the parents or guardians of the deceased girl, and they would also be meeting the District Collector of Alapuzha, Superintendent of Police of Alapuzha and the investigation officer of the case.

The Commission also wants to meet 'any public spirited person who is interested in sharing any valuable information related to the case' and speak to the trainers and senior students if they are interested in meeting the NHRC team.

"The unfortunate incident has given rise to serious allegations about violation of human rights," observed the Commission as it sought reports from the Chief Secretary, Government of Kerala, Inspector General of Police, Ernakulam Range, Superintendent of Police of Alappuzha, Secretary of Sports Authority of India, New Delhi within two weeks.

It has also sought to know the present stage of the investigation conducted by the police.
Earlier this month, four teenaged sportswomen, who were undergoing training at Sports Authority of India's, Water Sports Centre in Alapuzha attempted suicide.

One of them, 15-year-old, Aparna, died on Thursday morning.

The four were driven to take this drastic step following alleged harassment by seniors.

The girls are suspected to have consumed a fruit, locally called 'Othalanga', at around 3pm on Wednesday inside the SAI women's hostel. They were rushed to a hospital at around 7pm after they fainted, and later taken to Alapuzha Medical College, where one of them died, police had said.
© Copyright 2021 PTI. All rights reserved. Republication or redistribution of PTI content, including by framing or similar means, is expressly prohibited without the prior written consent.