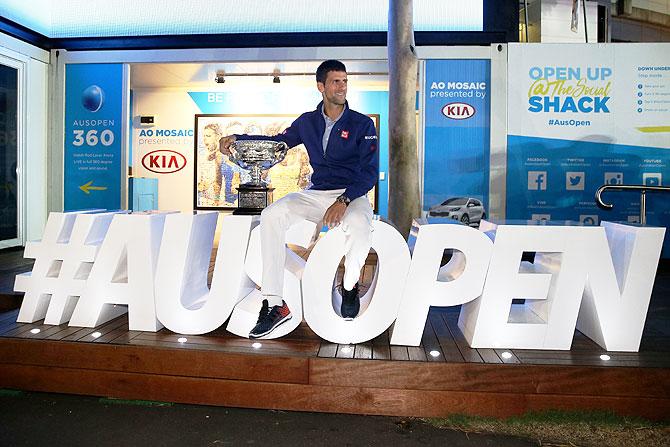 IMAGE: Serbia's Novak Djokovic poses with the Norman Brookes Challenge Cup after winning the Australian Open men's final after defeating Great Britain's Andy Murray on Sunday. Photograph: Cameron Spencer/Getty Images
Novak Djokovic vanquished Andy Murray for the fourth time in an Australian Open final on Sunday to win a record-equalling sixth title and serve notice to his rivals that he could surpass even his stellar 2015 this year.
The Serbian's fifth crown in six years on his favourite court not only allowed him to match Roy Emerson's record Australian Open tally but also brought him level with Rod Laver and Bjorn Borg on 11 grand slam titles.
He has won four of the last five slams, 38 of his last 39 matches, and at this rate Roger Federer's record 17 is within range of the 28-year-old.
Although world number two Murray battled hard after losing the opening five games in the blink of an eye, the dominant manner of Sunday's 6-1, 7-5, 7-6(3) victory vindicated Djokovic's opinion that he was at the zenith of his powers.
"There's no doubt I'm playing the best tennis of my life over the last 15 months," the 28-year-old, who topped the ATP rankings for the whole of 2015, said.
"I do feel that I'm at the peak of my abilities and my career. I don't think about limiting my ambitions or what I might be able to achieve."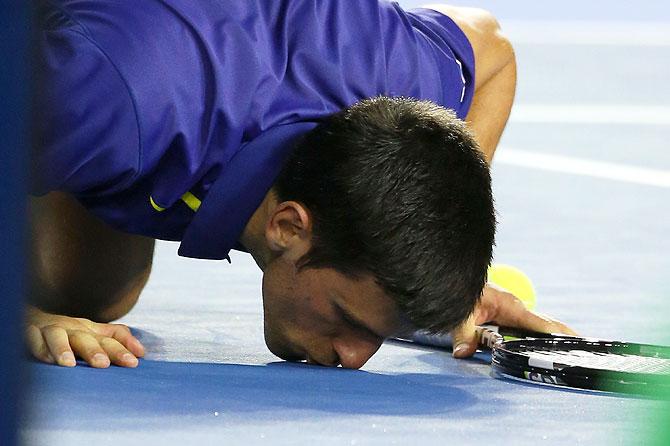 IMAGE: Novak Djokovic kisses the ground at Rod Laver Arena after winning the final. Photograph: Michael Dodge/Getty Images
Murray gave it everything he had in the two-hour, 53-minute baseline battle that was compelling viewing throughout an engrossing and pivotal 80-minute second set.
He was only able to delay the inevitable though.
Djokovic reprised the two sets of flawless tennis he played in his semi-final against Roger Federer to race to a 5-0 lead in just 19 minutes.
Murray contributed to his downfall, a double-fault handed his first service game to his opponent, but the depth and accuracy of Djokovic's groundstrokes had the Scot chasing shadows.
To his credit Murray, who beat Djokovic to win the US Open and Wimbledon titles and probably would have claimed several more but for the Serb, rose to the challenge.
He had chances too. He was 5-5 40-0 ahead in the second set with Djokovic under pressure before he came off second best in a spellbinding 36-stroke rally as Djokovic roared back to break before clinching a two-set lead despite two double faults.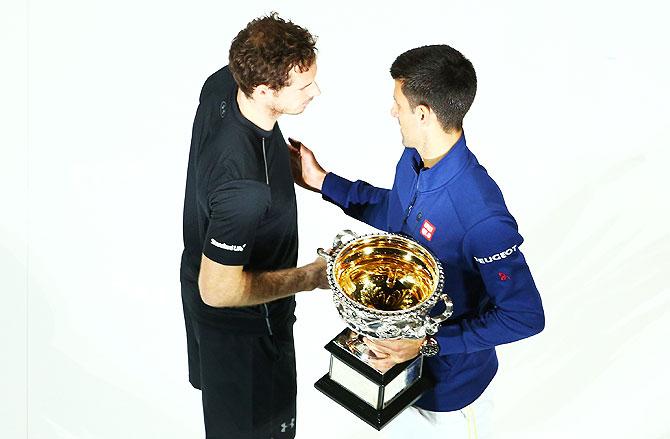 IMAGE: Australian Open champion Novak Djokovic greets Andy Murray during the trophy presentation after the final. Photograph: Quinn Rooney/Getty Images
Murray even fought back from 2-0 down in the third, but his resistance snapped in the tiebreak and Djokovic fired down his seventh ace to secure victory.
Djokovic, who had got off to a storming start against Roger Federer in the semi-finals, was back in imperious form from the start against Murray, who took until the second set to get into the match at all.
While the first set was done and dusted in just 30 minutes, the second lasted 80 with Djokovic aware that he was being put under pressure by the Briton.
"Tough match, tough luck tonight Andy," Djokovic added of the match that lasted two hours, 53 minutes.
"You're a great champion, great friend and someone who is very committed and will have plenty of opportunities to fight for this trophy."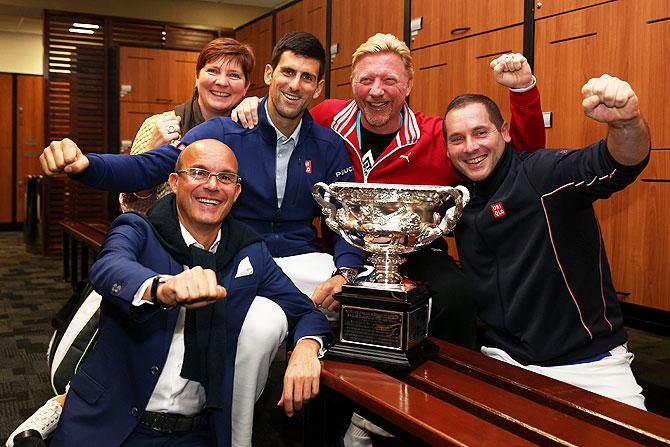 IMAGE: Novak Djokovic with coach Boris Becker and his team celebrate in the locker room. Photograph: Cameron Spencer/Getty Images
The 28-year-old Serb, whose first grand slam title was at Melbourne Park in 2008, has now won titles on the blue hard courts in 2011, 2012 2013, 2015 and this year to seal the most in the professional era.
"Every grand slam title is very significant in its own way," Djokovic said.
"I am extremely honoured to be mentioned alongside some of the legends of our sport.
"It's an incredible feeling in that I managed to make history and equal Roy Emerson's record.
"When you have the opportunity to make history it adds to your motivation and incentive before you come out on court. I tried to channel that and use it as a positive."
While Emerson's triumphs came in the pre-professional era of the 1960s when few players from the rest of the world made the long journey Down Under, Djokovic's dominance is international.
He won 11 titles including three of the four majors last year and already has a 12-0 record this season, having thrashed the other members of the 'Big Four' -- Rafael Nadal, Federer and Murray -- to win in Doha and Melbourne.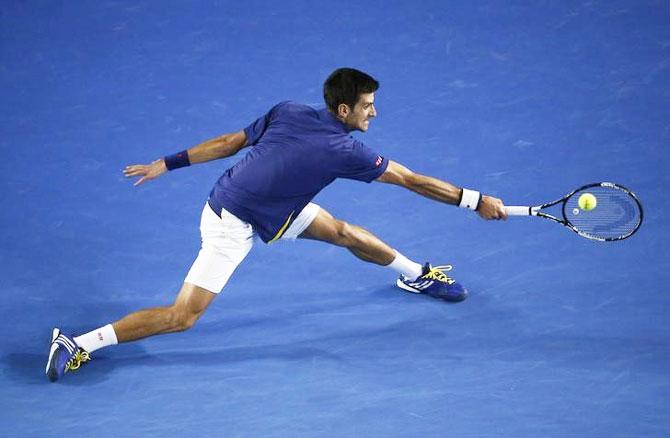 IMAGE: Novak Djokovic stretches for a shot. Photograph: Jason Reed/Reuters
Only Australian Laver, who was on the court named after him watching the final, has managed to win all four grand slams in one year and Djokovic would have to break his Roland Garros duck to match the feat and make more history.
He said he thought he was getting closer to winning the French Open title every time he played the claycourt grand slam but had learned not to think too far ahead.
"(I'm) very hungry (for Paris)," he concluded.
"But the wolf needs to eat a lot of different meals to get to Paris. Paris is a dessert."
Djokovic, who has appeared in the last five grand slam finals, winning four, acknowledged he was playing at a different level.
Yet he still wants to get better and add to his 11 major titles.
He is now tied with Rod Laver and Bjorn Borg on the all-time list and within sight of rivals Nadal (14 titles) and Roger Federer (17).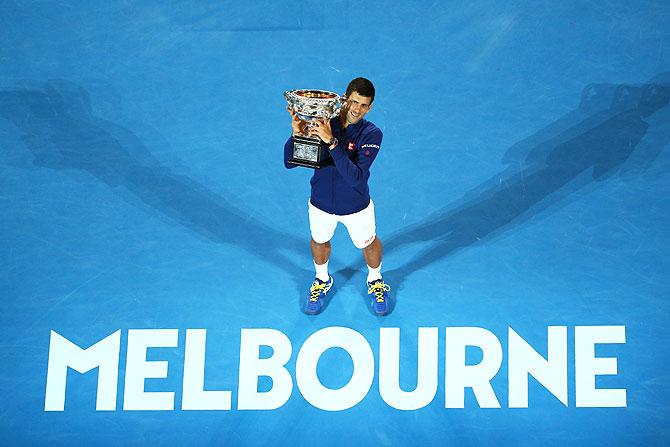 IMAGE: Novak Djokovic holds the Norman Brookes Challenge Cup. Photograph: Quinn Rooney/Getty Images
"I believe that I can win every match I play (and) I'm playing the tennis of my life in the last 15 months. The results are showing that," he said.
"I don't want to think how far my boundaries are."
Djokovic added that he felt the rivalry between the 'Big Four' would continue, because they push each other the most.
In fact, the Serb said the other three members of the quartet were the ones he analysed to ensure he stayed at the top of his game.
"I prepare myself for Murray, Federer and Nadal," he added.
"These three guys have been the most dominant ones next to me. No disrespect to other guys like (David) Ferrer or (Stan)Wawrinka.
"I do prepare myself to perform my best in grand slams and analyse my games to play them."