Confident of beating the best of today even at 52, world record-holding long jumper Mike Powell has announced that he would try to qualify for this year's Olympic Games.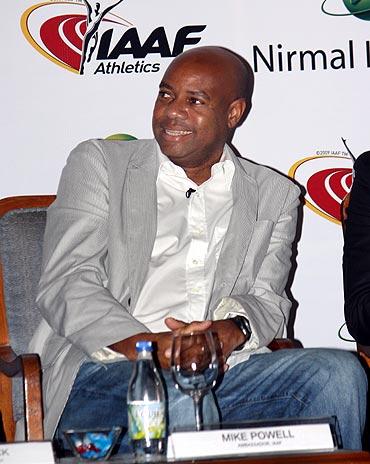 "The state of the long jump is pathetic, I have watched these people jump at the World Championships last year and I know I can beat them. No other sport has fallen behind the way long jump has," he said on Friday, ahead of the TCS World 10K scheduled to be held on May 15 in Bengaluru.
25 years and counting, he is holder of the long jump world record. He won the long jump silver medal at the 1988 Summer Olympics in Seoul.
Powell again won the long jump silver medal at 1992 Summer Olympics in Barcelona.
At the 1991 World Championships in Athletics (Tokyo), Powell broke Bob Beamon's long jump world record by 5 cm (2 inches), leaping 8.95 m (29 ft 41⁄4 in).
Two years later again he won the long jump at the 1993 World Championships in Athletics and was bronze medalist at the Worlds in 1995.
An International Event Ambassador of the TCS World 10K, Powell said he is eyeing to compete at the Rio Olympics in August this year.
"I told my daughters that 'Daddy is going to the Olympics'. I got to make it! That is my biggest motivation. It has to be done not only for my daughters, but for other people to know 50 is not old," he said.
Powell said he knew that he would get there and be a strong medal contender in Rio. Powell said his comeback is not an overnight decision, and dates back to when he was invited to participate in a celebrity TV Long Jump competition in Japan in April of 2013.
Working towards qualifying in the middle of June for the American Olympic team, Powell is confident of reaching the 8.15 qualifying mark.
This is not the first time that Powell is making a comeback.
Following his retirement after the 1996 Olympics, he returned in 2001 hoping to compete in the 2004 Olympics, but did not make the American team.
Image: Mike Powell
Photograph: Hitesh Harisinghani/Rediff.com