'Over those 10 years, I have had falls, high moments and many injuries. All the work I have done has not been for nothing'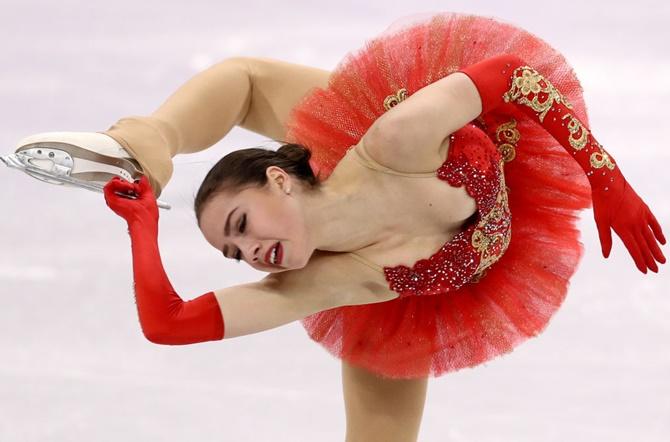 IMAGE: Alina Zagitova of Olympic Athlete from Russia competes in the Figure Skating. Photograph: Maddie Meyer/Getty Images
Olympic gold medallist Alina Zagitova might be 15 but the depth of her figure skating career stretches far beyond her years.
Competing in her first senior season, the teenage Russian arrived at the Pyeongchang Olympics as the European champion after having handed training partner Evgenia Medvedeva, a two-time world champion, her first defeat in more than two years.
The upset, which came on Medvedeva's return to competition after a fractured foot last month, reinforced the notion that Zagitova could challenge her 18-year-old training partner.
Eight months old when fellow Pyeongchang competitor Carolina Kostner from Italy, 31, skated at her first European championships, the soft-spoken teenager answers reporters in brief sentences and is generally reserved off the rink.
Asked on Wednesday after she took the lead in the short skate why she wasn't acting more like a typical 15-year-old, she said somewhat severely: "I don't really show my emotions, splash them around as it were. This is my nature."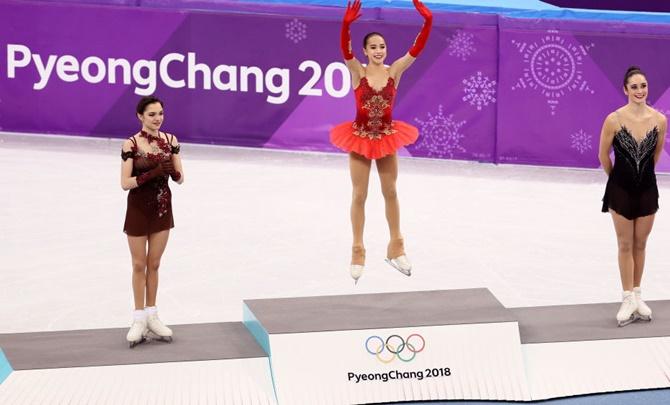 IMAGE:From left, silver medal winner Evgenia Medvedeva of Olympic Athlete from Russia, gold medal winner Alina Zagitova of Olympic Athlete from Russia and bronze medal winner Kaetlyn Osmond of Canada celebrate during the victory ceremony for the Ladies Single Skating Free Skating. Photograph: Jamie Squire/Getty Images
But on Friday, after taking gold, she smiled more broadly than usual and giggled with silver winner Medvedeva at a news conference.
Her youthful voice and demeanour - after the Grand Prix Final in Japan last December she met reporters clutching a stuffed animal - clash with the years of intense training she has been through to arrive at Pyeongchang and win.
"I've been skating for 10 years," Zagitova told Friday's news conference.
"Over those 10 years, I have had falls, high moments and many injuries. And I've gone through this and made it to the Olympics. All the work I have done has not been for nothing."
Zagitova and Medvedeva share coaches Eteri Tutberidze and Sergei Dudakov, and also have a choreographer in common, Daniil Gleichengauz. They say training together forces them to work harder - and that while they're friends when off the ice, rivalry slips in once they strap on their skates.
Zagitova's almost supernatural reserve off the ice changes dramatically as she skates, dressed for her free programme in a flashy red tutu.
On Friday, as she took gold, her fiery and expressive performance drew roars from a Russian crowd thrilled to see their nation's first gold at the Pyeongchang games.
"In the past this used to distract me, but now I feel support from it," she has said.