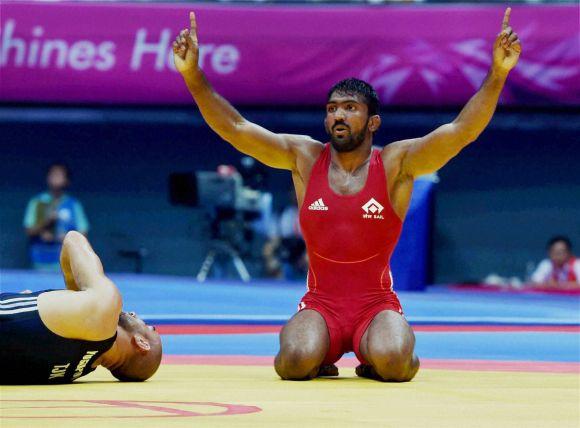 Yogeshwar Dutt celebrates after winning gold in freestyle wrestling at the Asian Games. Photograph: PTI
Terming Yogeshwar Dutt's historic gold at the Asian Games as an "exceptional achievement", seasoned campaigner Sushil Kumar said the country's wrestlers have done justice to the sport by improving their medal count at the Asian Games.
He was particularly impressed with Yogeshwar's semi-final performance against China's Katai Yerlanbieke at the Incheon Games.
"The manner in which Yogesh won the semi-final bout was amazing. It was probably the best I have seen him fight, as he scripted an unbelievable come-from-behind win. His performance has boosted the morale of our wrestlers," said Sushil.
He was, however, disappointed that Amit Kumar couldn't win gold.
'Disappointed that Amit couldn't win gold'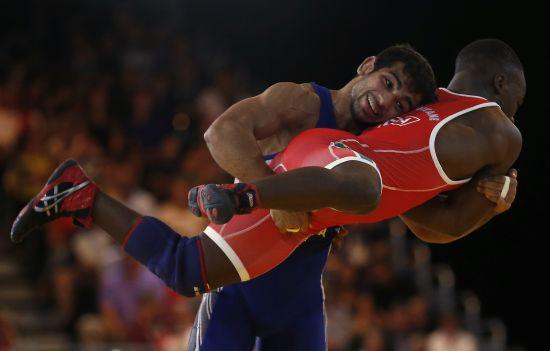 Amit Kumar. Photograph: Jim Young/Getty Images

Much was expected of the Commonwealth Games gold medallist, but Amit was off-colour against Japan's Fumitaka Morishita, going down 1-3 in 57kg category.
"Disappointed that Amit couldn't win gold; but this is sport and this can happen. Amit will certainly come back stronger after this Asian Games. I am hopeful that our boys in Greco-Roman will also get a few medals," said Sushil, adding Bajrang Kumar and Narsingh Pancham Yadav superseded expectations.
"Bajrang is a very talented youngster and will only get better. I am also very happy for Narsingh," said the Olympian, who won a bronze medal at the 2008 Beijing Games and silver at the following Games in London.
'Planning to make a comeback at the World Championship'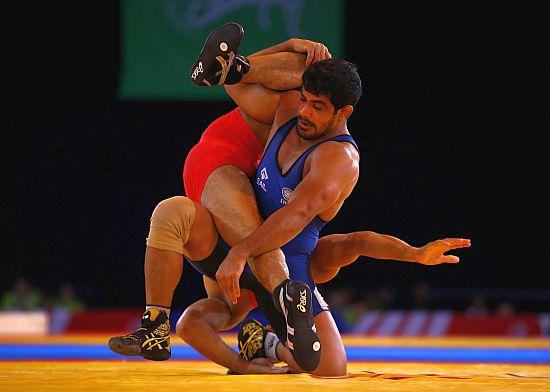 Sushil Kumar. Photograph: Richard Heathcote/Getty Images
Wrestlers improved their medal count of three from the previous Asian Games at Guangzhou, raising it to five from Incheon.
"We won three medals at Guangzhou. This time our tally has increased to five medals so far. Obviously, there has been an upswing and no one is happier than me," he said.
He reiterated his reasons for skipping the Asian Games, insisting he wanted to give youngsters an opportunity.
"I didn't go to the Asian Games as this was a conscious plan to experiment with a youngster in my category. I am planning to make a comeback at the World Championships in the United States and also take part in the major Grand Prix events next year so that I am fit and ready for the Rio Olympics in 2016," said Sushil.
Speaking about his recently-opened his academy in Sonepat, Sushil said, "I believe with blessings from everyone; we will be up and running from next year. I am thankful to the Haryana government for providing me land. I am planning to rope in kids aged between 14 and 15.
"Because that is the age when the muscles start developing adequately and you can mould boys of that age. Hopefully, I will be able to produce champion wrestlers and give back to the sport which has given me everything," he added.