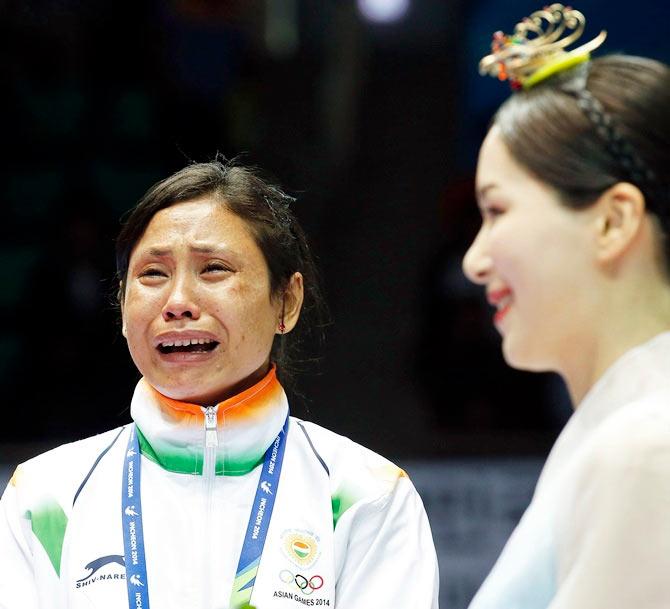 India's bronze medallist Laishram Sarita Devi reacts during the medal ceremony of the women's lightweight (57-60kg) boxing. Photograph: Kim Kyung-Hoon/Reuters
Boxer L Sarita Devi has escaped with a warning after apologising for her petulant display at the Asian Games when she refused to accept her bronze medal.
- Complete coverage: 2014 Asian Games
- Medals tally: 2014 Asian Games
- No boxer should experience what I went through: L Sarita Devi
- 'Regretful' Sarita Devi offers 'unconditional apology' for medal ceremony row
- Asian Games: Boxing India put onus on IOA to resolve Sarita medal row
- Did boxer Sarita really show lack of sportsmanship? Tell us!
- Robbed of final berth, inconsolable Sarita refuses bronze!
- Boxer Sarita faces AIBA probe for returning bronze medal
- The decision against Sarita was atrocious: Mary Kom
- 'Sarita's behaviour will give wrong ideas to youngsters'
The Olympic Council of Asia (OCA) said it was not impressed by her behaviour at the medal ceremony but decided to let her off with a warning after she issued an unconditional apology and the Indian delegation assured the OCA it had not planned the incident.
"We decided to give this athlete a strong warning," OCA honorary life vice-president Wei Jizhong told a news conference on Saturday.
"We considered this had nothing to do with the Indian delegation. This is just a personal misbehaviour of the athlete."
Sarita was furious after losing her lightweight semi-final bout with South Korea's Park Ji-na on Tuesday, believing she should have been declared the winner.
Her husband launched an expletive-laden tirade at the judges and Sarita lodged a protest against the decision but it was rejected, triggering cries of foul play from the Indian team.
The following day, she refused to wear the bronze medal when it was presented to her, taking it only in her hand before trying to drape it over Park.
When the presentation was over, Sarita left the medal behind, despite being told by the organisers to take it with her.
"As an athlete, she had to respect the referee's decision," OCA President Sheikh Ahmad Al-Fahad Al-Sabah said.
"She feels sadness because she felt she deserved better, but she also killed the moment for the other athletes. I am happy she apologised and this will not happen again."
Sarita was just one of a number of beaten boxers who questioned the judging at the Asian Games and Ahmad said the OCA would carry out an investigation after receiving a number of formal complaints.
"We received letters from five different NOCs (National Olympic Committees) commenting about the boxing," he said.