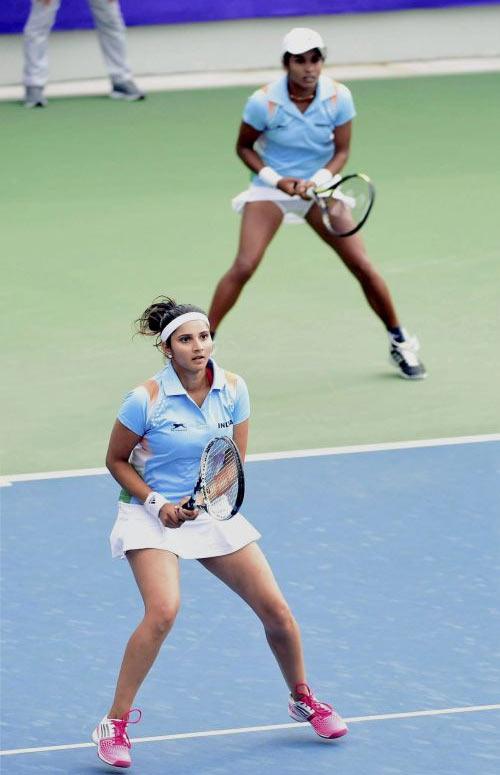 Sania Mirza and Prarthana Thombare in action during the Asian Games doubles match on Sunday. Photograph: PTI
Indian tennis ace Sania Mirza feels the five medals the team grabbed at the ongoing Asian Games is a pretty good performance given that the country did not come with the best unit.
"It has been a pretty good week. We (she and Prarthana Thombare) got a medal (bronze) in women's doubles, which is huge, because it's something that we never did. I had to be the leader. It's a young team we came here with; didn't come with the best team possible, especially with the guys. Five medals (including today's) is pretty good," she said, ahead of the mixed doubles semi-finals, partnering with Saket Myneni, at the Yeorumul Tennis Centre.
The 27-year-old, who was initially inclined towards skipping the Games to gain doubles points on the WTA tour before changing her mind, said the reason was to provide the country its best shot at picking up more medals at these Games, her fourth on the trot.
"The minute I made the decision to come here, I knew it was the right decision. For me, the most important thing was to give India the best chance of winning as many medals as possible. I did what I could and I got two in the two events I played (women's doubles and mixed doubles where she and Myneni will fight for the gold).
"I am happy that there was my contribution. Personally, it's my fourth Asian Games in a row and I have got medals in every single Asian Games I have been to. For me to get eight medals in the last four editions is pretty good," she remarked.
Sania has gold (in mixed doubles in 2006 in Doha), three silver medals (women's singles and team in 2006 and in mixed doubles in 2010 at Guangzhou) and two bronze medals (women's singles and doubles in Guangzhou) from the Asian Games.
Besides, she also won silver (singles) and bronze (doubles) in the 2010 Commonwealth Games in Delhi.
She said she enjoys playing mentor to the next generation of tennis players.
"I have a good rapport with these girls and I am always there to help if they ask. They are all my sister's age, like babies to me. They are 7-8 years younger than me. I am sharing a room with one of them.
"These are the best youngsters we have had in a while. My doubles partner (Prarthana) has some potential and is still pretty young. We need to build on this. I hope this gives them a lot of confidence that they can achieve certain things," Sania said.
"I have held this flag for a long time. It will be great to pass it on to someone else. Hopefully, by the next Asian Games, they will be ready to win a medal by themselves," she added.
'These players have to start competing in bigger tournaments'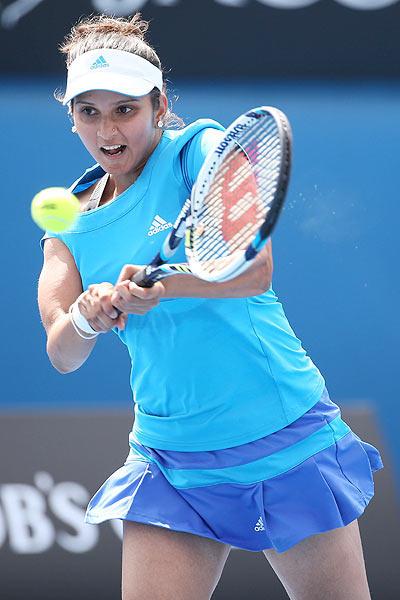 Sania Mirza. Photograph: Michael Dodge/Getty Images
Sania, who was world No 23 at her peak in singles, pointed out quite a few factors, like lack of guidance and proper coaching, as reasons for the other Indian women being unable to break into even the top 200 in singles.
"There are a few reasons. I definitely think planning is one of them, lack of knowledge and lack of maybe even coaching abilities at certain levels. I think a lot of coaches in India haven't seen what it takes to really make it because they have not produced anyone nor have they been at that level.
"I am not saying you need to be a great tennis player to be a coach, but you need to have watched at the highest level to be a good coach. The best they might have watched is the WTA event a few years ago."
She also said that most of the women players are content to play at the $25,000 level which is simply not enough to go places in the world.
"Tennis is very competitive these days. Physically as well they struggle a bit. There are a bunch of reasons. I have been trying to help them with scheduling, trying to tell them which tournament to take part in.
"First of all they need to come out of the $25000 tournaments try and believe they can do better at the bigger tournaments. That's one of the main things. That's where they have to perform," Sania said.
"You are not going to play these for the rest of your life. If you do so you will remain in the 300 rankings for the rest of your career. That's what they have been doing, go for the easier options. It's not because they want to but because of lack of guidance at certain levels.
Sania is set to leave Incheon on Tuesday to play the September 27-October 5 China Open, partnering Cara Black.
"It's been rough last couple of weeks. Since the US Open I have not had any time really. I came back after New York and had literally three days at home. I was not even over jet lag when I left for Tokyo and then came here. It's a good problem to have, it has been busy. After that I go to Singapore (for the season-ending WTA finals)," she said.
She said her season so far, especially the second half, has been pretty good and she wants to finish on a high.
"It's been a great year and especially the second half of the season has been unbelievable. Hopefully, we (she and Black) can finish on a high, win here (with Thombare) and hopefully go to Singapore which has been the highlight of my career. I want to do well there," she said.