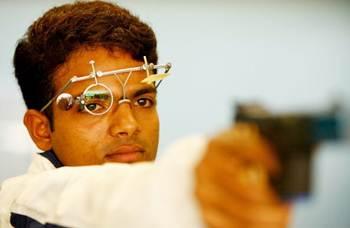 Olympic medallist Vijay Kumar has missed out on a berth in his pet event - rapid fire pistol - for the upcoming Asian Games, but is still part of the 43-member squad, which will be spearheaded by shooting ace Abhinav Bindra.
The multi-sport extravaganza begins in Incheon, South Korea, from September 19.
The selection committee of the National Rifle Association of India picked the team during a meeting on Wednesday.
"His (Vijay's) scores haven't been good enough in recent times, and, as you all know, as per our selection policy, only the last six scores are taken into account while deciding on a shooter," an NRAI official said.
Beijing Olympic gold medallist Bindra, who just won a gold at the Glasgow Commonwealth Games, will, as usual, represent India in 10-metre air rifle alongside Sanjeev Rajput and Ravi Kumar.
Like it was with the Commonwealth Games' squad, multiple medallist Gagan Narang will not be part of the 10 metre air rifle team, but will compete in rifle prone (Joydeep Karmakar and Hariom Singh being the other two members) and rifle 3 position (Sanjeev Rajput and Chain Singh).
London Olympics silver medallist Vijay Kumar will be part of the centre fire pistol team alongside Pemba Tamang and Gurpreet Singh. Vijay failed to qualify for the final of rapid fire pistol at the just-concluded Glasgow Games.
Trap will be taken care of by Manavjit Singh Sandhu, Mansher Singh and Kynan Chenai while the double trap event will have Ankur Mittal, Mohd Asab and Sangram Dahiya.
In-form world No 1 Jitu Rai will compete in free pistol and will have Om Prakash and Omkar Singh for company. Rai will also be seen in action in air pistol along with Prakash Nanjappa and Samresh Jung.
In the women's section, Commonwealth Games winners Rahi Sarnobat and Anisa Sayyed will represent India in sports pistol alongside Heena Sidhu.
Heena will also compete in air pistol, which will also have Shweta Chaudhary and Malaika Goel.
The experienced Anjali Bhagwat will again be seen in action in the rifle 3 position along with Lajja Gausawami and Tejaswini Muley.
Apurvi Chandela, Raj Chaudhary and Ayonika Paul will form the air rifle team.
In women's trap, India's representatives will be Shreyasi Singh, Seema Tomar and Shagun Chowdhary. Arti Singh Rao and Rashmee Rathore will make the skeet team while Shreyasi, Varsha Varman and Shagun will form the double trap team.
Image: Vijay Kumar
Photograph: Mark Nolan/Getty Images