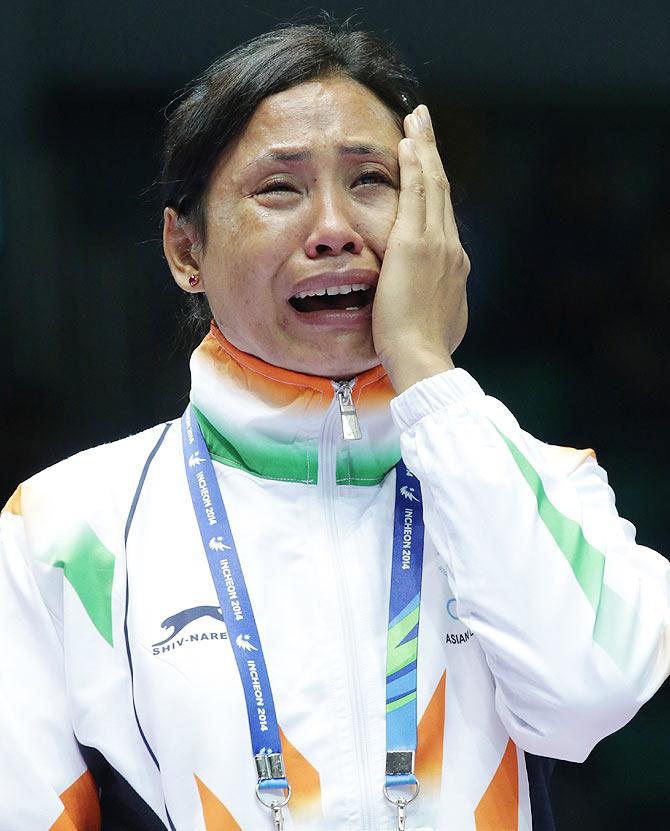 L Sarita Devi of India cries after she refused her bronze medal during the medal ceremony in the Womens Light Division Final on Wednesday. Photograph: Chung Sung-Jun/Getty Images
Having offered an unconditional apology for an emotionally-charged protest during the Asian Games medal ceremony, Indian boxer L Sarita Devi hoped that her outburst will ensure better judging at next month's World Championship in Korea.
- 'Regretful' Sarita Devi offers 'unconditional apology' for medal ceremony row
- Asian Games: Boxing India put onus on IOA to resolve Sarita medal row
- Did boxer Sarita really show lack of sportsmanship? Tell us!
- Robbed of final berth, inconsolable Sarita refuses bronze!
- Boxer Sarita faces AIBA probe for returning bronze medal
- The decision against Sarita was atrocious: Mary Kom
- 'Sarita's behaviour will give wrong ideas to youngsters'
Speaking to PTI on her return from Incheon with the controversial bronze medal, which she refused to accept at the presentation ceremony, Sarita said the episode has left her "mentally drained".
"I hope the judging is better at the World Championship (scheduled from November 13 to 25 in Jeju Islands). Korea is hosting it and I am hoping that my protest will make some difference to the standard of judging. I hope nobody feels wronged like I did. No boxer should go through this, we work so hard," she said.
Sarita lost a contentious semi-final in the Asian Games to Korean Jina Park despite dominating the bout. The Indian later cried bitterly at the podium and refused to wear the medal that was presented to her.
She instead gave it to Park as a mark of protest during the ceremony, prompting the International Boxing Association (AIBA) to initiate disciplinary proceedings against her.
'I offered her (Park) the bronze medal because I deserved better'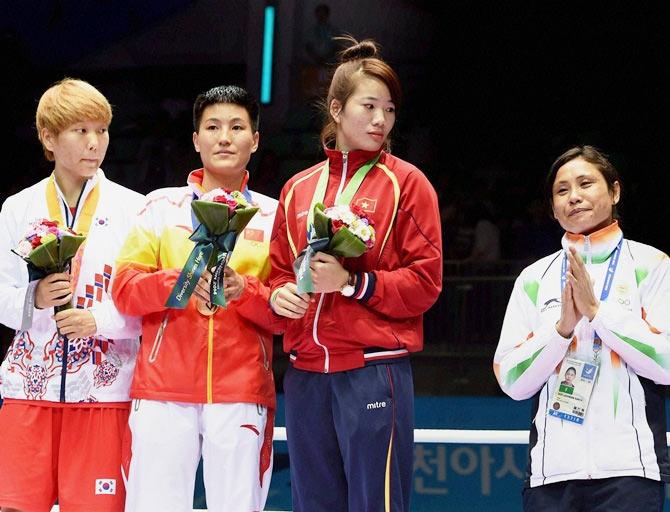 India's Sarita Devi gestures on the podium after refusing to accept the bronze medal. Photograph: PTI
Sarita later offered an "unconditional apology" to AIBA for her actions.
"I apologised because I did not want any other Indian boxer to suffer. I fight for my country and by apologising I have tried to ensure that no other Indian gets affected. I feel I was wronged," she said.
"We suffered a lot due to the federation's termination earlier, I didn't want anything new to affect our boxers."
Recalling her emotional moments on the podium, Sarita said she was not in control.
"I could not control myself on the podium. I offered her (Park) the medal because that's what she deserved. I deserved better. She came to me to return the bronze but I could not take it, I was too overwhelmed. She requested me to take it back," Sarita recalled.
"I am not angry with her. She was just fighting like me. The wrong was done by others. It was not her fault," she added.
'Spending time with my infant son will help me get over what has happened'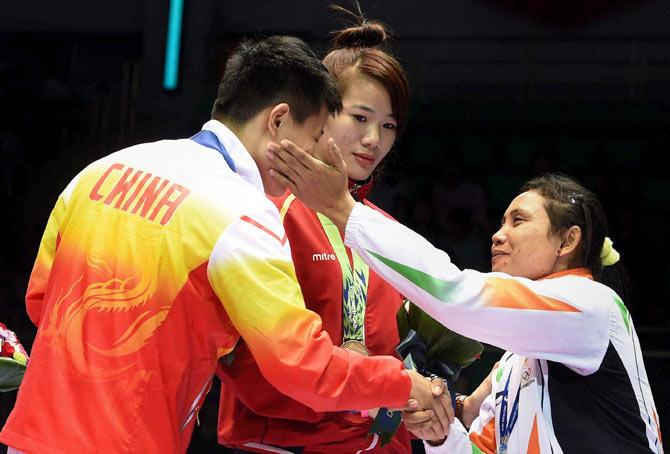 India's Sarita Devi (right) at the podium after refusing to accept the bronze medal. Photograph: PTI
Sarita had to borrow money to lodge a protest after the semi-final as no Indian official came forward to help her.
"I have already said a lot about the Indian officials' attitude. I need not add to it but I do hope that they back athletes when they need them. We fight for the country, we deserve this much if not more," she said.
However, the former World and Asian champion was overwhelmed by support from boxers of other countries.
"I was applauded wherever I went. Even at the airport, some Thai boxers walked up to me and supported me. They lauded my performance and congratulated me. It was very touching," she recalled.
Reflecting on her performance at the Games, Sarita said she was satisfied with what she managed inside the ring.
"I am taking a week's break to recharge myself. May be spending time with my infant son will help me get over what has happened. That's the only way I can put this behind me and move forward," she said.
On a lighter note, the boxer said she would now try more for knockouts.
"That's better, leaves no doubt for anyone," she laughed.