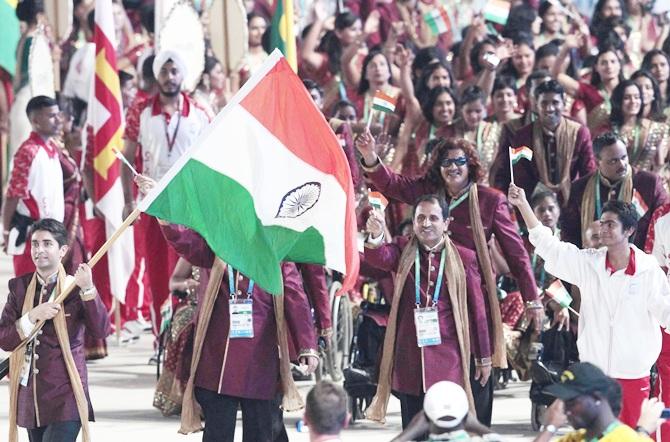 Flag bearer Abhinav Bindra of India leads his team into the Jawaharlal Nehru Stadium during the opening ceremony for the Commonwealth Games in New Delhi 2010. Photograph: Tim Wimborne/Reuters
Faced with severe criticism from various quarters on the composition of Indian contingent for the Asian Games, the government is set to make a U-turn and name managers in 23 disciplines out of 28 the country will compete in the multi-sporting event.
- Asian Games contingent sans managers a 'foolish' move?
Indian Olympic Association Secretary General Rajeev Mehta said that the sports secretary has told him that the ministry will re-consider its decision.
"I had spoken to the sports secretary about the difficulties the Indian contingent may face without managers in the 23 disciplines and he has given me a positive response," Mehta said.
"So, I am preparing the list of managers and I think the sports ministry will re-consider its decision (to exclude 23 managers). I think all the 23 managers will be cleared," he added.
While clearing a 679-strong Indian contingent for the September 19 to October 4 Games in South Korea, the government had dropped all the managers, except for five, who have been proposed by Indian Olympic Association. The Sports Ministry had also barred the IOA and NSFs from sending managers at their own cost.
The IOA had made a request to the ministry to re-consider its decision to exclude the managers but Sports Authority of India Director General Jiji Thomson had said that the government would not make any changes in the list.
The managers named in the sports ministry's list, which was cleared on Tuesday after consultation with the Prime Minister's Office include tennis star Sania Mirza's mother Naseema Mirza, Rajan F Irani (golf), V K Dhal (shooting), Ramavtar Singh Jakhar (volleyball) and K D Singh (yatching).
Mehta also said that he would request the government to extend the time period of visit of delegates to Asian Games from five to 10 days.
In a letter to sports minister Sarbananda Sonowal, the IOA secretary-general Rajeev Mehta wrote, "Role of managers are essential and indispensible during Games. It is the manager, who raises protest against an unfair decision......."
He also wrote, "It is not advisable to burden the coach with manager's duty as coaches have their specific duties and remain focussed on that only...."
In a separate letter, the IOA secretary-general also requested the ministry to increase the duration of the daily allowance from five days to prior to the tournament to 10 days prior to the tournament and should continue for two days after the Games are over from the existing rule of one day.