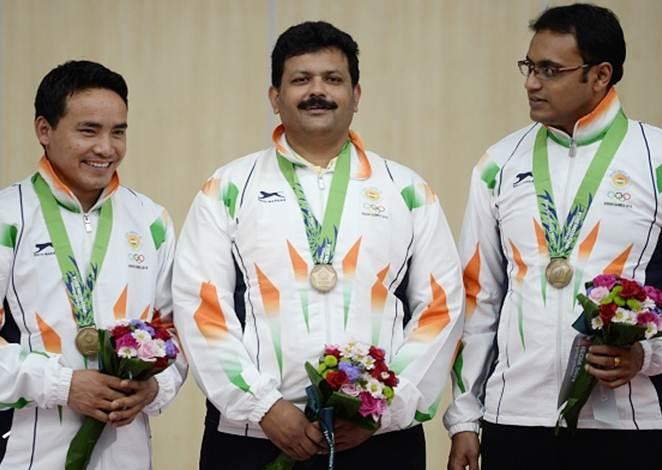 From left, Indian 10m air pistol shooting team Jitu Rai, Samaresh Jung and Prakash Papanna pose with their bronze medals. Photograph: PTI
Indian men settled for a bronze medal after narrowly missing the silver in the 10m air pistol event at the Ongnyeon shooting range, continuing their good run in the 17th Asian Games in Incheon on Sunday.
Complete coverage: 2014 Asian Games
Their latest shooting star Jitu Rai entered the eight-man final as the second best qualifier but could not stand on the podium after finishing fifth, a day after clinching the 50m gold.
Rai's precise shooting, that helped him garner 585 points and qualify with a point behind Kazakhstan's Rashid Yunusmetov, backed up by Samaresh Jung's 580 (who finished 9th) and Prakash Nanjappa's 578 (14th), albeit with an injured leg, helped India garner 1743 points, the same as second placed China, for the bronze.
India and China were level on points and the silver was decided by the number of Xs (bullseye) in the tens in which the latter tallied one more - 65 to India's 64.
The gold was won by hosts South Korea with a combined tally of 1744, leading Samaresh to later said that "why only silver, we narrowly missed the gold too".
Rai's sequence of hits at the target were 97, 99, 95, 98, 97 and 99 and he even expressed his disappointment despite scoring tens at times.
Burly Samaresh, the 2006 Commonwealth Games 'Gold Finger', came up with 97, 97, 97, 96, 96 and 98 to finish one slot outside the finals qualification.
He later said, "I am pretty happy to finish with a medal and not exactly disappointed (at not making the finals)."
"Why only silver, we missed out on the gold too by one point. But that's how it goes," he said.
Like all other shooting contingent members, he too had to return to India after the World Championships in Spain to get Korean visas in the absence of their accreditations with them but, unlike a few of the rest, said he was quite happy to spend a day at home after spending several days overseas.
Asked about his immediate future, he said, "I am not even looking at the Rio qualifications now. If I get a quota I will go and shoot there. It's two years away."