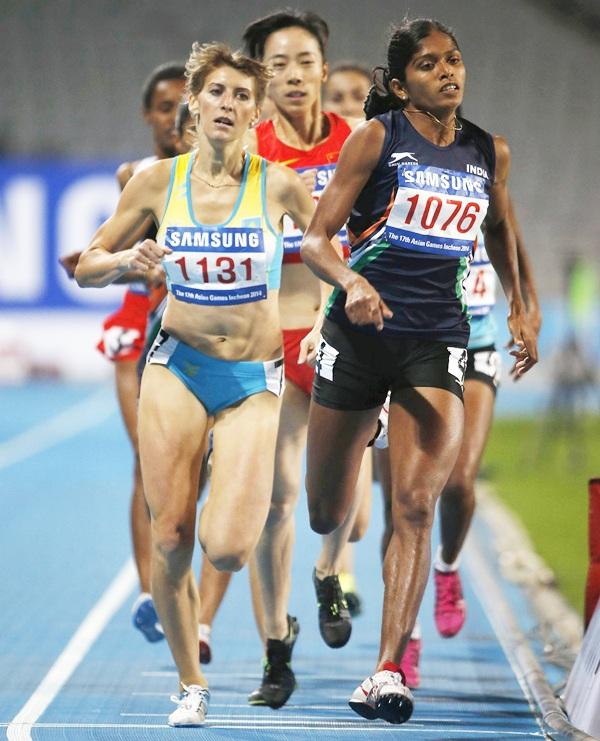 India's Lukka Tintu, right, competes in the relay final. Photograph: Jason Reed/Reuters
India maintained their stranglehold on the women's 4x400 metres relay at the Asian Games, winning gold for the fourth time on the trot in a Games' record time, in Incheon, on Thursday.
Complete coverage: 2014 Asian Games
Medals tally: 2014 Asian Games
The quartet of Priyanka Panwar, Tintu Luka, Mandeep Kaur and M R Poovamma won in 3:28.68 seconds, improving upon the earlier Games record of 3:29.02s, which was also in the name of the gold-winning Indian team in 2010.
This is India's second gold from athletics, after Seema Punia's in the women's discus throw.
Japan won silver with a timing of 3:30.80s, while China bagged bronze in 3:32.02s.
India's first lap runner, Panwar, lagged behind her Japanese counterpart, but Luka, who won silver in the 800 metres, ran a brilliant race to recover lost ground.
She gave the team a slender lead after two laps before Mandeep widened it in the third, staving off a strong challenge from her Japanese counterpart.
Poovamma, who won a bronze in the 400 metres, then anchored India to gold with a rousing finish.
This is the fourth time India bagged gold in the women's 4x400m relay at the Asian Games; the country has won the event since the 2002 Busan Asiad.
Mandeep Kaur, who ran an impressive third leg was part of that gold-winning quartet in the 2010 Guangzhou Games.