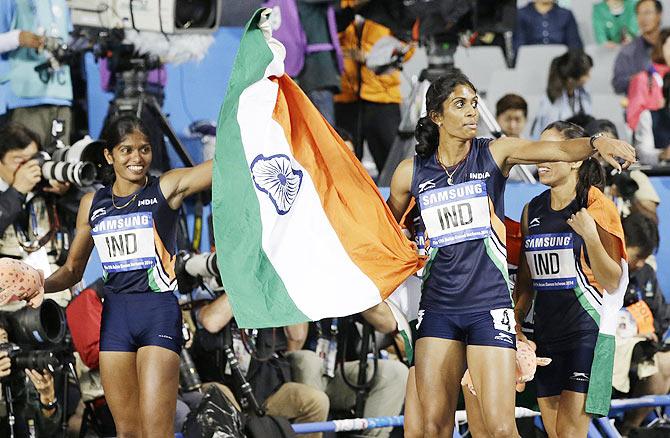 Members of Indias womens 4 x 400 meters relay team celebrate after winning the gold medal at the 17th Asian Games in Incheon. Photograph: PTI
Indian sports had a lot to celebrate despite a decrease in the medal count at the 2014 Asian Games in Incheon.
- Complete coverage: 2014 Asian Games
The biggest triumphs that brought India pride were the gold medals in men's hockey, Sania Mirza (tennis mixed doubles) and celebrated boxer MC Mary Kom and despite the L Sarita Devi controversy there was joy in the Indian contingent.
Pistol shooter Jitu Rai and freestyle grappler Yogeshwar Dutt were among the other heroes of the Games.
The Indian contingent went to Incheon with an aim to better or equal the record medal haul of 65 fetched in 2010 but fell short of the target and emerged with a diminished tally to its credit in this growing South Korean business hub.
India secured 11 gold medals, three fewer than in China four years ago, 10 silver (including the upgraded one of Manju Bala in women's hammer) and 36 bronze for a total haul of 57.
Four of those gold medals came in athletics (two) and kabaddi (two) while archery, boxing, hockey, shooting, squash, tennis and wrestling accounted for the rest.
The gold medal haul also placed India in the eighth position on the medals table, two rungs below where they had finished in China. In 2010, where the country's Asian Games preparations had started earnestly with the immediately preceding Commonwealth Games hosted in New Delhi, the break-up of 65 medals won was 14 gold, 17 silver and 34 bronze earning India the sixth spot on the medals rostrum.
In 2010, a total number of 609 competitors piloted the country to a two-and-a-half-decade-high spot out of 45 countries and regions.
At the end of it all competitions here, the 541-strong Indian sporting contingent has once again secured the top 10 place out of the same number of nations and regions.
Here, the first golden touch to India's campaign, which stuttered early on before picking up some pace, came from talented army shooter Jitu Rai who handled the pressure well to nail the men's 50m pistol crown on the very first day.
The yellow metal tally was rounded off by the double team gold won in kabaddi on Friday.
However, to put it in perspective it should be noted that some of the gold medals came in non-Olympic sports, including the team double in kabaddi, which is hardly known even within most parts of Asia.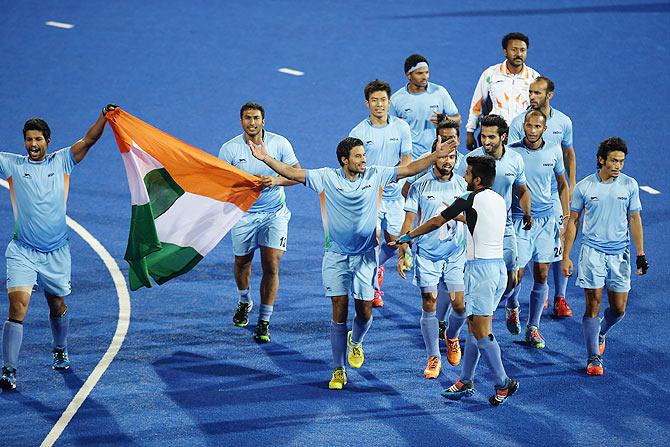 India players celebrate after defeating Pakistan to win the men's hockey gold medal at the 2014 Asian Games at Seonhak Hockey Stadium in Incheon on Thursday. Photograph: Suhaimi Abdullah/Getty Images
India's chef de mission Adille Sumariwalla summed up India's overall performance, saying the final medal haul was on expected lines.
"We had predicted 50-55 medals and have secured 57. We lost the plot after 2010, otherwise could have performed better," he felt.
This time too, India had come to Incheon after performing well in the Commonwealth Games in Glasgow but the vast chasm between the CWG and the Asian Games level in most events, where world sports superpower China sets the benchmark, was palpable.
As the country's campaign was tapering off, India's men's hockey squad, led by Sardar Singh, brought immeasurable joy by reclaiming the gold via the penalty shoot-out in a nail-biting, action packed final against arch-foes Pakistan.
India won the shoot-out 4-2 after the teams were level 1-1 at the end of the four quarters, a new concept introduced in world hockey at the Asian Games.
This was a huge moment for the struggling game in India, the triumphant team and its support staff led by Terry Walsh, as well as for the innumerable and disheartened supporters of hockey who wanted nothing less than the gold last won in 1998 at Bangkok.
The triumph also piloted India directly into the Rio Olympic Games without the trouble of going through the qualifiers.
It was also for the first time since 1966 that India emerged winner in the high-pressure Games final against Pakistan.
Their previous encounter at this stage in the 1982 Delhi Games had gone comprehensively in Pakistan's favour.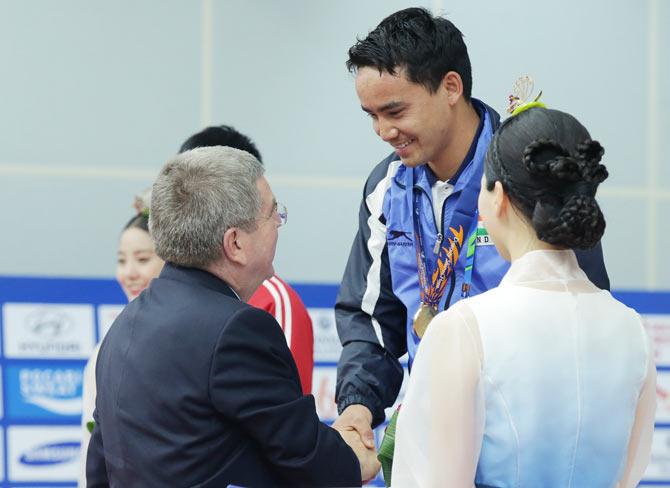 IOC President Thomas Bach presents Rai Jitu of India with his gold medal in the 50m Pistol Men's event at Ongnyeon International Shooting Range during the 2014 Asian Games in Incheon, South Korea, on Saturday. Photograph: Chung Sung-Jun/Getty Images
In between these cherished successes came memorable gold medals in other disciplines -- fetched by compound men's team archers, Mary Kom (the first-ever in women's competition and the only one from the ring), Yogeshwar Dutt, men's squash team spearheaded by Saurav Ghosal, tennis mixed doubles pair of Sania Mirza and Saket Myneni, woman discus thrower Seema Punia and the 4x400m relay team.
Yogeshwar came with a mission to win gold, and, he accomplished it in style by ending India's 28-year-old gold medal draught in the ancient sport.
The London Olympic Games bronze-medallist fought with verve and determination to win the men's freestyle 65kg gold and was the saving grace on the mat.
Ghosal narrowly missed gold after squandering a commanding 2-0 lead and match-points in the third game of the men's final.
Shooter Rai, the World No. 5, showed tremendous grit to beat back the challenge from Wang Zhiwei of China and South Korea's two-time Olympic champion, Jongoh, to win the gold in a tense final.
He thus became only the second Indian pistol shooter to clinch an Asian Games title after Jaspal Rana and the fourth shooter overall after shot gun experts Randhir Singh in 1978 and Ronjan Sodhi in 2010.
For a few days Rai remained the only gold medal winner from shooting, overshadowing two better known rifle shooters -- 2008 Beijing Olympic champion Abhinav Bindra, who picked up a bronze as his first and only individual medal from these Games and the misfiring Gagan Narang who did not have a medal to his name.
In fact, the shooters, who largely blamed their travel schedule from the preceding World Championships in Spain to Incheon via India as the main reason for their poor display, generally disappointed as most medals were won in team competitions.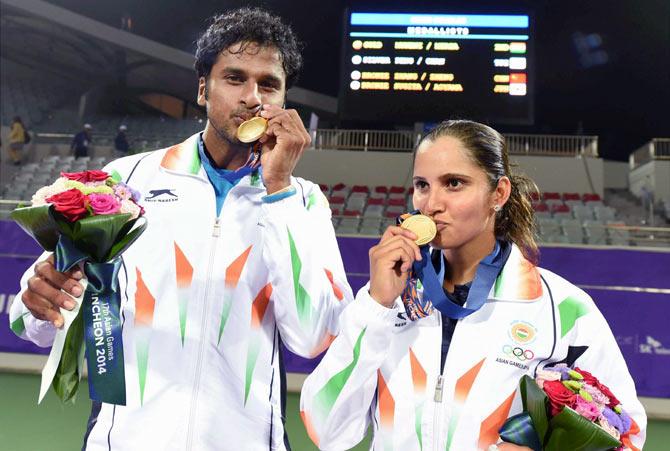 Sania Mirza (right) and Saketh Myneni pose with their gold medals. Photograph: PTI
Two other major let-downs were star shuttlers Saina Nehwal and P V Sindhu who helped the country win the women's team bronze before producing a flop show in individual events that followed.
Tennis, in which medal chances took a big hit even before the Games began with the unavailability of Somdev Devvarman and the top men's doubles pair of Leander Paes and Rohan Bopanna surprisingly saw good results.
Tennis ace Sania Mirza spearheaded India's challenge and India picked up one gold, a silver and three bronze medals.
Sania helped the team win the gold and bronze in mixed doubles and women's doubles respectively.
The silver was won in men's doubles by Myneni, Sania's mixed doubles partner, and Sanam Singh. The other two bronze were won by Yuki Bhambri (men's singles) and Bhambri-Sharan Divij (men's doubles).
The much-touted recurve men and women archers were way off the mark and did not grab a single medal overshadowed by their poorer cousins from compound.
The compound archers shot their way to a historic first-ever gold by clinching the men's team title at the expense of hosts South Korea, plus one silver and two bronze medals in the non-Olympic weapon.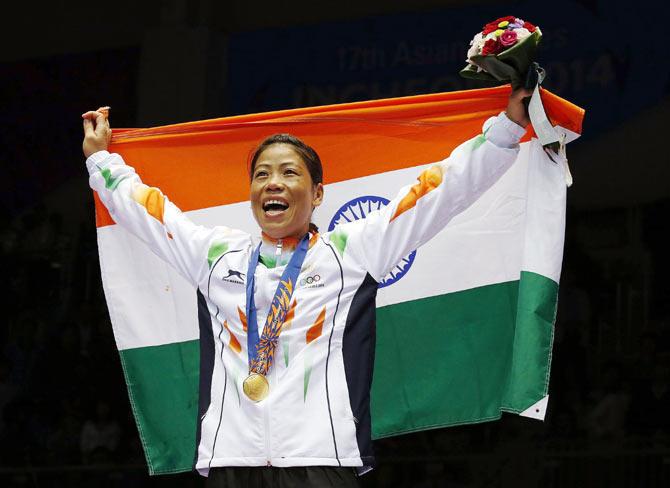 India's gold medallist MC Mary Kom reacts during the medal ceremony for the women's fly (48-51kg) boxing competition at the Seonhak Gymnasium during the 17th Asian Games in Incheon on Wednesday. Photograph: Kim Kyung-Hoon/Reuters
Star woman boxer Mary Kom shone like a beacon inside the ring to win her maiden title in the women's flyweight class.
However, the controversy surrounding her teammate L Sarita Devi, who was robbed of a certain place in the women's lightweight final by poor ringside judging and then her refusing to accept the bronze medal at the ceremony, took away focus from Mary's feat.
The protest lodged by chief coach G S Sandhu after Sarita's controversial exit was thrown out and her decision not to accept her medal landed her in trouble with the Olympic Council of Asia.
Her medal was restored after Sumariwalla attended a hearing of OCA and she has since then apologised to the world boxing body AIBA fearing suspension.
In total contrast to the women, who bagged one gold medal and two bronze, the male boxers put up a dismal show by adding just two bronze to the tally that stood finally at one gold medal and four bronze, a far cry from their 2-4 heist in 2010.
Prior to the Sarita row there was another controversial ruling in the women's 3000m steeplechase with the jury overturning the judges' decision to disqualify Bahrain's race winner Ruth Jebet following an infringement. This prevented Lalita Babar from being elevated to silver from bronze and defending champion Sudha Singh from being promoted to the third position.
"We were robbed of one medal through a dangerous and unprecedented move in athletics -- of jury overruling the judges. This is a serious issue in athletics," said Sumariwalla.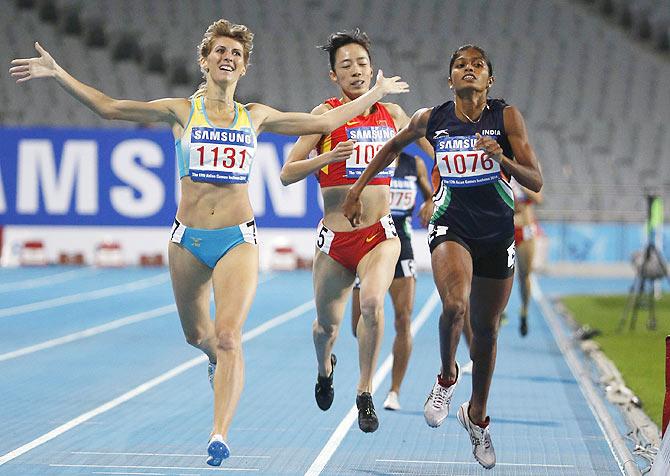 Kazakhstan's Margarita Mukasheva (left) celebrates crossing the line ahead of India's Tintu Luka (right) and China's Zhao Jing in the women's 800m final at the Incheon Asiad Main Stadium during the 17th Asian Games on Wednesday. Photograph: Jason Reed/Reuters
Four years ago in Guangzhou, India bagged 12 medals from athletics -- 5 gold, 2 silver and 5 bronze -- while here the return is 13 -- comprising 2 gold 4 silver and 7 bronze medals.
Seema Punia, left out of the last two Games for different reasons, proved a point in Incheon by clinching the gold medal in the women's discus throw.
The only other gold medal in athletics, which has been hijacked by runners born in Africa but based in West Asian nations like Bahrain, was captured by the 4x400m relay squad which also bettered the previous mark set by its predecessors in Guangzhou and kept the title in India's hands.
The silver count increased by two after Manju Bala's women's hammer throw bronze got upgraded to silver after a positive dope test of a higher-placed Chinese.
The bronze count rose by two, but overall the performance was slightly below par, though such a scenario was not entirely unexpected.
There were athletes like half miler Tintu Luka -- silver medallist in women's 800m -- and woman bronze medal winning javelin thrower Annu Rani who set up new personal marks or came close to their personal bests while climbing the medal rostrum.
Discus thrower and major medal hope Vikas Gowda failed to live up to his top billing and finished with the silver while triple jumpers Arpinder Singh and Ranjit Maheshwary drew a blank.
The country's campaign ended on a high with the men and women's kabaddi teams retaining the gold after waging tough battles against Iran in both finals.
India's campaign in most other disciplines was hardly worth mentioning though there were two bronze medals in wushu, a rare men's swimming bronze (Sandeep Sejwal in 50m breaststroke) and a first-ever medal (bronze) in women's sailing (29er class).