Shooter Shweta Chaudhry gave India their first medal on the opening day action of the 17th Asian Games after the Faridabad girl clinched bronze in the Women 10m Air Pistol Finals, in Incheon on Saturday.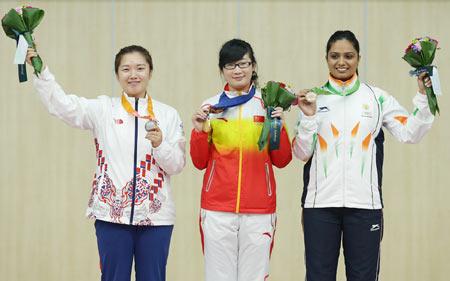 Shweta looked focused from the start as she sailed through even after her much fancied teammates Heena Sidhu and Malaika Goel failed to make the finals cut.
The World No.146 had a bumpy ride to the finals as she led the standings after 3 shots but soon slipped to sixth and then improved to third.
A shoot-off was held between Chaudhry and China's Zhou for the bronze before the Indian came up trumps with a 10.7 hit.
China though stood first on the podium with Zhang Mengyuan bagging gold and Korea's Jung Jeehae getting the silver.
Meanwhile Chinese women also won gold in the 10m Air Pistol Team event.
On expected line, China lead the medals tally with 3 gold medals so far, while India stand fifth with a bronze to their credit.
Image: Gold Medalist Mengyuan Zhang of China (centre), Silver Medalist Jung Jee-Hae of South Korea (left), and Bronze Medalist Shweta Chaudhry of India (right) celebrate on the podium after winning their medals in the 10m Air Pistol Women's event at Ongnyeon International Shooting Range during the 2014 Asian Games in Incheon on Saturday
Photograph: Chung Sung-Jun/Getty Image