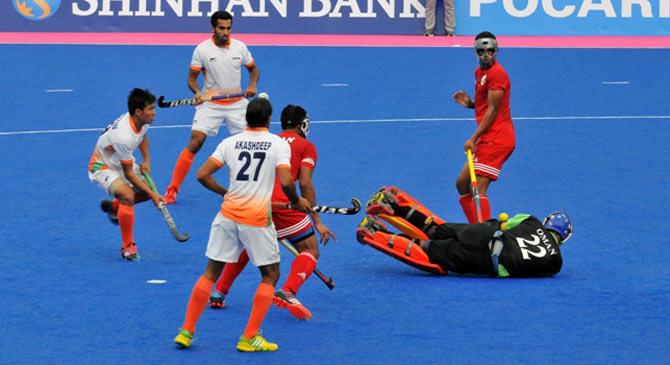 Action in the Asian Games match between India and Oman. Photograph: Hockey India
Despite drag-flick specialist V R Raghunath scored just once from ten penalty-corners, and Rupinderpal Singh sustained a serious thigh injury, as India trounced minnows Oman 7-0 in men's hockey at the Asian Games, in Incheon, on Tuesday.
Rupinderpal (18th, 19th minute) scored from penalty-corners before limping off the field after scoring the second goal, while the unbelievably off-colour Raghunath (39th, 60th minute) was on target from a penalty stroke and penalty-corner.
Akshdeep Singh (33rd minute), Ramandeep Singh (54th) and Danish Mujtaba (60th) accounted for the other goals.
The worrying factor for India is ace drag-flicker Rupinderpal's injury before the crucial game against Pakistan.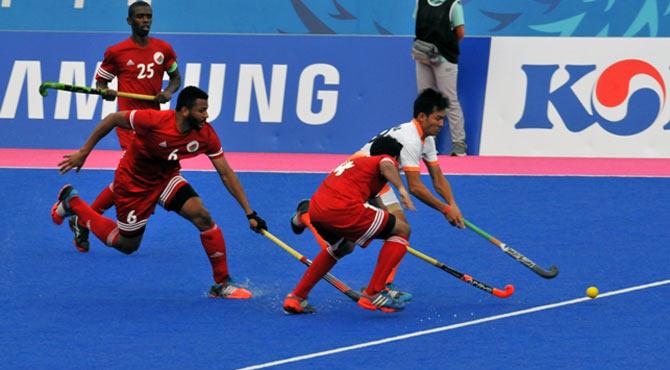 Action in the Asian Games match between India and Oman. Photograph: Hockey India
After a barren first quarter, India opened the account in the 18th minute when Rupinderpal's rasping drag-flick hit the top of the right post and entered the goal.
In the next minute, he was again on target but was seen in considerable pain after the successful conversion. He limped off the field and did not return for the rest of the 41 minutes.
However, it was big-bodied Raghunath who would like to forget the match quickly as he spurned one drag-flick after another.
There was a spell of five minutes, between the 21st and 25th minute, when India were successful in earning five penalty-corners, but Raghunath missed all. He even failed to trap the last one.
In the third quarter, he was saved from blushes when Akshdeep deflected home yet another misdirected penalty-corner hit to make it 3-0 in the 33rd minute.
Finally, in the 39th minute (9th minute of third quarter), Raghunath found his name on the scorers' list as he converted a penalty stroke to make it 4-0.
But such was his performance on Tuesday that he could not even manage a smile after scoring.
The final quarter saw India score three more goals, two of them coming in the last minute of the match.
It was ironic that Raghunath finally found the target with the 10th drag-flick.
Image: Captain Rupinder Singh (No 3) of India leads his teammates as they celebrate their win
Photograph: Paul Gilham/Getty Images