Long distance runner Govindan Lakshmanan finished third in men's 10,000m race but was later disqualified for lane infringement.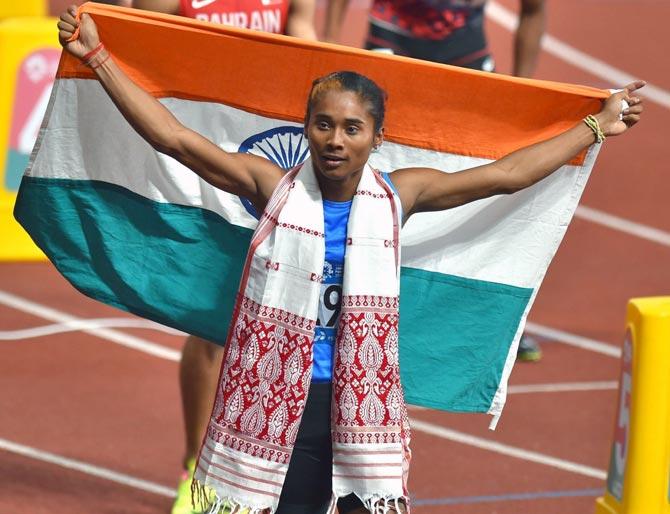 Hima Das shattered the 400m national record for a second time in two days for a silver while Dutee Chand grabbed the second place in 100m dash on another good day for India's track and field athletes at the Asian Games on Sunday.
Mohammed Anas clinched a silver in men's 400m as well as Indian track and field athletes followed up the gold won by shot putter Tejinderpal Singh Toor on Saturday.

The silver medal each from Hima and Anas was on expected lines as the gold winners in their respective events were outright pre-race favourites.

But, Dutee, who had won a 'gender case' against the world governing of athletics, was beaten for the gold by two-hundreth of a second as she came up with the best achievement of her career. Her silver was India's first medal in 20 years in this event after Rachita Mistry won a bronze in 1998 Asiad.

Long distance runner Govindan Lakshmanan crossed the finishing line at third in men's 10,000m race but was later disqualified under IAAF 163.3b (lane infringement). He was initially shown to have clocked 29:44.91.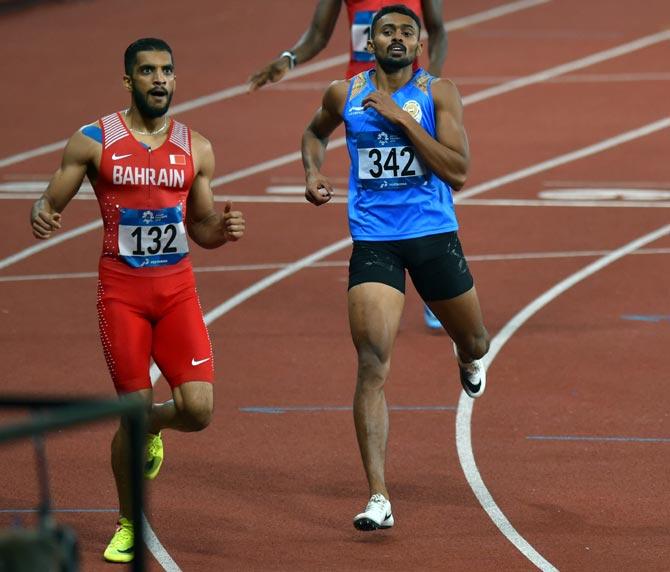 India did lodge a protest against the decision to disqualify Lakshmanan but the jury of appeals rejected it.

India's new track sensation, Hima clocked 50.59 seconds to win the silver, behind Bahrain's Salwa Naser who won the gold in a new Games record time of 50.09 seconds.
Hima, the reigning Under-20 world champion, had qualified for the final with a national record time of 51.00 seconds on Saturday, bettering the 14-year-old mark set by Manjeet Kaur (51.05) in Chennai in 2004, and she today bettered it again.

Naser, the Nigerian-born 2017 World Championships silver medallist and winner of four legs of Diamond League Series this year, did not have to exert much in the end to clinch the goal.

Another Indian in the women's 400m final, Nirmala Sheoran finished fourth in 52.96.

It was India's first medal in women's 400m since Manjeet Kaur won a silver at the 2006 Doha edition.

Asian champion Anas settled with a silver in the men's 400m final as he timed 45.69 seconds, behind Asian season leader and 2017 World Championships bronze medallist Hassan Abdalelah of Qatar, who clocked in 44.89 seconds.
Anas, who holds the national record of 45.24, had clocked 45.30 in the preliminary heats.

Arokia Rajiv finished fourth by clocking 45.84 which was better than his semi-finals timing of 46.08.

"I don't know what happened to me in the final. I could have run better but I am happy with silver," said an out-of-breath Anas.

"I had aimed for a medal at the Asian Games and I have achieved that. Abdalelah won easily. I will see video to analyse what went wrong," the Kerala athlete said and dedicated his medal to people back home, who are struggling with a devastating flood.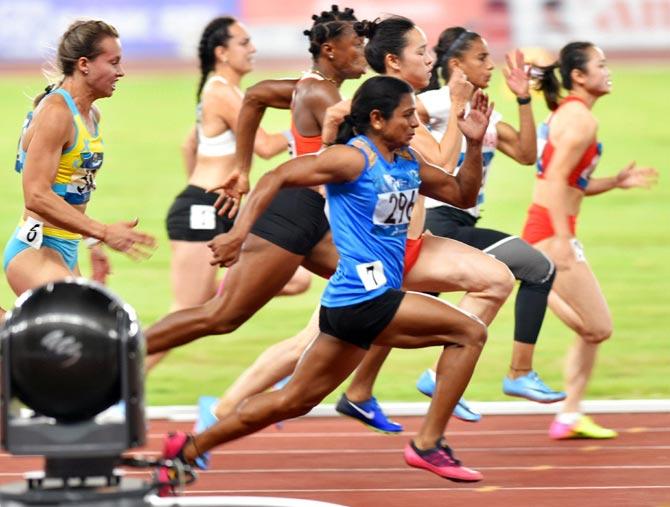 Anas said he may pull out of men's 200m event to prepare for the newly-introduced 400m mixed relay.

Dutee qualified for the women's 100m final by clocking 11.43 in semifinal and two and a half hours later, she came out to run a memorable race.

Running in lane number 7, Dutte clocked 11.32 seconds, a tad below her national record of 11.29 seconds.

Odiong Edidiong of Bahrain won the gold in 11.30 while Wei Yongli of China took the bronze in 11.33 in a close finish.

The 22-year-old from Odisha was taking part in her first Asian Games. She was suspended by the IAAF in 2014 under its hyperandrogenism policy but she filed an appealed before the Court of Arbitration for Sports and won it.

Recently, under a revised rule of the IAAF, Dutee was left outside the purview of the hyperandrogenism policy (which bars women athletes having male hormones above permissible limit from competing) which gave her liberty to pursue her career.

India's last medal in this event was the bronze won by Rachita Mistry in 1998 Asian Games.

Dutee also emulated Roshan Mistry (1951) and P T Usha (1982 and 1986) in winning a silver each in this event in the Asian Games.

In the men's long jump, Murali Sreeshankar finished sixth with a best effort of 7.95m.

Asian Championship silver medallist Anu Raghavan qualified for the final of the women's 400m hurdles final.

The 25-year-old from Kerala was third fastest in Heat 2 and also overall third with a timing of 56.77.

Joining her in the final was compatriot Jauna Murmu (59.20) as the last best loser. Anu had won a silver at the Asian Championship held in Bhubaneswar.

In the men's 400m hurdles, Dharun Ayyasamy and Santosh Kumar also qualified for the final after finishing overall second and fifth respectively.

Both Dharun (49.55) and Santosh (50.46) finished second in their respective semi-final heats.
© Copyright 2022 PTI. All rights reserved. Republication or redistribution of PTI content, including by framing or similar means, is expressly prohibited without the prior written consent.