Ace Indian shooter Jitu Rai clinched a historic gold in the 50m Pistol event on the opening day of the 17th Asian Games at the Ongnyeon International Shooting Range, in Incheon on Saturday.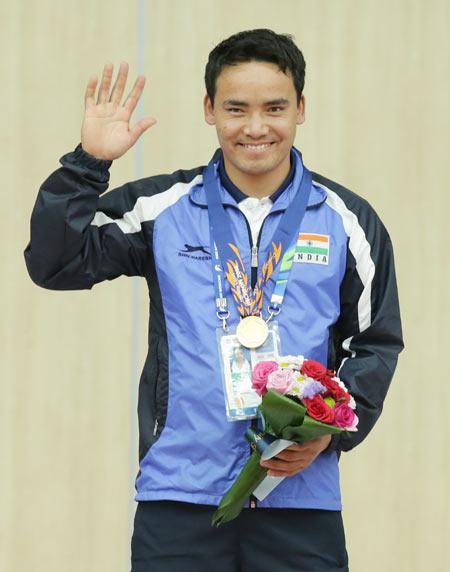 Fresh from his 50m Pistol silver in the World Championships, the Lucknow-based shooter completed a grand double as he had won a gold in the Commonwealth Games in Glasgow earlier this year.
The shooter, who serves the Gurkha regiment in the army, was on target from the word go after moving into the finals even as compatriot Omkar Singh failed to qualify.
In the finals though, Rai was tested by Vietnam's Nguyen Hoang Phuong, who had to settle for silver and bronze medallist Wang Zhiwei of China.
Rai accumulated 186.2 points in comparison to Phuong's 183.4 and Zhiwei stood a distant third with 165.6 points. This was India's second medal at the ongoing Games after Shweta Chaudhry's bronze in the 10m air pistol event.
Image: Gold Medalist Rai Jitu of India celebrates on the podium after winning his gold medal in the 50m Pistol Men's event at Ongnyeon International Shooting Range in Incheon on Saturday
Photograph: Chung Sung-Jun/Getty Images