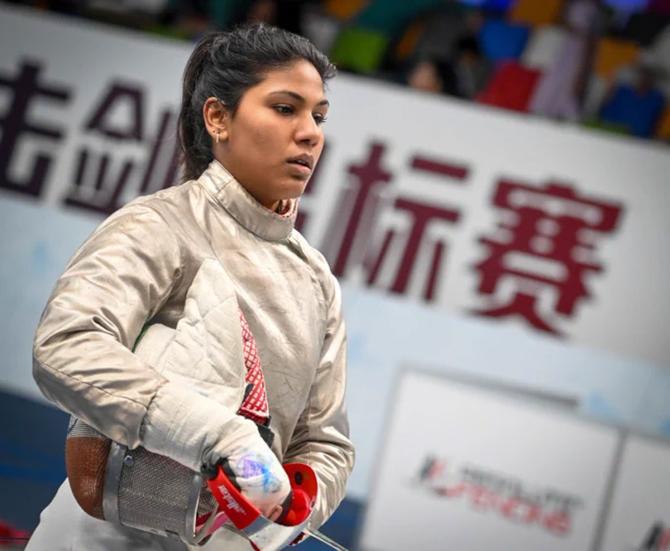 Star Indian fencer Bhavani Devi's impressive run at the Asian Games came to an end in the quarter-finals, suffering a 7-15 loss to local favourite Yaqi Shao in the women's sabre individual category in Hangzhou on Tuesday.
One win shy from a maiden Asian Games medal, Bhavani Devi managed three touches in the first period of the quarter-finals.
But her Chinese opponent was superior as she took an 8-3 lead and needed just seven more touches to qualify for her successive semi-final at the continental showpiece. Bhavani managed four more touches in the second period but that proved to be insufficient.
The fencer, who makes 15 touches first in a knock-out round, is adjudged winner and Shao sealed the issue in the second period without breaking a sweat.
Semifinalists are assured of at least a bronze medal in fencing, and the Tokyo Olympian would consider herself 'unlucky' pitted against the 2018 Asian Games silver medallist in the last-eight.
"I know this athlete is strong, because I've trained with her many times. But I think in the beginning the referee wasn't right and I lost control of things a bit," Bhavani said.
"I was a little bit disappointed because we train together. I think it was also my mistake that I didn't come back to my own actions, but fencing is so fast and you have to decide (things) quickly."
In pursuit of a maiden Asian Games medal in fencing, the 30-year-old out-skilled all her five opponents to top the pool that gave her a bye to the pre-quarters where she overwhelmed Tonkhaw Phokaew 15-9.
She started off by beating her Singapore rival Juliet Jie Min Heng 5-2, and then out-skilled Saudi Arabia's Alhsna Alhammad 5-1.
Against Karina Dospay, the Asian Championships bronze medal-winning Indian prevailed 5-3.
In her last two pool fixtures, she easily beat Uzbekistan's Zaynab Dayibekova and Roksana Khatun of Bangladesh by identical 5-1 margins to top the pool. India will next compete in epee women and men foil team events.
"I'm really happy with what I'm doing in my career. I know it's not easy for athletes like me to come to lots of competitions, (so) you need to make something of it. Its (been) good, but I want to go further. Now I have to try and qualify for the Paris 2024 Olympic Games -- I hope I can make that," she said.