'I like farming. We don't get much time off from training but whenever I do, I go back to my Village (Kalina) and help my father'
With a rape case going on against him, Rajput happens to be jobless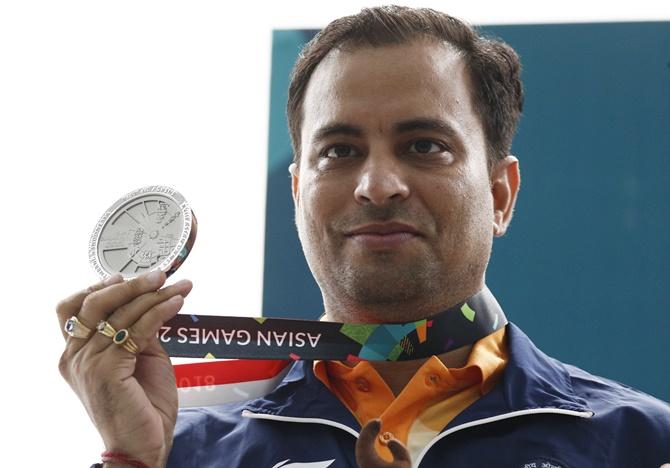 Saurabh Chaudhary, all of 16, on Tuesday became only the fifth Indian shooter to claim a gold in the Asian Games history, beating a field of multiple world and Olympic champions in the 10m air pistol finals in Palembang.
The seasoned Sanjeev Rajput then made the country proud, winning the silver in the 50m rifle 3 positions. Another Indian making his international debut, 29-year-old Abhishek Verma, shot 219.3 to secure bronze in 10m air pistol event. Chaudhary aggregated 240.7.
A little later, 37-year-old Rajput looked set for the gold before having a modest standing series in the 50 3 positions rifles final. It was the first individual medal for the former Navy man at the Asian Games, having won team medals in the previous three editions.
Rajput had a huge 3.0 lead after the kneeling and prone series. He had an average end to the finals but bounced back just in the nick of time to clinch silver. It was still a good result for the Yamuna Nagar shooter, who had also won a gold at the recent Commonwealth Games.
With a rape case going on against him, he happens to be jobless, having being sacked as assistant coach from the Sports Authority of India last year.
"I hope to get a job now. Lets see. I shot an 8.4 in the end. That cost me the gold. The competition, the weather (hot) and wind conditions were very tough," Rajput said.
Rajput shot 452.7 for the silver while the gold and bronze went to China's Hui Zicheng and Japan's Takayuki Matsumoto, who scored 453.3 and 441.4 respectively.
However, the day belonged to teenage prodigy Chaudhary, son of a farmer based in Kalina Village in Meerut district.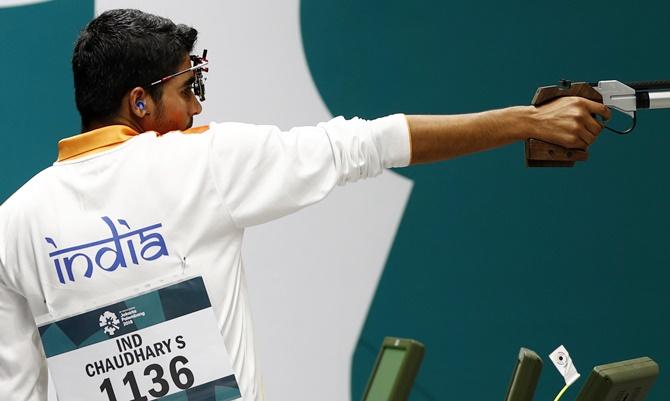 Competing in his first senior event, Chaudhary showed maturity and calmness well beyond his age to snatch the lead from 2010 World Champion Tomoyuki Matsuda on the penultimate attempt of the 24-shot pistol final.
In the qualification, Chaudhary pipped legendary Korean shooter Jin Jong-oh, a four-time Olympic and three-time world champion.
The 42-year-old Matsuda from Japan misfired on the 23rd shot to settle for silver with an overall score of 239.7.
Chaudhary also set a Games record with his sensational effort. His last two shots were a 10.2 and 10.4, giving him the decisive lead. The Japanese's last two shots were an 8.9 and 10.3.
Expectations were high from Chaudhary as he had broken the world record on way to winning a gold in the Junior World Cup in Germany couple of months ago. But not many thought that he would emulate the likes of Jaspal Rana, Randhir Singh, Jitu Rai and Ronjan Sodhi at such a young age to win an Asiad gold.
"I did not feel any pressure. It doesn't help," said Chaudhary, who picked up the sport only three years ago, when asked about the competition that included world champion Matsuda and Jong-oh from South Korea, the multiple Olympic and world champion.
He did not show any sign of nerve even in the qualification held earlier in the day, bossing it with a 586. Jong-oh was second in the qualification while Verma finished sixth.
Chaudhary, a student of class XI, will be off to the World Championships after the Games. He learned the tricks of the trade at Amit Sheoran's academy at Benoli near Baghpat, 53 kilometers from Meerut.
Whenever he is home, he helps his father in the farming business and likes to draw in free time. He is also a vegetarian, like his contemporary Manu Bhaker.
"I like farming. We don't get much time off from training but whenever I do, I go back to my Village (Kalina) and help my father," said Chaudhary.
Bronze medallist Verma also picked up the sport three years ago. The 29-year-old Lawyer-cum shooter didn't begin well but saved his best for the last to win bronze. In the fifth series, he shot a couple of 10.7s to get himself into medal contention. He consolidated from there, producing a solid finish.
Verma and Bhaker had disappointed in the mixed team event, failing to qualify for the final.
"I was not disappointed with that result. It actually helped me prepare well for the individual finals. I did feel the pressure, considering it was a high quality field and it was my first international tournament but I was able to calm myself down," said Verma.