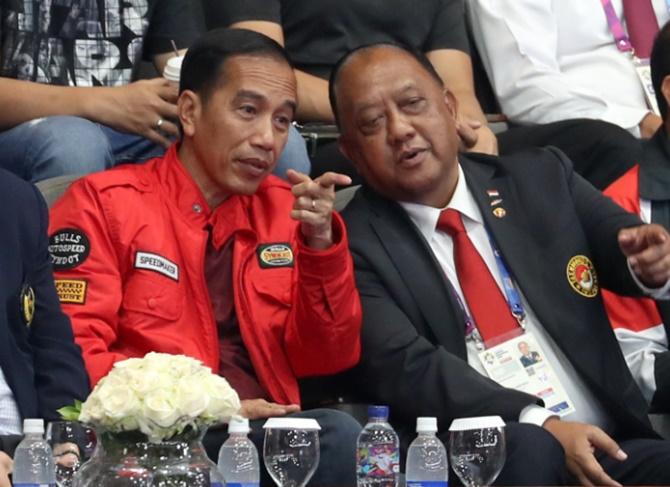 Indonesian President Joko Widodo has created a buzz on social media after a video sequence shown at the opening ceremony of the 18th Asian Games culminated with the 57-year-old leader roaring into Jakarta's main stadium on a powerful motorbike.
After his motorcade is held up by Jakarta's notorious traffic, the tongue-in-cheek video showed a formally dressed Widodo hopping onto a motorbike and apparently leaping obstacles and navigating alleyways before riding into the stadium.
A seemingly unruffled Widodo then took his seat before opening the Games on Saturday evening at a spectacular ceremony involving around 4,000 dancers and a 600-tonne tropical landscape stage set complete with volcano.
By Sunday, the video of the president's dash across the city had more than 800,000 views on a YouTube posting by official broadcaster SCTV.
It has also been a hit on Twitter, with the hashtags #proudtobeindonesian and #stuntman trending in the Southeast Asian country, where many of the 260 million people are avid social media users.
One Twitter user with the handle @dethabun even likened the performance of the president, who is often known by his nickname Jokowi, to actor Tom Cruise in the action movie "Mission: Impossible".
"This is only in Indonesia, My President looks a like @TomCruise on Mission Impossible movie, Bravo Pak @jokowi, You're da Best..," the tweet said.
Some noted that the stunt appeared to draw inspiration from London's 2012 Olympic Games opening ceremony where a video including a cameo performance by Queen Elizabeth and also James Bond actor Daniel Craig appeared to show the British monarch skydiving into the stadium.
Indonesian media has speculated over what parts of the president's video were actually carried out by a stunt actor rather than Widodo, a self-confessed motorcycle fan who is often depicted riding motorbikes.
Some commentators and social media users also suggested it would be irresponsible for him to actually do his own stunts, pointing to the risk of an accident or even militant attack.
An opposition politician accused the country's leader of using the ceremony to try to try to burnish his image with young voters ahead of elections next year.
Rachland Nashidik, deputy secretary general of the opposition Democrat Party, said on his Twitter page the video aimed to "masterfully" create an image to forget the country's more fundamental problems over trade deficits which "doesn't make us proud, let alone adoring."
Artist-turned-activist Ratna Sarumpaet said she felt the video was "tacky", a waste of money and in poor taste after a recent series of deadly earthquakes in Indonesia's resort island of Lombok.
The last time Indonesia hosted the Asian Games in 1962, the country's first president Sukarno was accused by some of hosting the Games as a vanity project at a time when the economy was also struggling.
Abushammaleh proud to keep Palestine flag flying at Asian Games
Mera Abushammaleh was born and lives in Jordan but at the Asian Games in Jakarta on Sunday, the 16-year-old was proudly swimming for Palestine.
The Palestinians have been represented at the Asiad since 1990 winning only a single bronze medal through light heavyweight boxer Munir Abu-Keshek in Busan 12 years ago.
Abushammaleh looks unlikely to add to that tally after posting the 21st fastest time in the heats of her first event but the teenager believes her presence has a greater purpose than just the quest for sporting success.
"I get to show people around the world that Palestine can do something and we're still here, we're not going to go anywhere because of the war," she said on the deck after swimming in the fourth heat of the 100 metres breaststroke on Sunday.
"I'm very proud that I can show people that Palestine is here, that I can do something despite all the obstacles."
Abushammaleh and her team mates received a rapturous reception from the crowd when they marched beneath the flag of Palestine at Saturday's opening ceremony in Jakarta, capital of the world's largest Muslim-majority nation.
"It was very nice," she said. "When we were walking, all the Indonesian people were shouting 'Go Palestine!'. That was so heart-warming."
Palestine was recognised as a member of the Olympic Council of Asia (OCA) in 1986, four years after Israel, which had competed at the Asian Games from 1954 to 1974, was finally permanently excluded.
That three of the five-strong Palestine swimming team in Jakarta are from the diaspora was merely a reflection of the tough conditions for aspiring athletes in the territory, she thought.
"I live in Jordan but I visit Palestine sometimes but it's difficult to train. There are not a lot of people competing because we have such difficulties," she added.
"We don't have any (50-metre) pools. We only have one 25-metre pool. There's only two coaches. We don't have championships, we don't have gyms."
Abushammaleh, who is registered for three more events in Jakarta, swam a personal best time of one minute 20.70 in her 100 breaststroke heat, good enough to beat Aishath Hulva Khulail of the Maldives and avoid last place in heat four.
While it was a long way short of being good enough to progress to the final, Abushammaleh is confident she will improve with experience and one day hopes to win Palestine a medal.
"This is my first time competing in such a competition, in this race," she said. "I expected better than this but next time I'll do better."
Tsunami-survivor Herold ready to make Asiad waves
Having spent five days as a child clinging to a tree in the wake of a tsunami, Indian cyclist Deborah Herold has some perspective on the concept of fear of failure in the sporting arena.
Herold, now 23, will make her Asian Games debut at the Jakarta International Velodrome next week but it is the tsunami that devastated parts of Southeast Asia 14 years ago which remains the defining experience of her life.
A massive quake in the Indian Ocean triggered a tsunami that killed some 228,000 people, the majority in the Indonesian province of Aceh on the northern tip of Sumatra island.
Herold grew up in Andaman and Nicobar Islands, which are located close to Sumatra far to the east of the Indian mainland, and she vividly remembers the Sunday morning when her mother came rushing into the room where she and her sister slept.
"I was probably nine then. She screamed 'Get up and run fast', and so we did," Herold told Reuters in an interview.
"We ran out and reached a field. Our village was pretty close to the sea and the sea was roaring. I was holding mom's hand but suddenly I found myself engulfed by water. Even mom didn't realise when we split."
Panic set in but Herold had the presence of mind to climb a tree, while the water continued to rise beneath her.
"I spent five days perched on the tree. Maybe longer, but the trauma had dulled my senses," she recalled.
"I just cried and cried. I had mosquito bites all over my body and I grew so weak."
Finally a search party arrived to start clearing the corpses of the many dead and Herold had to muster up all her strength to scream for help.
"They got me down," she said. "I had given up hopes of seeing my family again. My parents feared I had been swept away. When we finally reunited, you can imagine how much I cried."
Life was soon back on track, literally so for Herold who dabbled with athletics before discovering the joy of cycling after a ride on her cousin's bike.
"Then came a cycling competition and I asked dad if I could use his cycle," she said with a smile. "He let me use it, but I had to promise to him that I'd win, which I did."
She did well enough to be noticed by the Sports Authority of India officials who took her into the SAI centre in Port Blair, the capital of the Andamans.
"There I learnt what a velodrome is, even though it was outdoors," said Herold, who will compete in team sprint and keirin in Jakarta.
"It was there that I first rode a bike with gears."