India's Chain Singh did himself and the country proud after winning the bronze in the 50m 3-position rifle shooting event at the Asian Games on Saturday.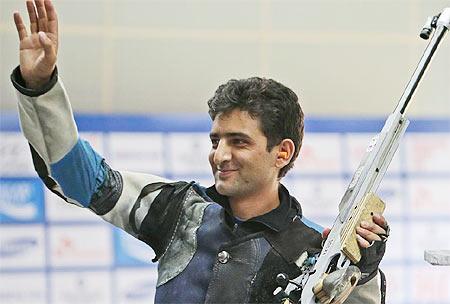 Singh shot a total of 441.7 points to finish behind Chinese shooters -- Cao Yifei and Zhu Qinan -- who bagged the first and second positions with 455.5 and 455.2 points repectively.
Chain Singh made the cut by finishing seventh in the qualifications with a total of 1164 points.
Top eight shooters in the qualification round make it to the finals of the event.
Earlier, in a shocking exit, Sanjeev Rajput and Gagan Narang failed to make the 50m Rifle 3 Positions Men's Finals after finishing 12th and 15th, respectively in the qualification round.
Narang scored just 1157 points, while Rajput managed to garner 1159 to bow out of the competition.
The Indian team also failed to bring home a medal having narrowly missed out on a bronze medal in 50m Rifle 3 Positions men's team finals on Saturday after the trio of Gagan Narang, Chain Singh and Sanjeev Rajput finish fourth in the shooting event.
The Indian team spearheaded by London Olympics bronze medallist Narang fell short by just one point to finish behind Japan, who bagged the bronze.
India scored 1153 in kneeling, 1185 in prone and 1142 in standing for a total of 3480. While Japan did better in kneeling with 1167 points, they were behind India in both prone and standing events with 1177 and 1137 points, respectively. But at the end, the Japan team prevailed over India on the basis of their total score of 3481.
China won the gold with 3502 points, while Korea bagged the silver with 3484.
Image: Chain Singh celebrates his bronze medal-winning aim
Photograph: Getty Images