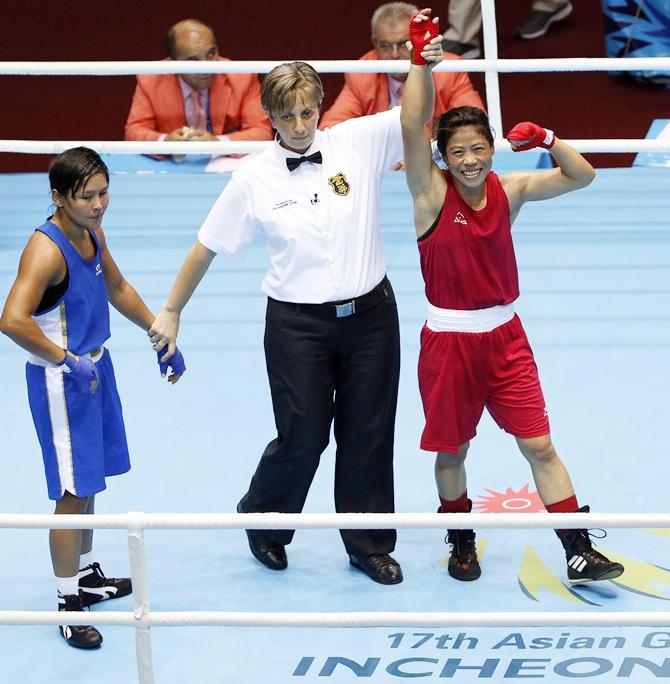 Referee Kheira Hammadi Sidi Yakoub declares India's MC Mary Kom (red) winner of the women's flyweight (48-51kg) final against Kazakhstan's Zhaina Shekerbekova (blue). Photograph: Kim Kyung-Hoo/Reuters
MC Mary Kom became the first Indian woman boxer to clinch a gold medal at the Asian Games, staging a strong fightback to beat Kazakhstan's Zhaina Shekerbekova in the flyweight (51kg) final in, Incheon, on Wednesday.
Complete coverage: 2014 Asian Games
The lone Indian boxer in action on the day, she won an evenly-contested battle 2-0 after the Kazakh had the initial ascendancy.
The five-time World champion and Olympic bronze medallist, who won a bronze when women's boxing made its debut at the 2010 Asiad, stepped up her aggression as the bout wore on to emerge triumphant.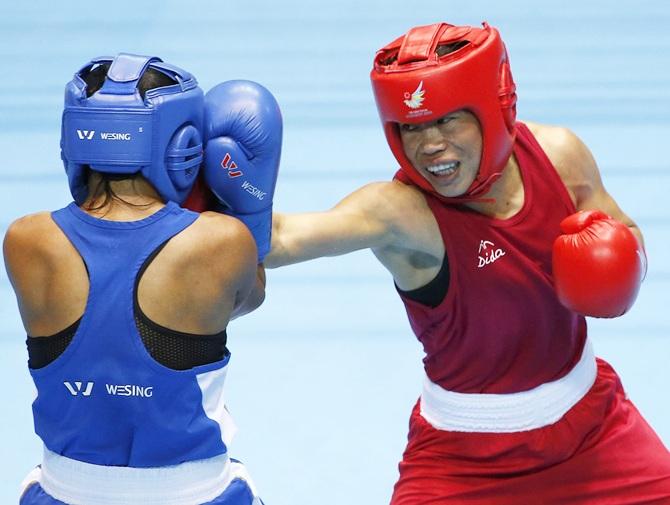 India's M C Mary Kom(red) throws a punch at Kazakhstan's Zhaina Shekerbekova (blue) during their women's flyweight (48-51kg) boxing final. Photograph: Kim Kyung-Hoon/Reuters
"I am very happy to win my first gold medal in these (multi-discipline) Games. I have won a bronze in the last Asian Games, a bronze in the Olympics and now the gold. I have sacrificed my family life, left my kids behind and worked very hard," said Mary after the bout.
"I was always sure of the gold, thanks to the support of my countrymen. After three kids I am an Asian Games champion. Thank you so much," added the beaming boxer.
Speaking a media conference, Mary also said the controversial loss she suffered to Pinky Jhangra in the trials to pick the team for the Glasgow Commonwealth Games acted as extra motivation for her.
He personal coach, A Lenin Meetei, described the star boxer's performance as "a very big achievement, having delivered three children".
"I told her before the bout to step in, give a few punches, and then withdraw. I also told her to keep moving around. She did so. Asian Games bronze in 2010 to Olympic Games bronze in London to now gold here, is a phenomenal show," said Meetei, who also hails from Manipur.
Meetei revealed how he persuaded Mary to come and train at Delhi and not remain in Pune. The move, he said, has paid rich dividends.
Seemingly vary of her opponent in the opening round, the Indian preferred to keep a safe distance and invited Shekerbekova to attack first. The Kazakh, however, did not fall for the bait and back-peddled smoothly to outwit Mary in the opening two minutes.
However, Mary reworked her strategy and stunned Shekerbekova with her aggression in the second round. Combining her hooks with uppercuts to Shekerbekova's torso, she drew level albeit on a split decision.
The Manipuri mother-of-three, who has been christened 'Magnificent Mary' by the International Boxing Association (AIBA) for her unprecedented feats, then dominated the third round, dictating the pace of the proceedings.
Shekerbekova was unable to come to grips with the tactical shift in Mary's approach and could only respond by 'holding' frequently, for which she was cautioned by the referee.