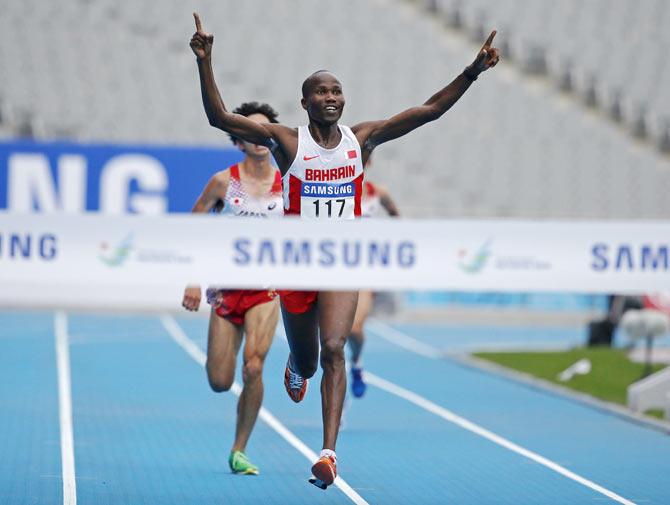 Bahrain's Ali Hasan Mahboob wins the men's marathon at the Incheon Asiad Main Stadium on Friday. Photograph: Jason Reed/Reuters
Kenyan-born Ali Hasan Mahboob won the Asian Games gold for Bahrain in the men's marathon on Friday after seeing off a spirited challenge from Japan's Kohei Matsumara.
Mahboob, who was born 'Silas Kirui' in Kipsabet and made the switch to the Gulf state in 2005, crossed the line in two hours, 12 minutes and 38 seconds, one second ahead of Mastumara and four ahead of another Japanese runner, Yuki Kawauchi, in third.
Mahboob is one of a string of African-born runners who have dominated athletics at the Asian Games, provoking strong debate as to whether their success is good for the sport or whether it could lead to a reluctance to invest in home-grown talent.
Mahboob has previously run mainly in distance track events and said the marathon had taken a lot out of him.
"This was my first race in the marathon. I used to run in 5,000m and 10,000m before," he told a news conference.
"I am very exhausted at the moment since it is just right after the race. But I am very happy."
Entering the Asiad Main Stadium on the final leg of the 42km race, Mahboob stretched his legs and quickly dropped Kawauchi from contention, but Mastumara hung on and looked poised to mount a challenge with 200m to go.
But when Mahboob kicked again 150m from home Mastumara had no response, the Bahraini runner lifting his arms to the sky and kissing his vest as he crossed the line.
"The answer is training," Mahboob said of his win.
"I have been training with strong athletes so far. I had to adapt to hard training. As I tried to follow them and to train with them, I got a good result today."
Another Kenyan-born runner, Eunice Jepkirui Kirwa, also won gold for Bahrain in the women's marathon on Thursday.